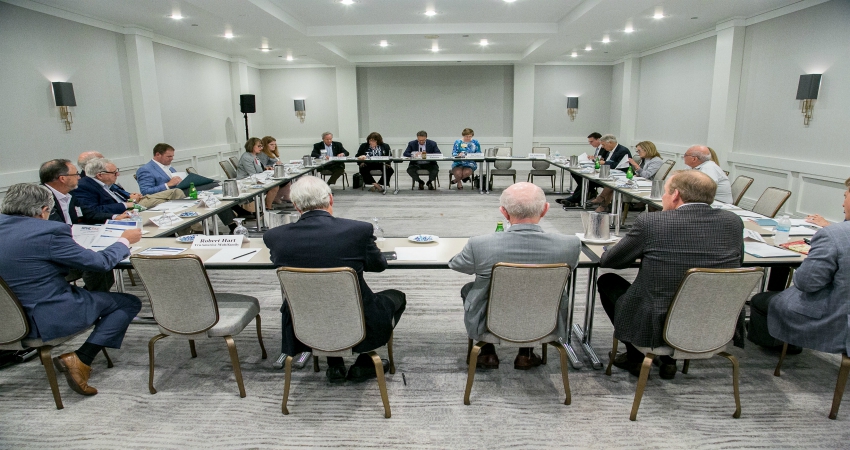 The NMHC PAC Committee had a productive meeting during the Spring Board Meeting on May 10. The Committee discussed NMHC PAC's progress towards this year's fundraising goal of $1.5 million, as well as the political state of play.
NMHC PAC Chairman David Schwartz of Waterton Associates led the discussion and noted that $438,710 has been raised to date. He also highlighted NMHC PAC's bipartisan Personal Dollar Campaign, which encourages NMHC executives to contribute directly to federal candidates who are supportive of the apartment industry.
Chairman Schwartz gave an update on a recent event on behalf of Congressman Peter Roskam (R-IL) that raised $30,000 and also encouraged members to take part in upcoming efforts on behalf of Congressman Joe Crowley (D-NY), Majority Leader Kevin McCarthy (R-CA), Senator Heidi Heitkamp (D-SD), and Senator Dean Heller (R-NV). The PAC Committee recognizes that these Members of Congress have been strong allies to the multifamily industry and may face tough re-election campaigns.
Elected officials make decisions every day that affect the apartment industry. Their policy choices have a direct impact on the potential success of companies in the multifamily industry. With that in mind, NMHC's government affairs team took time during the meeting to update the group on various advocacy efforts. Paula Cino, NMHC's Vice President of Construction and Land Use Policy, briefed the group on infrastructure efforts. Additionally, Lisa Blackwell, NMHC's Vice President of Housing Policy, provided insight regarding legislation possibilities if the Democrats were to take control of the House. NMHC's Government Affairs team also discussed the current state of play during the General Session of the Spring Board Meeting.
The Committee also highlighted NMHC member participation in the PAC – stressing the importance of growing overall participation across levels of membership. The next Committee meeting will be in September at the 2018 NMHC Fall Meeting.
---