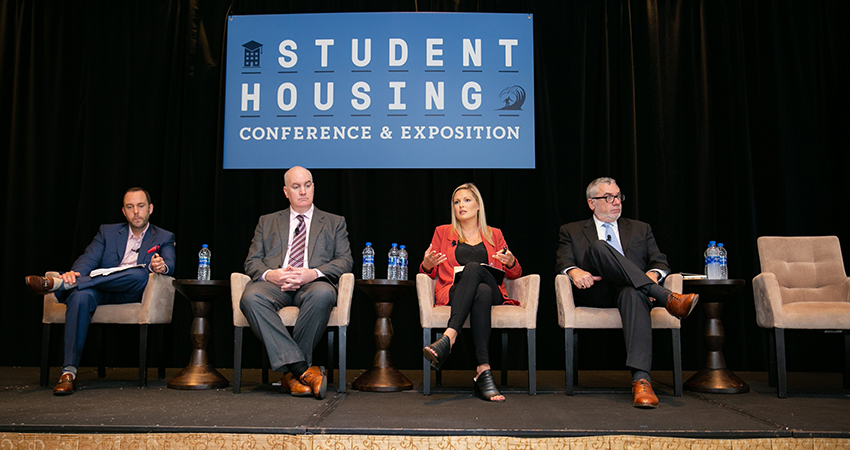 During the 2018 NMHC Student Housing Conference & Exposition, industry leaders discussed broad national macroeconomic trends and how they are likely to affect the student housing industry in 2019 and beyond.
Participating in the panel discussion were Shawn Sweeney, senior vice president of TSB Capital Advisors; Jim Costello, senior vice president of Real Capital Analytics; Taylor Gunn, director of student housing for Axiometrics; and Andrew Nelson, chief economist at Colliers International.
Colliers' Nelson kicked off the discussion by noting that the economy continues to be in strong shape and that the country is enjoying the second longest bull market in history. He explained that the recovery since the 2008 recession has been imperfect, but that job growth continues and that wages are finally rising.
However, he also noticed that many jobs are lower paid than they have been historically and that most Americans still live paycheck to paycheck. He concluded by highlighting some signs that may point to an impending end to the current growth, namely that home sales seem to be flat, mortgage rates are rising, and the yield curve is flattening. Nelson predicted that the current cycle is close to its end and that a coming recession will likely be a mild one.
Against this broader economic backdrop, Real Capital Analytics' Costello focused more narrowly on the health of the student housing industry and touched on a recurring theme at the conference—global capital markets are clearly interested in the U.S. student housing market. He noted that cap rates are currently compressed, significantly more than they have been historically. He also remarked on how the industry has received a substantial amount of cross-border capital over the last few years.
Axiometrics' Taylor Gunn noted university enrollment trends, explaining that there has been growth for the public four-year universities, but for-profit and public two-year schools are facing declining enrollment. She said she expected that the industry would experience higher enrollment in the wake of a recession, as more people would go to school to sharpen skills and expand their experience. Finally, she remarked on how supply has remained consistent over the past few years with about 45,000 beds coming onto the market annually.
The panelists also discussed how we are close to the end of the current cycle and the potential risks, such as rising student debt, that the industry faces.
Presentation slides and data from this session are available here.
---