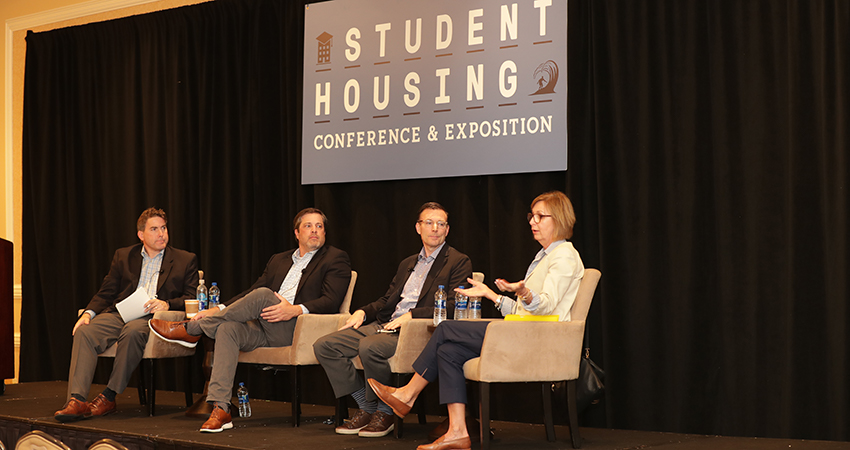 For as much as managing the bottom line is about growing revenue and streamlining costs, it's also about managing risk. Because business threats run the gamut from natural disasters to cyber threats and beyond, many student housing executives at the 2018 NMHC Student Housing Conference & Exposition said that they are focusing on trying to get out ahead of potential threats to minimize potential negative effects.
Miles Orth, executive vice president and chief operating officer of Campus Apartments, moderated a session that discussed risk management strategies. He was joined by Kyle Herren, senior vice president and producer at Lockton Companies, Patrick Nugent, senior vice president at Commercial Insurance Solutions (CIS), and Robin Reyes, managing director at Marsh & McLennan.
In recent quarters, insurance underwriters have seen increases in deductibles for the multifamily industry. In a rising-threat environment, it is difficult to predict what is going to happen next. However, student housing executives are looking at what is costing the multifamily industry right now and figuring out how to mitigate those costs. The easiest way to reduce risk is to prepare in advance.
"To have some sort of preparedness can save you money in the long run," Herren noted. As an example, Nugent explained that preventing kitchen fires by installing specific hood vents is an easy fix for the all-too-common problem.
Acknowledging the needs and tendencies of your residents can also help to mitigate risk. The panel discussed the importance of cyber insurance, particularly for the student housing sector. "Most of your tenants are tech savvy, and I think that's going to mean bigger exposure," said Nugent. Herren also explained that the multifamily industry is particularly exposed to cyber threats because of the amount and type of data collected.
Citing the collection of job history, rental history, salary and more compiled during the leasing process, Herren explained that "[the apartment industry] has more personally identifiable information than even banks." Herren added, "Cyber is probably the greatest threat today."
For more guidance, please consult NMHC's cyber security white paper, which outlines the threat landscape and multifamily best practices. Similarly, NMHC's Internet of Things white paper also offers some more information as it relates to smart home devices and cyber security.
With the apartment industry feeling the recent impact of Hurricanes Florence and Michael, the panel also addressed need for flood insurance. The National Flood Insurance Program was temporarily reauthorized this past summer. However, the group agreed that private flood insurance can often be the better choice.
"There are several carriers that do private flood, and it's definitely cheaper," Reyes noted. Nugent also commented, "I don't know if [it is] ever going to catch up to the private markets."
To close the conversation, the panel discussed how a company could prepare in the era of the "Me Too" movement, where there is focus on sexual harassment and assault prevention. Reyes highlighted the importance of a positive and inclusive workplace. She noted that the key to mitigating potential issues is "more communication and creating more of a community feel." Herren also emphasized that "culture and brand have never been more important."
---