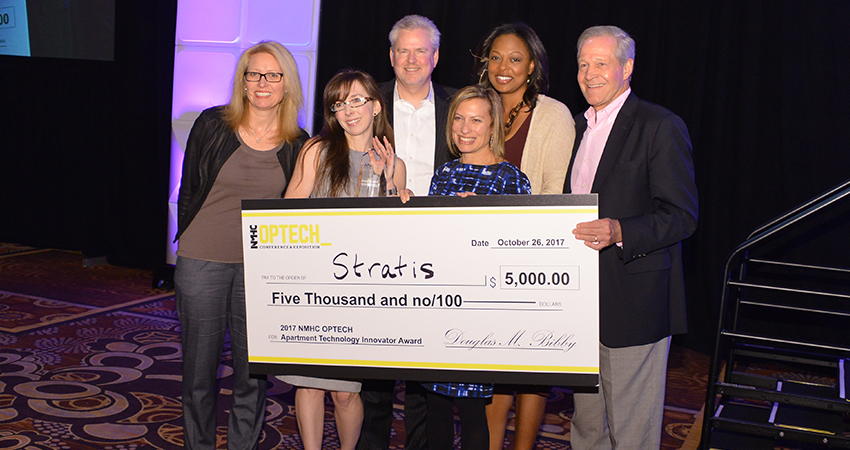 NMHC will not be conducting a Launch Pad competition in 2018. Make sure you visit the Startups Center in the 2018 OPTECH Expo! Are you a startup looking to get a kiosk in the 2018 Startups Center? Get more information here or contact Melissa Rowan at mrowan@nmhc.org to check on availability.
---

STRATIS, a software platform for smart apartments and intelligent buildings, won the 2017 NMHC Launch Pad multifamily technology competition. Taking place annually at NMHC's OPTECH Conference & Exposition, Launch Pad highlights the best and the brightest from a growing field of technology entrepreneurs who aim to improve the efficiency, productivity and professionalism of the multifamily industry through technological innovation.
STRATIS competed against three other multifamily tech start-ups, taking to the stage to pitch their businesses to a panel of industry experts and the live audience. Moderated by NMHC's president, Doug Bibby, the expert panel included Constance Freedman, founder and managing partner at Moderne Ventures; Karen Hollinger, vice president of corporate initiatives at AvalonBay Communities; Scott Wesson, chief information officer at UDR; and Stephanie Williams, president of Bozzuto Management Company.
STRATIS took home the NMHC OPTECH Technology Innovation Award, a $5,000 prize and one-year NMHC Advisory Committee membership.
Here's a snapshot of the companies, their tech products and the compelling business case each made for multifamily investors, owners and managers.
STRATIS
Website: stratisiot.com
Year Founded: 2015
StratIS provides multifamily and campus community owners and managers with remote management and control capabilities for access, energy and automation-advanced features that had previously been cost prohibitive to all but the largest budgets.
"STRATIS supports a bite-sized deployment strategy based on what owners prefer and markets would support," said CEO Felicite​ ​Moorman.
StratIS was built specifically to answer the complex challenges in wireless access, energy, and automation for multifamily units, campus communities, and smart cities.
Fetch
Website: fetchpackage.com
Year Founded: 2016
Fetch is the first off-site package solution for property managers. By accepting packages in centralized warehouses and coordinating door-to-door delivery with residents, Fetch completely eliminates the time and space devoted to packages for properties.
"The multifamily industry is struggling to deal with increases in ecommerce when it comes to package delivery. Mailrooms are overflowing and too much staff time is dedicated to managing and organizing packages," said Fetch's founder, Michael Patton. "Fetch allows for outsourced package storage and resident-controlled last mile delivery."
roOomy
Website: rooomy.com
Year Founded: 2010
roOomy's patented 3D, augmented and virtual reality technologies allows real estate professionals to stage properties virtually. This gives renters the power to visualize themselves in their desired space and make their new home selection process easier.
"roOmy allows companies to break down visualization barriers within 48 hours of receiving photos of a space and creates virtual stagings through both virtual reality and augmented reality," said roOomy's Director of Busienss Development, Taylor Wilding.
roOomy works to give customers and those interested in interior design the ability to "try before you buy" with the ease of shopping online.
Urbandoor
Website: urbandoor.com
Year Founded: 2015
Urbandoor's booking platform offers companies a better solution to their typically hard-to-manage extended stay lodging solutions. This on-demand technology platform enables multifamily owners and operators to utilize their vacant inventory while adding no extra on-site staff.
"Urbandoor helps with relocations, travel, training, rotations and intern housing and does so in a way that onsite staff aren't seeing leads, but only actual business," said Erik Eccles, Urban Door Co-founder and CEO.
Urbandoor's technology is intended to enable apartment owners and corporate housing providers to easily offer and operate serviced apartments for business travel, relocation and project work.
---