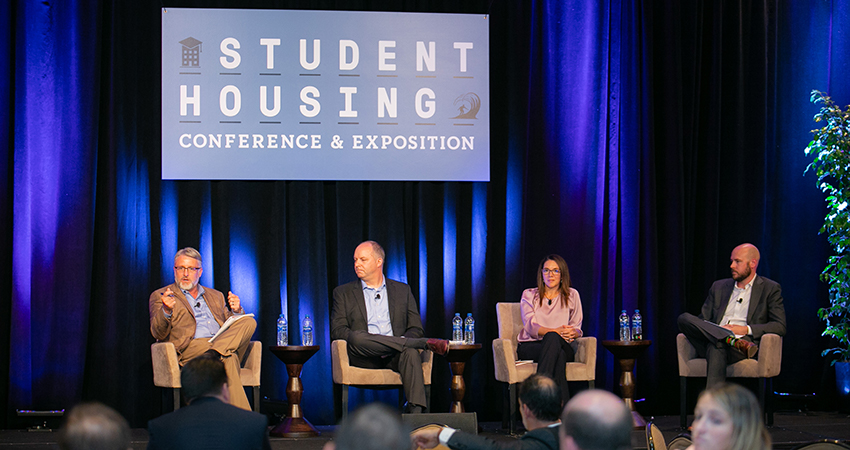 Last spring, NMHC released its Disruption report, which identified a series of demographic, psychographic and technology trends as the major game changers for multifamily moving forward. During the 2018 NMHC Student Housing Conference & Exposition, a panel of experts discussed how these tectonic shifts might reshape students' expectations and experiences, as well as the sector's approach to designing, developing and operating purpose-built student housing communities.
Participating in the panel were Greystar's Scott Casey, John Burns Real Estate Consulting's Chris Porter, The Center for Generational Kinetics' Dr. Denise Villa and Gensler's Brian Watson.
The session kicked off with a discussion of the characteristics that make the next generation of college students different. Gen Z, while a smaller generation compared to Gen Y and Millennials, is going to grow and become increasingly diverse thanks to immigration. Technology is a lifestyle for this generation, as 55 percent use iPhones for five or more hours each day. This connectivity has made these young adults not only super savvy on social media platforms but also extremely resourceful. One in four works a side hustle or gig to make money, and friends and family overwhelmingly influence spending. Moreover, these young adults put less emphasis on brands and say they are more likely to pay for a good look and feel of a product.
These characteristics, along with broader shifts in technology and consumption, are likely to reshape their housing needs and expectations. "Ultimately it's about this transition, where they [students] are prepping to become an adult," said Gensler's Watson.
The panelists agreed that the next generation of students looks at their physical space much differently. In many cases, square footage becomes much less important, as does having private space.
"Tiny homes, microunits—that's something that this generation has seen," explained Villa. "The expectation is that it's ok to have a smaller space for living."
Watson agreed, adding, "The idea of micro-units and co-living and experiences like that are really blending into student housing." Moreover, he noted that students are using what space they do have much differently than previous generations. For example, students study in their bedrooms more than anywhere else on campus, which suggests that typical room configurations and furniture selections might need to be reexamined.
"Single-use spaces are really becoming obsolete," said Watson.
Technology, connectivity, and the right mix of amenities will also be paramount in student housing of the future. "I think you can go considerably smaller if you still have the amenities and the features they desire," said Villa.
"Creating that lifestyle, that sense of community or activity is really important," added Watson.
There are also big implications for parking, as students increasingly use ride-hailing and ride-sharing technology platforms. "If we do move toward an automated vehicle model, or Uber continues, I think it's going to open up a lot of prime real estate," explained Porter.
---