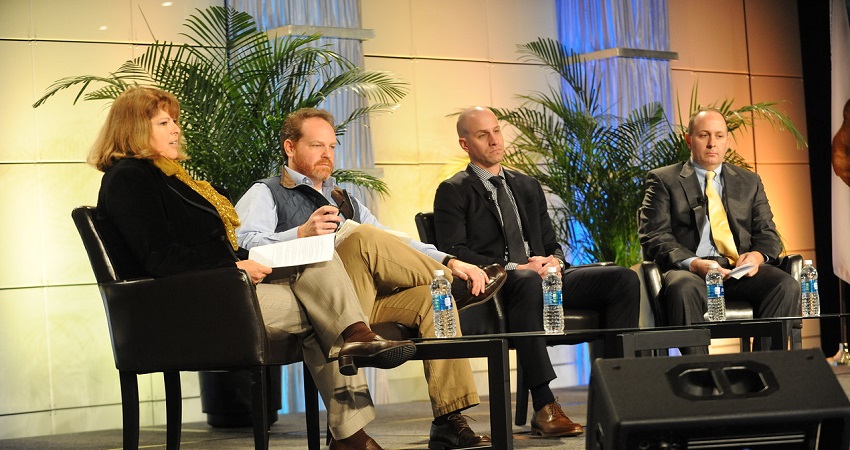 The multifamily industry has evolved such that operational efficiencies are no longer just looked at as a cost saver; rather, they are also considered value drivers. This shift is making energy and water efficiency core business competencies. At the 2017 NMHC Annual Meeting, executives focused on the innovative technologies and techniques that are helping take energy and water performance in multifamily to the next level.
In one panel moderated by Brenna Walraven, CEO of Corporate Sustainability Strategies, multifamily executives discussed the growing emphasis on sustainability, the new technologies being deployed in specific projects and what they see going forward. Panel participants included Louis Schotsky, vice president of investments for Equity Residential; Drew Torbin, CEO and founder of Black Bear Energy; and Kevin Verdi, managing director of investments for National Real Estate Advisors.
Walraven kicked off the discussion noting that for as much as sustainability innovation is about saving money, it also drives resident satisfaction and tangible environmental and financial outcomes. National Real Estate Advisors' Verdi agreed, saying that sustainability is no longer just a bonus add-on.
While the panelists discussed the investment, implementation and benefits of specific technologies such as solar thermal heating, cogeneration systems, micro turbines, vertical farming, energy storage and more, some interesting discussion was had around the growing nexus of food, health and wellness in real estate.
While Equity's Schotsky stressed the importance of walk scores to his residents, Verdi talked about the increased interest in wellness certifications like Delos' WELL Building Standard, which look at how built environments can affect things like stress, happiness and well-being.
However, for many multifamily firms, just being able to benchmark energy performance is a critical first step toward sustainability innovation. In a separate discussion focusing on using building performance data to catalyze value, Cliff Majersik, executive director for the Institute for Market Transformation, led a panel that focused on the profit opportunities currently available in cities and states across the country to track energy use in multifamily buildings.
Panelists included David Leopold, vice president of affordable housing production for Freddie Mac; Bob Simpson, vice president for affordable, green and small loans business for Fannie Mae Multifamily; and Michael Zatz, manager of the U.S. Department of Environmental Protection's (EPA) ENERGY STAR Commercial Buildings Program.
The conversation mainly focused on the EPA's Energy Star program and the profit opportunities now available. By catalyzing efficiencies, owners, operators, lenders and governments can reinforce each other's use of energy efficient strategies and driving investment and profit for those who can make their buildings perform better than their competitors.
More information on multifamily sustainability programs can be found here.
---