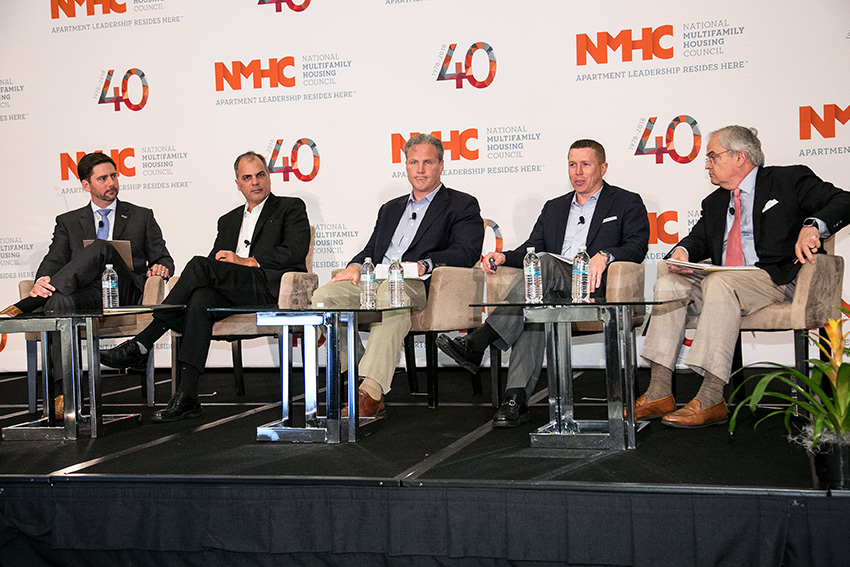 Rightly so, the industry spends considerable time looking at tomorrow's apartment communities. Yet the evolution of multifamily design and construction is accelerating, with "next-gen" possibilities already available for use today. Moderated by Ricardo Rivas, President and CEO of Allied Orion Group, a panel of leading industry experts discussed how they're applying future-looking design and technology right now.
Perhaps the largest untapped segment of the marketplace for new innovations remains construction. New approaches in engineering have led to taller, and taller wood frame buildings. In Tokyo, Sumitomo Forestry is proposing a 70-story hybrid timber skyscraper – nearly four times higher than the world's current tallest timber building, the 18 story Brock Commons Student Residence in Vancouver.
The evolution of modular construction was also discussed, and despite some disappointments, new technologies are seen as another opportunity to innovate in the space and bring construction costs down. One of those companies, Prescient, has generated industry interest without some of the issues of one-size-fits all design.
"What we like about Prescient is we get to keep the desired architecture and scheme," said Ray Kimsey, President, Niles Bolton Associates. "We've been very competitive with construction costs, but still able to deliver desirable architecture design."
Using a more modular approach has translated into direct savings for Jared Ford, SVP at Crescent Communities. Ford was able to save $25 a square foot on a 22-story building using Prescient.
Using another approach, Bob McCullough, Vice President at UDR, explained how their company is using Katerra – a multi-faceted firm deploying technology solutions to optimize apartment construction.
Parking remains a major area for innovation, along with numerous unknown. The largest question centers on autonomous vehicles and how much parking to construct for tomorrow's residents.
"What happens in 10 years when you build a multi-million-dollar parking structure and then it's not needed," said Walter Hughes, VP of Design at Humphrey's & Partners.
---