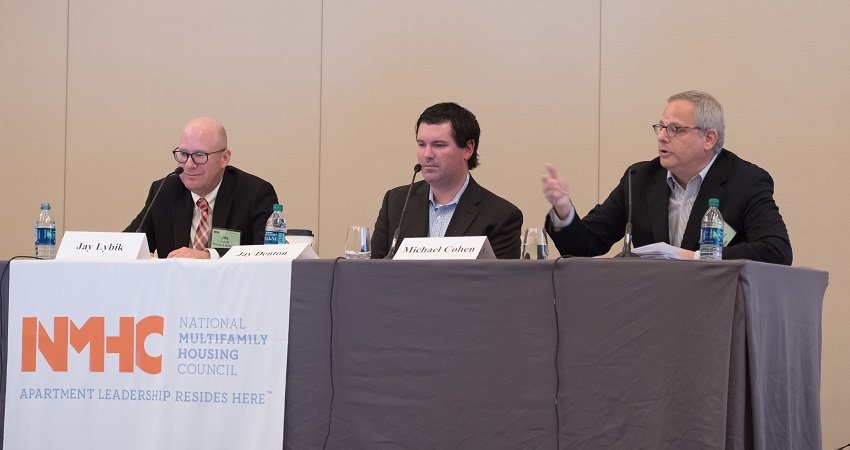 In the first quarter of 2017, the market sent the multifamily industry a few warning signs. Vacancy rates climbed in many markets-even fairly drastically in places like Nashville, Fort Lauderdale, Austin and Houston. Absorptions also turned negative for only the fourth time since the Great Recession. And roughly 76,000 new apartments came online during the quarter, adding to concerns over new supply levels, especially in the urban core.
In response, concessions rose in markets such as Houston, San Francisco, New York and San Jose. However, for a panel of market researchers from Marcus & Millichap, Axiometrics/RealPage and CoStar at the 2017 NMHC Research Forum, the good news was that concessions on stabilized assets are still well below 2009 levels; the bad news was it's a different story on lease ups, particularly in urban core areas.
"It has a lot to do with vintages of deliveries," said Michael Cohen, director of advisory services at CoStar Group. "What we're finding is 2015 vintages-about a third of them are still sitting at a 10 percent or more vacancy rate."
Part of the problem is that some of the newer vintage product requires higher household incomes. Cohen estimated that 83 percent of new product requires household incomes of $75,000 or more with that rising to 96 percent in the urban core. This stands in contrast to the fact that 64 percent of apartment households earn under $50,000.
"There's a very big disconnect between median income in certain areas and expected income for urban core properties," he said. "You have to bring renters in from outside the submarket."
However, while market metrics have clearly shifted, Jay Lybik, vice president of research services for Marcus & Millichap, said that some of the concession activity might be more panic driven than market driven. Because despite some of the softening, there is still strength in the market, too. Unemployment is quite low, there's still solid year-over-year rent growth in many metro areas (Atlanta, Miami, Denver, Tampa and Chicago, for example) and the Class B and C market is tight.
"In a market that's this tight with good absorptions, to have negative rent growth is an anomaly," Lybik said.
The other silver lining is that new supply is expected to moderate going forward. Roughly 270,000 new units are expected to deliver across the 54 biggest markets this year, affecting some markets like Nashville, Charlotte, Orlando and San Antonio more than others. And despite the big number of units in planning, many are unlikely to see the light of day.
"While the next 24 months are going to be more challenging for urban product, our data show signs of construction activity begin to moderate," said Cohen. "This is due in part to a lack of capital but also a function of lenders. Federal regulators needed to pay attention to construction activity, particularly in multifamily. There is some hesitancy on the part of large multifamily construction lenders at this point."
Click here to access the full presentation.
---