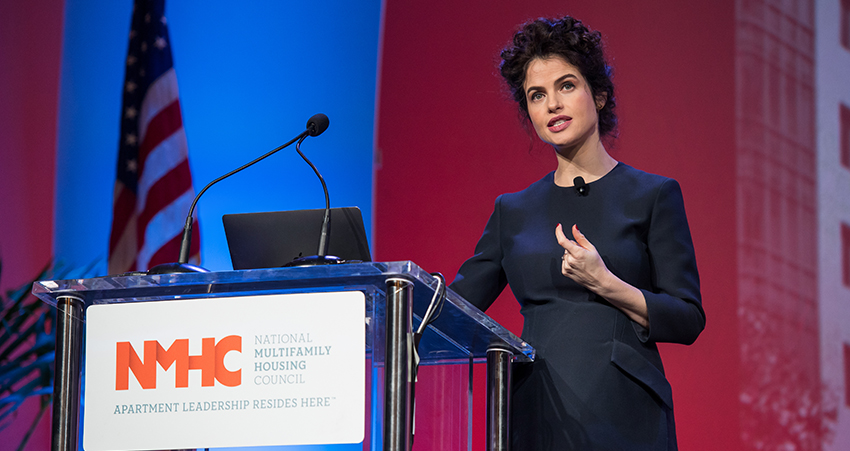 What does the future of development look like? Experts from a variety of disciplines weighed in on that question during the 2019 NMHC Annual Meeting.
In her interactive, mind-bending presentation, architect, designer and inventor Neri Oxman, also the Sony Corporation Career Development Professor and Associate Professor of Media Arts and Sciences at the MIT Lab, suggested that the answer lies at the intersection of biology, technology and design.
She offered examples of recent experiments where advanced technologies such as 3D printers and robotics leveraged organic matter to effectively fabricate new materials that are both biologically informed and digitally engineered. This new approach suggests enormous shifts in design, construction and sustainability in the future even as her projects are rooted in the world of art and high design today.
While the days when we will be able to scale 3D printed glass, build commercial structures using computer-guided silkworms or use swarms of robots to autonomously build complex structures out of organic fibers may seem a ways off, the issues of new, transformative technologies and their scalability in the built environment is something multifamily developers and builders are grappling with today.
A panel of architects and developers discussed the implications for new development. Brandt Bowden, CEO of Hanover Company, moderated the discussion with panelists Steve Bancroft, senior managing director at Trammell Crow Residential; Jack Boarman, CEO of BKV Group; Niles Bolton, chairman and CEO of Niles Bolton Associates; and Jerry Brand, senior managing director, west coast development for Greystar.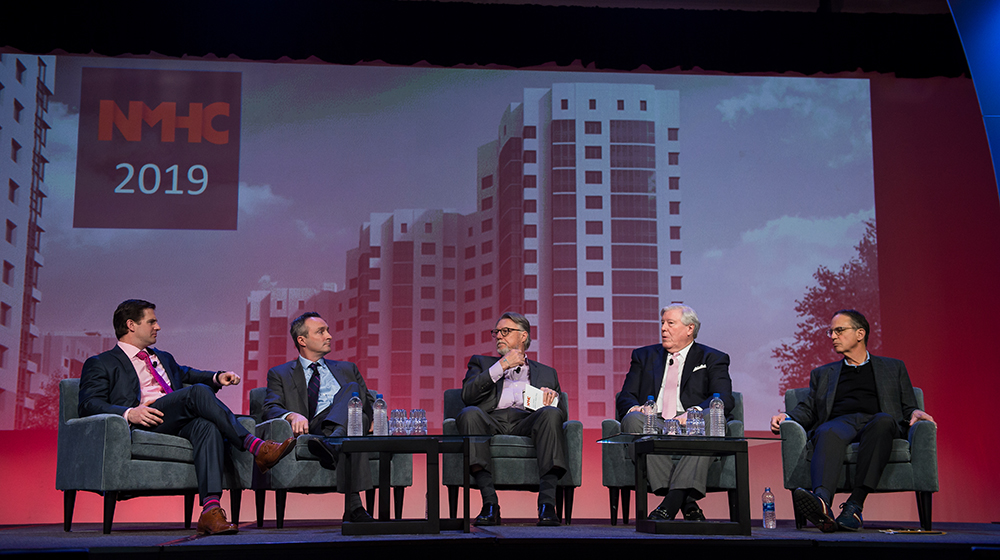 When asked what technological innovations are having the biggest impact on multifamily development today, the panel focused on modular and pre-fabricated building technologies, where building components are essentially fabricated in a factory setting and then shipped and assembled on site.
The promise of this type of approach is that in a controlled setting with advanced technologies there's less waste and more efficiencies during the construction process, which ultimately save time, money and agita. While this concept is not necessarily new, several new companies are looking to take it to a new level in terms of the complexity of the design and scalability.
Like other multifamily firms, Brand said Greystar has become very interested in Katerra, a Silicon Valley-backed construction start up. "We haven't built a Katerra product, but we have been impressed by the funding they've received, their people and expertise and the ideas they are considering," he said.
Trammell Crow Residential's Bancroft, on the other hand, said his company has already made some initial forays into modular. "We've worked with Katerra," he said. "We're focusing on markets where labor is tight and supply is constrained. Our experience with Katerra has been positive so far."
"We've also had a lot of success with Prescient," he added. "We were first movers into that space."
But there's always a learning curve for both the developer and tech partner when taking these new technologies and systems out into the market. Panelists said that companies should be well capitalized and prepared to alter their traditional approaches to the development and building process. For example, building design plans need to be formalized from the get-go to be able to realize the technology's benefits—something that can be difficult for multifamily firms that are used to often tweaking designs well into the construction process.
Firms need to allow hiccups getting all the stakeholders onboard and up to speed with the new approach. For example, this technology and approach will be new to general contractors and subs. Moreover, even local jurisdictions may be hesitant at first about the new technology in their markets.
"I'd urge that folks considering new tech that they ask questions they'd otherwise make assumptions for," noted Bancroft. As an example, he said that in Denver, Trammell Crow had such a project delayed by the city because authorities insisted that each of the materials be individually tested.
"As market conditions vary from city to city, different systems become more or less competitive," noted Bolton.
---