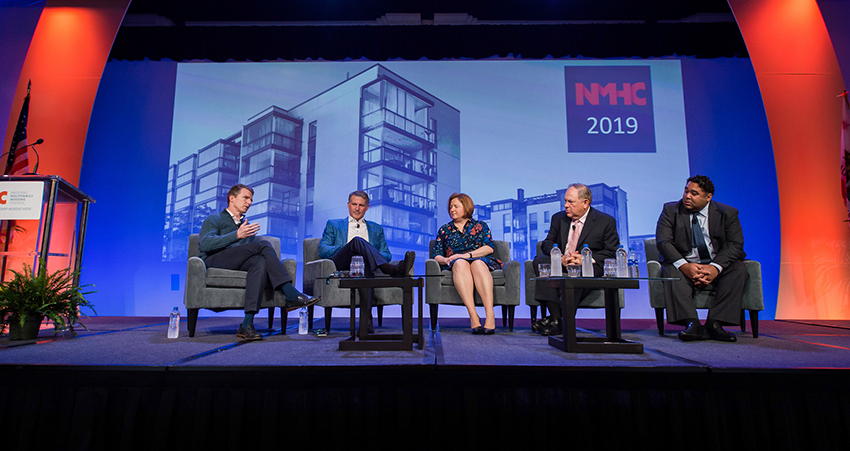 Keep calm and carry on. That was the overriding sentiment among leading multifamily investors and capital providers, as they sketched out their strategies for the year ahead at the 2019 NMHC Apartment Strategies Outlook Conference. On the one hand, continued strong fundamentals were cause for some excitement and optimism; on the other, rising concerns about a possible economic downturn, increasing costs of capital and a number of sector-specific challenges were creating some hesitation in the market.
A panel discussion led by Willy Walker, chairman and CEO of Walker & Dunlop, looked at how investment philosophies had shifted compared with last year and the reasons why. Participating executives included Steven DeFrancis, CEO of Cortland Partners; Helen Garrahy, senior vice president at Heitman; Robert Hart, president and CEO of TruAmerica Multifamily; and Asim Hamid, principal, real estate at Blackstone.
"This time last year, we were very excited about the year, excited about a lot of growth in the markets where we participate," explained DeFrancis. "The thinking was, there's a lot of demand growth, a lot of capital interested, but be cautious about what you're building and where. And frankly, we feel the same this year. We think the most important thing is staying focused on the underwriting of every single asset."
Garrahy agreed. "We were cautious and we are again this year," she said. "As we approach the new year and 2020, like many others, we are anticipating that the downturn will come. The complexion of the market is a bit more concerning because there's so much supply. But we still plan to invest this year."
With less transparency in the market, it's been difficult to make solid performance projections. From interest rates and cap rates to rents, investors don't have a good read on where key indicators will settle. Consequently, despite having capital to deploy, investors have stepped in and out of the multifamily market, diminishing opportunities.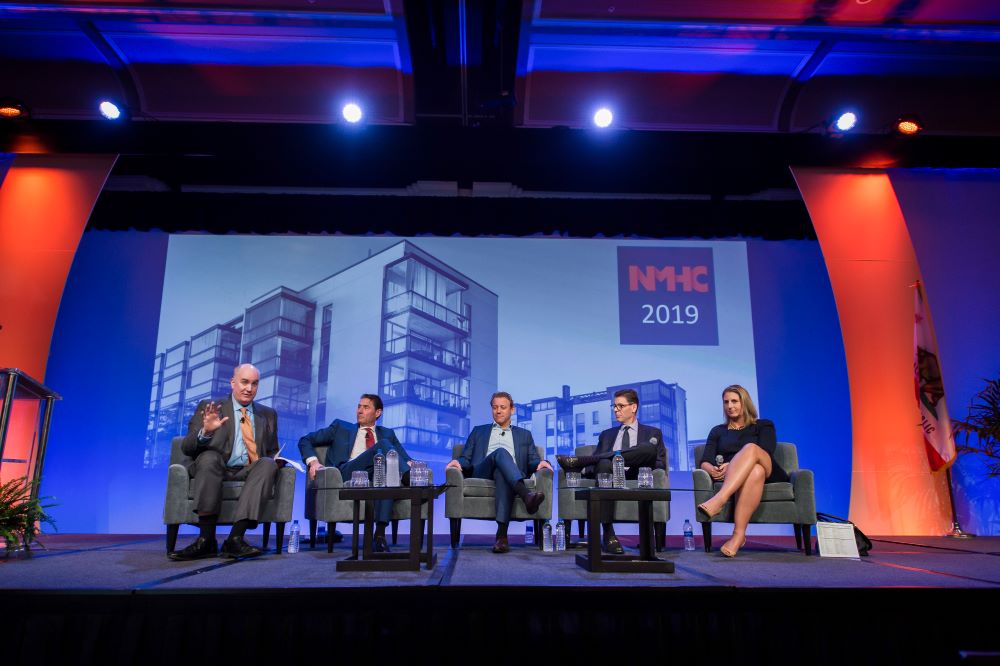 During another capital markets discussion, Katie Bloom, managing director at Goldman Sachs, said, "I think everyone has a bunch of money, but I think it will be harder to deploy the money than people think. The bid-ask spread is growing and will continue to grow in 2019. There is more money than there are deals to be done. I think that's true of our shop and almost every shop here. The seller expectation is going to be the biggest hindrance in 2019."
Bloom's panel also included, moderator Jim Costello, senior vice president of Real Capital Analytics; Steve Fried, principal at Mesa West; Philip Martin, senior vice president at Waterton; and Mike McRoberts, managing director at PGIM Real Estate Finance.
Others said opportunities continue to exist. The sector's demand fundamentals and historical resiliency continue to attract capital sources on both the equity and debt sides of the equation, even as equity providers begin to feel more risk creeping up. Debt providers—GSEs, banks, life companies, debt funds, and pension funds—are still active, with many projecting to do similar levels of activity this year as last year.
However, what deals capital sources are investing in have shifted to some degree in search of yield. Good value-add deals have become more difficult to find, leaving some investors to begin targeting lease-up deals. "We found we could find the same returns from buying a new building at 50 percent leased up than buying an older asset and doing renovation," explained DeFrancis.
Others have found better yields in different markets and by moving out of the urban core. "Over the last year or so we've gone a little more fringe and a little more suburban, and we've been happy with it so far," said Garrahy.
---