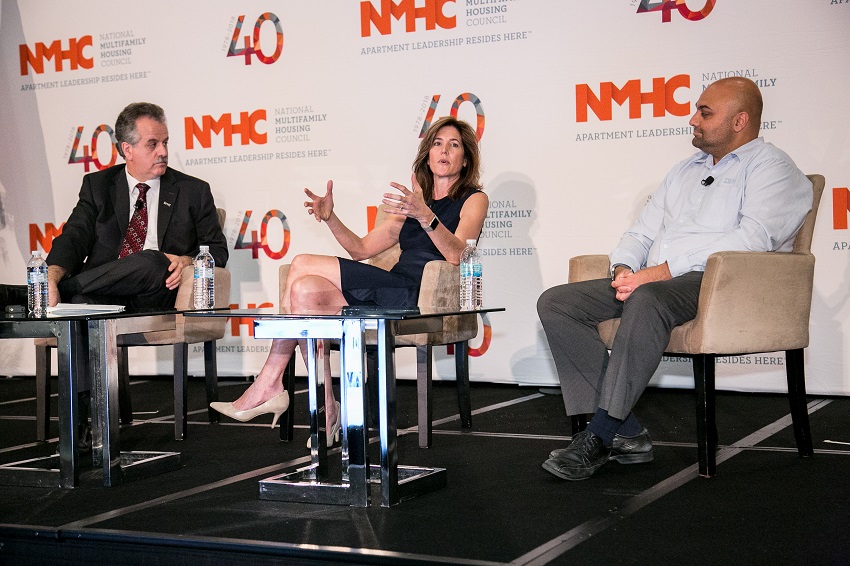 A primary focus of the 2018 NMHC Spring Board of Directors Meeting was the impact emerging technologies like automation, artificial intelligence and decentralized ledger systems (blockchain) will have on the multifamily industry over the coming years.
Donald Davidoff, President of D2 Demand Solutions moderated a session focusing on AI with Wayblazer's CEO Noreen Henry and IBM Watson's Neil Sahota. Davidoff has been exploring the potential roles that AI could play in the apartment sector and noted that he sees a number of opportunities, including in marketing, hiring, service requests, smart home controls, pricing valuations, concierge tour guides, chat bots, call coaching and security.
When considering how to most effectively deploy new technologies, Wayblazer's Henry recommended that apartment owners and managers "start with specific, concrete areas where it (AI) can have a significant impact. These areas need to those that have good data that you can use to train AI such as maintenance requests and calls. IBM's Sahota agreed with the "start small" approach, noting that adopters of AI shouldn't underestimate the need for training. Owners and managers will need to teach machines the basics and for that companies will need the subject matter experts to educate them.
The session concluded with Davidoff asking the ever-present question when it comes to AI automation – what will happen to today's jobs? Sahota noted that "the jobs of tomorrow are going to require all new skill sets. The goal of AI and robotics is to take more of a role in administrative tasks and free up individuals for critical thinking. AI will upend industries and we, as a society, need to start grappling with the consequences that entails."
In addition to AI, another session delved into what Blockchain is and why it is relevant to the multifamily industry. The panel was moderated by Stephanie Furhman of Greystar. Industry experts, James Conrad Johnson of Oaken Innovations, Gerald Reihsen III of Reihsen & Associates and Kyle Wood of Perkins Cole were the panel speakers.
The discussion began with defining Blockchain. Blockchain is a digital record keeper that publicly records transactions in a block and links to similar blocks of transactions chronologically – hence creating a chain. The panel noted a recent Forbes article, which explained that industries that use a lot of paper for record keeping would be affected the most initially. Because the multifamily industry is one of these industries (because of leasing, real estate transactions, etc.), it could be greatly impacted.
The panel also discussed various ramifications of implementing this technology – one of them being issues of privacy and security. Reihsen pointed out that the data stored with Blockchain can be encrypted and there are various applications that can be used with it to keep that data private and secure. The panel elaborated on this by explaining that Blockchains are generally permissioned and private. They prioritize identity over anonymity, selective endorsement over proof of work and assets over cryptocurrency.
To close, the panel illustrated a scenario in which Blockchain could be used in the multifamily industry. Blockchain could assist during the leasing process to help to generate a credit score for potential residents. "Although [multifamily] residents may not know it, Blockchain will change user experience," Johnson explained. They also listed utilities, property acquisition and MLS as other potential multifamily areas that could be affected.
---