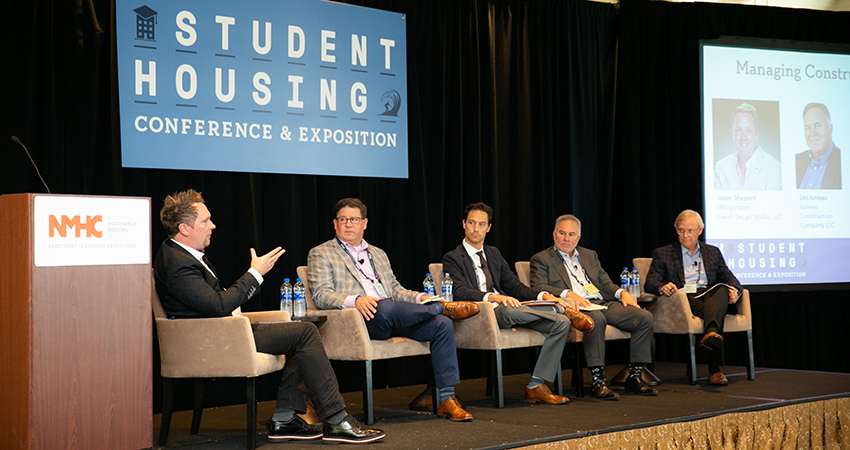 For student housing executives, rising construction and labor costs continue to be top of mind, as new developments are becoming increasingly complicated and take longer to build. "Construction costs have been very challenging," said Landmark Properties President and CEO J. Wesley Rogers during a big picture executive insights discussion at the 2018 NMHC Student Housing Conference & Exposition.
Executives dug deeper into the issue during another panel moderated by Dwell Design Studio's Jason Shepard. Joining him in the discussion were Mark Riley from Landmark Properties, Les Juneau from Juneau Construction Company LLC, Chad Matesi from Core Spaces and Mike Paluga from Peak Campus.
In talking about the labor shortage, the panelists shared ways in which they've gotten creative. Core Spaces' Matesi explained that sometimes it's more cost effective to import vendors and subcontractors from other markets.
"Whether it's bringing in these subcontracts from day one or bringing in those subs after the fact to help clean up that unskilled labor force, it's really us relying on the relationships that we've been able to foster," he said.
Juneau agreed, adding, "Now is not the environment to set out and get bids from multiple contractors—it's all about the existing relationships you have."
Given the price fluctuations that go along with the chronic labor shortage, student housing developers are getting much more detailed in their cost analyses. But the completion of a successful and cost-effective project is all about having the right people in place.
"Key to the process is the right GC and having the right team together," said Paluga. "It's all about understanding the collaborative approach."
For Matesi, it's not only about the people but the planning process, which is where he said his company is spending more time. "We've found ourselves really digging into the details of planning," he explained. "Are we going to tie rebar? Are we doing an eight-inch step or a four-inch step? We get really in the weeds for planning and how to control those costs and designs."
Similarly, executives said companies are looking to capture potential savings that help offset rising costs by cutting out the middle man. "I'm seeing that more midsize companies are going to take more matters in their own hands to help control their destinies," Juneau explained.
Further complicating new student housing development is that the regulatory environment continues to get more difficult and expensive to navigate. A new NMHC study found that regulatory costs accounted for more than 30 percent of the costs of a multifamily development.
The group also talked about potential disruptions in the industry. Paluga noted that construction aimed to maximize density and increase efficiency is top of mind. He highlighted modular construction, specifically, noting that "it's really going to streamline the process."
In addition, the panelists highlighted how the change in resident preferences could disrupt the industry, using on-site parking as an example. "Some of these advancements we're seeing … it's not quite there yet, but it's almost there," Matesi explained. "It's going to completely change the way we build."
---