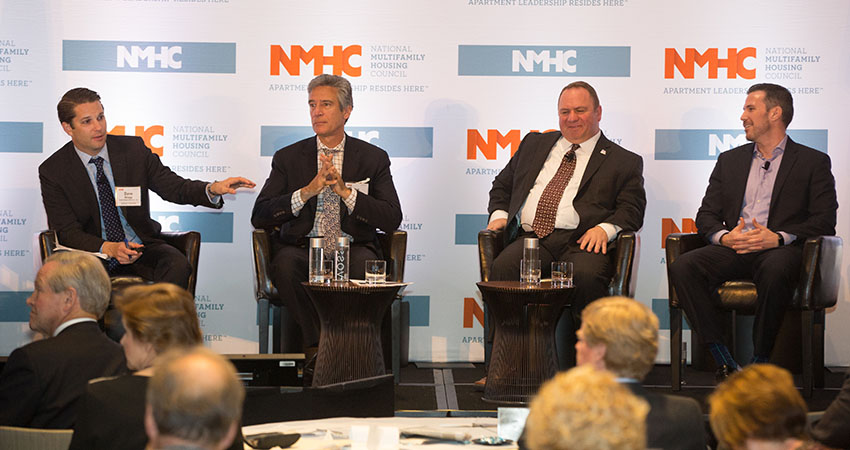 The transportation revolution, which includes the arrival of ride-hailing (e.g., Uber) services and the expected growth of driverless vehicles, may result in significantly lower demand for vehicle ownership and parking, creating myriad potential opportunities and challenges for real estate investors.
At the 2017 NMHC Spring Board of Directors Meeting, a panel of experts discussed the potential long-term impact of these deeps shifts transportation preferences and shared ideas on how to begin to try to anticipate those future needs when building today. Panel participants included Dave Bragg, managing director at Green Street Advisors; Joe Brancato, regional managing principal for Gensler; Bill Lyons, president and CEO of Fort Hill Companies; and Brett Richards, vice president of investments at Equity Residential.
The two main components of the so-called transportation revolution are ride-hailing and driverless cars. With the success of companies like Uber and Lyft, it's clear that ride-hailing is already here. Fewer young adults getting licenses. Taxi and rental cars are feeling the pain. And driverless cars are coming, ushering in a lot of potential benefits but also raising a lot of questions.
Looking at these trends, Green Street's Bragg said the outlook for car ownership isn't good. The confluence of ride hailing services and driverless vehicles is likely to create efficiencies and cost savings that will be significant enough to entice people to give up the car keys for good.
Transportation is the average household's second biggest cost after housing, accounting for 19 percent of the household budget. Green Street estimates that shared, driverless, purpose-built vehicles will operate at a cost of $0.15 per mile; this compares with the $0.59/mile and $0.75/mile it costs to operate owned vehicles that travel 15,000 and 10,000 miles a year, respectively.
In fact, ride-haling services have already gotten so inexpensive that some municipalities are opting to subsidize residents' ride-shares rather than build parking. Bragg offered Summit, N.J., as an example.
With fewer cars, less parking is needed. In fact, Green Street estimates that a 50 percent reduction in parking is possible. Such a drastic reduction has lots of implications for real estate, across any number of sectors. But the big question is what becomes of the more than 150 billion square feet of parking that currently exists?
"We really believe that, within ten years, we are going to feel significant impact from autonomous vehicles," said Gensler's Brancato. "We need to design parking structures to have other users. We need to do things like minimize ramps, locate them on the outside of the building and make parking facades indistinguishable from the building."
And some developers are already starting to move in that direction. Equity's Richards talked about the company's Helios Apartments in Seattle and some of the strategies the company has in place to make the building's parking more flexible as needs change. For example, the company created a design plan where amenity space can be relocated to the garage, freeing up space to create more units on higher levels.
More fundamentally, these shifts are redefining mobility in general; people are increasingly moving from a single-source of transportation-most often a car-to multimodal transportation. This means that people are using a combination of methods-ride-share services, bikes, cars and even public transportation. However, just three percent of cities are taking into account ride-share options, also called transportation network companies, into their transportation plans.
---