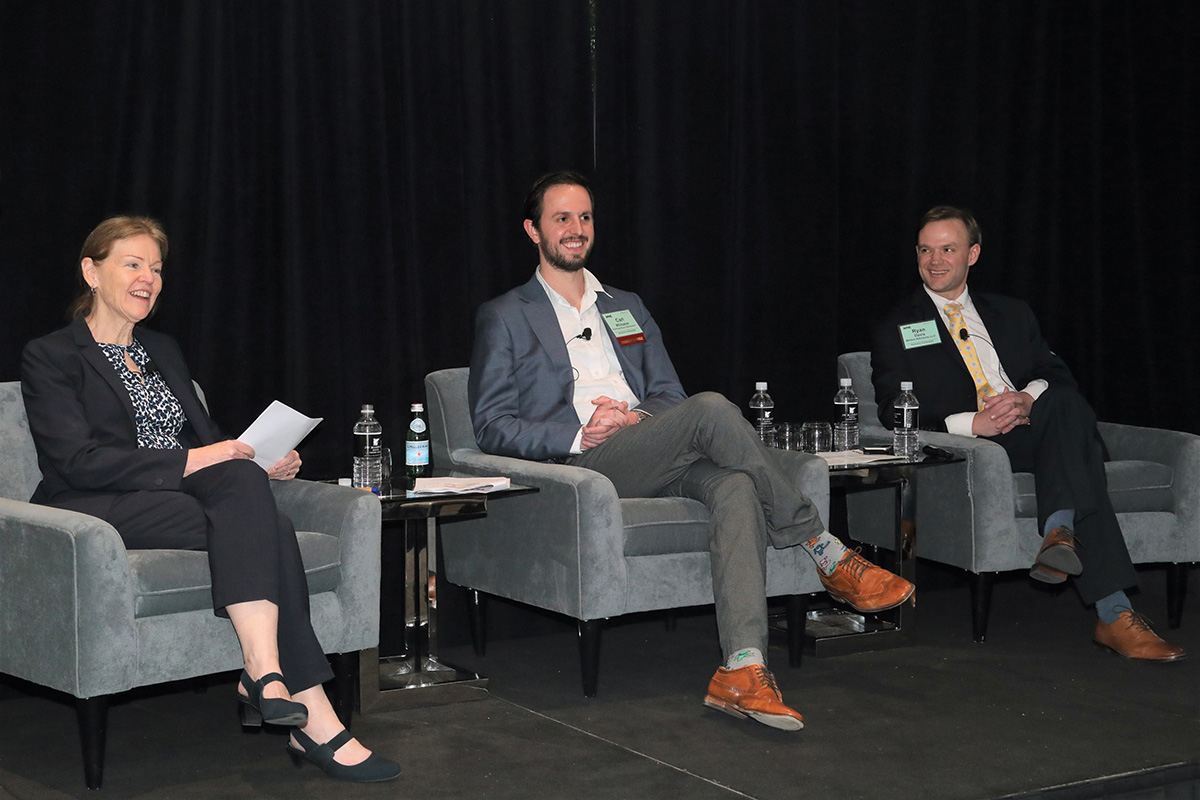 The apartment industry is still going strong after a long and positive cycle according to three experts at the 2019 NMHC Research Forum. Moderated by Jeanette Rice, CBRE's Americas Head of Multifamily Research, the panel also included Ryan Davis, director of research and client services for Witten Advisors, and Carl Whitaker, a market analyst from the data analytics group at RealPage. View their presentation slides here.
Davis acknowledged the potential for volatility in the market with major swings in housing starts, employment and other economic indicators. There is also concern about the impact of the Federal Reserve cutting rates, which seems likely at this point. In addition, he expressed great concern about inflation not hitting its target. Regardless of this uncertainty, "the multifamily industry has been the bastion of stability," according to Davis. Moreover, the economy is continuing to produce jobs, providing a boost to multifamily. 
Apartments are offering a comfortable floor for investors, according to Whitaker. While slightly down compared to recent years, he cited a 93 percent national rate as a strong sign, particularly compared to office and industrial space rates. A 3.2 percent national rent growth reinforced this stance. Even late recovery markets like Phoenix and Las Vegas, he pointed out, were rent growth leaders in the early stages of this year. Increased interest in these types of markets, according to Whitaker, is another strong sign of potential places for continued investment. 
Whitaker said there is currently strong investor interest in secondary and tertiary markets. While there are great opportunities in these markets, he stressed that it is important for investors to do their homework. 
He pointed to Austin as a great example of one of these markets. Davis agreed that it is a fascinating place for investment. Austin leads in terms of expansion of apartment stock since the recession and has seen a massive amount of supply come onto the market. Though it had a bit of a stall, Austin has risen again to be a rent leader. While Whitaker viewed Austin as particularly attractive market, with high demand, slightly pulled back supply and diverse enough development allowing for some arears to be sheltered from supply, Davis was more skeptical. He saw the center city as a bipolar market and instead said he was more interested in the Texas suburbs where the mentality is "build, build, build." 
On the topic of suburban compared to urban growth, Rice observed a migration to apartments, pointing out that she has seen more and more garden-style apartments being built. This, she said, is good for affordability. Davis added that while earlier in the cycle there was a focus on the urban cores, the last few years have brought a greater willingness to branch out into suburban projects. He noted that starts are actually down in most major markets, but said that, in terms of development, construction activity is still quite strong.
One market all participants were high on was Oakland. Rice stated that there is a great economy and a ton of new supply, mostly A-class. Davis also liked Oakland's potential as it is a cheaper alternative to many other areas in the Bay Area. While Whitaker mostly agreed, he cautioned that Oakland is likely going to experience some "growing pains" over the next few years.  
When it comes to asset class, Class C remained the strongest though occupancy rates across all classes stayed strong. While Class A surpassed Class C, Class B remained top overall at the end of 2018. Whitaker expected that Class A was supported by what he called "concession burn off." 
Despite so much indicating a strong albeit slowing market, there are some difficulties that have recently become apparent. After such a long and positive run, "it does seem like deals are just becoming harder to pencil," said Davis.  While fundamentals might not be as ideal over the next few years, he continued, there are still many opportunities. Going forward, margins may not be quite a strong as they were in years past but should still be good. 
---