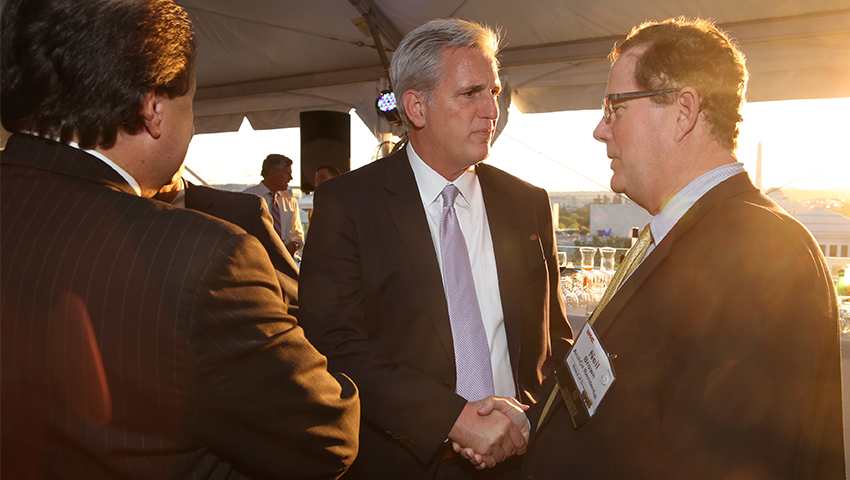 More than 25 members of Congress from both sides of the aisle met with NMHC members as part of the 2016 NMHC Fall Board of Directors and Advisory Committee Meeting.
Representatives Pete King (R-N.Y.) Dan Donovan (R-N.Y.) popped by the NMHC suites to shake hands with and say hello to members attending the baseball game between the Washington Nationals and New York Mets on the first evening. 
In addition to serving on the House Financial Services Committee, Representative King is a leader in issues related to homeland security and international terrorism, while Representative Donovan is involved in anti-terror and disaster-response policies.
The following afternoon, Senators Heidi Heitkamp (D-N.D.) and Dean Heller (R-Nevpaul.) talked to members about the possibility of a reauthorization of the federal flood insurance program and housing finance reform. Both are members of the Senate Banking Committee. Heller is also the vice chairman of the National Republican Senatorial Committee, an organization devoted to getting Republicans elected to the Senate.
Senators Ron Wyden (D-Ore.) and Senator Sherrod Brown (D-Ohio) both talked to members about housing affordability and its limiting effect on economic growth. Both Wyden and Brown are ranking members of two important committees, the Senate Committee of Finance and the Senate Committee on Banking, Housing and Urban Affairs, respectively. Should the Democrats come away with a win in November, both should advance to chairman of those committees.
House Democratic Whip Steny Hoyer (D-Md.) talked about the need for bipartisanship cooperation with former NMHC Chairman Tom Bozzuto,  while Representatives Blaine Luetkemeyer (R-Mo.) and Emanuel Clever, II (D-Mo.) discussed the bipartisan efforts that led to the passage of  NMHC-supported H.R. 3700, which made critical reforms to HUD's Section 8 voucher program for the first time in 50 years. Leutkemeyer serves as  chairman of the House Financial Services Committee's housing subcommittee; Clever is the ranking member on the housing subcommittee.
Later in the evening, House Majority Leader Kevin McCarthy (R-Calif.) and Representative Ben Ray Luján (D-N.M.) joined members on the rooftop of 101 Constitution for a cocktail reception.; Luján chairs the Democratic Congressional Campaign Committee, a political committee whose principal mission is to support Democratic House candidates.
Representatives Andy Barr (R-Ky.), Joyce Beatty (D-Ohio), John Delaney (D-Md.), Tom Emmer (R-Minn.), Bill Foster (D-Ill.), Denny Heck (D-Wash.), Bill Huizenga (R-Mich.), Carolyn Maloney (D-N.Y.), Erik Paulsen (R-Minn.), Keith Rothfus (R-Pa.) and Pat Tiberi (R-Ohio) also stopped by the event.
From the Senate, many NMHC members recognized a familiar face in Senator Johnny Isakson (R-Ga.), a long-time friend of the real estate industry, and Senator Rob Portman (R-Ohio), a member of the Senate Finance Committee. NMHC also offers special thanks to Senators Shelley Moore Capito (R-W.V.), Jerry Moran (R-Kan.) and Thom Tillis (R-N.C.) for joining us.
---