Millions of Americans have already suffered a loss of income as a result of the COVID-19 outbreak and will have trouble paying the rent and meeting other financial obligations.
As you know, on March 22, NMHC released a voluntary set of recommended principles for apartment firms to support residents impacted by COVID-19. They include: (1) a 90-day halt to evictions for those who have been financially impacted by the COVID-19 pandemic, (2) a 90-day halt to rent increases; and (3) the creation of payment plans for residents who are unable to pay their rent because of the outbreak.
We are sensitive to the fact that residents hearing about eviction moratoriums on the news may mistakenly believe that they do not have to pay their rent even if they have not been financially impacted by the pandemic. We encourage members to proactively reach out to their residents in advance of the April 1st rent due date instead of taking a "wait and see" approach.
Talking Points: Concerned About Rent? Federal Assistance is Available
Help your residents understand what federal resources are available to help them manage their household budgets, including the fact that for many households, enhanced Unemployment Insurance will replace 100% or even more of their income. This includes many workers who aren't traditionally able to access these benefits, including freelancers, independent contractors, self-employed people and much more. It also helps share the message that renters who can afford to pay their rent should to enable property owners to continue to provide safe and healthy housing for everyone while three-quarters of the population is sheltering in place.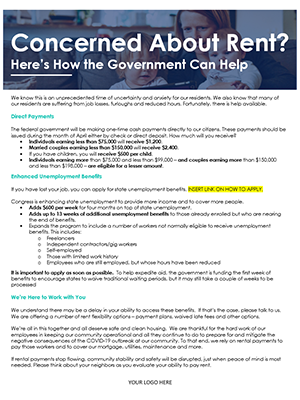 Talking Points: Communicating Rent Flexibility
NMHC has developed talking points that property owners and managers can use to help guide discussions or communications with residents who have been impacted, including a reminder to unaffected residents that their rent is still due. Members should customize their communications with residents based on their situation and policies and consult with legal counsel for compliance with applicable laws and regulations.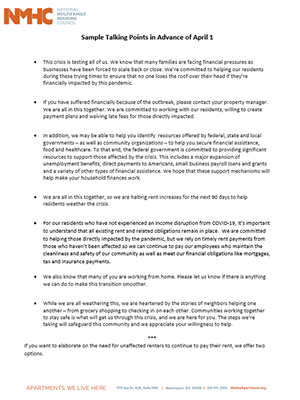 Signage Template for Resident Communications
NMMHC has created a template for signage you can post on your property. We encourage you to customize the template with your specific policies, for instance if you are voluntarily halting evictions or freezing rents.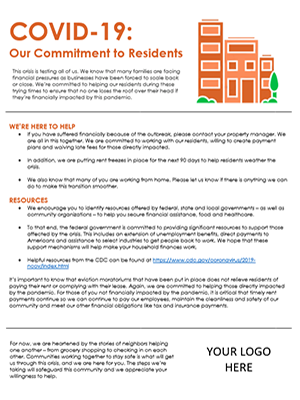 Considerations for Rent Flexibility Offers
We have also identified some information to consider if you are offering rent flexibility, including what kind of documentation to request.
Ask the resident to provide documentation such as a letter from their employer stating they have been terminated, laid off or hours reduced as a result of the COVID-19 pandemic. Preferably, the letter should be on company letterhead with their supervisor's or HR's contact information. Your firm may require other documentation based on your consultation with legal counsel.
If the resident is self-employed, request a copy of the first page of their current or prior year tax return or alternative documentation showing occupation as self-employed.
A written agreement signed by the resident will encourage clear expectations. An agreement may include the exact time period that the rent flexibility applies, the documentation required to be approved, and confirmation that the other Lease terms continue to apply, including the obligation to timely pay utilities, future months' rent and other charges when they come due according to the Lease, among other things.
Members are encouraged to work directly with their legal counsel to ensure adherence to lease terms and compliance with applicable laws and regulations, and to protect your rights if the terms are violated.
We hope you find these resources useful. As always, we welcome your feedback on these resources as well as other resources NMHC can provide to help your firm navigate COVID-19.
---