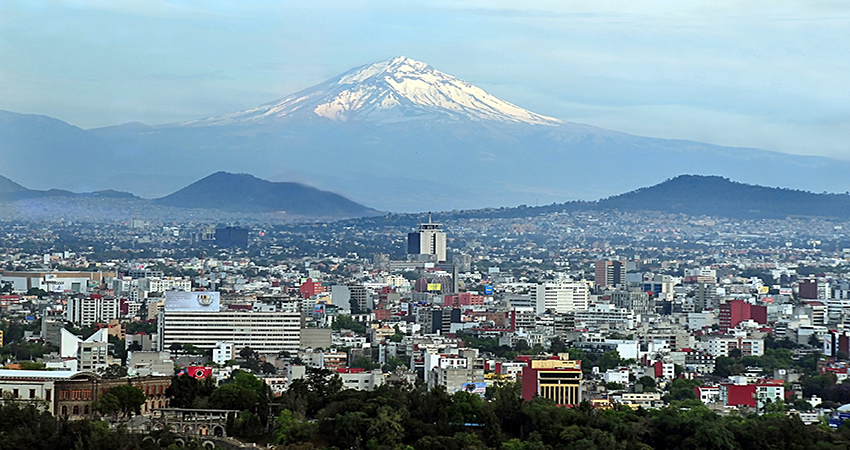 When we're in the midst of a presidential race as we are today, it's common to hear about everything that's wrong with the country, with the economy, with our reputation in the world, with the struggling middle class and so on. And while we, as a nation, face a slew of challenges, a little perspective can go a long way in making you appreciate the positives. And the same holds true for our industry.
I recently returned from Mexico City, where I met with local developers, investors (including a couple of U.S. investors) and Mexico's equivalent of our HUD Secretary. (You can check out my presentation from my Mexico trip here).
Mexico has a large population (roughly 128 million people) and a median age of 28. The Mexican economy is on the upswing and there have been a few years of budget surplus. There also has been impressive progress modernizing the Mexican housing market, in particular reducing some regulatory burdens and significantly expediting the eviction process. Local, private capital has also self-funded some impressive real estate developments.
And yet, despite these developments, which normally would be a tailwind to apartment growth, Mexico remains homeownership-centric. Little institutional capital is investing in housing, much less apartments. Moreover, its apartment sector is extremely fragmented, with predominantly small owners of individual houses renting to others. In short, Mexico is about where our industry was when we entered the 1980s.
This trip down south also made me think about when I lived in rental housing in Toronto, Canada. Since then, I've also had the pleasure of touring a number of rental properties in both Montreal and Vancouver for more perspective.
While the Canadian economy looks a lot like ours, its multifamily sector is quite different from ours and, in many ways, seems light years behind us. Largely attributable to a patchwork quilt of rent control provisions across the provinces, Canada produces very little new rental housing each year. In 2015, the entire country delivered 18,250 new units-for comparison, that's roughly what Dallas pulled in permits last year. The sector includes some professionally managed properties at the high end of the market, but the bulk of the market looks a lot like Mexico: homeownership-centric, very tenant-friendly, heavily regulated, little professional management and few sources of international capital specifically investing in its apartment sector.
And then there is the U.K. Along with our friends at ULI, NMHC has met with two delegations from England for some information exchange. Moreover, NMHC's in-house British ex-pat Kenny Emson has further informed our careful study of the British market.
Like Mexico and Canada, England is trying to work its way out of a heavily regulated and exceedingly tenant-friendly environment and is in the process of changing policies that historically have tilted heavily in favor of homeownership. Another similarity is that the U.K.'s rental sector is highly fragmented with little institutional ownership and few international capital sources investing in the sector. Case in point: Earlier this year, British insurer Legal & General and Dutch pension fund manager PGGM made media waves with their plan to build a total of 3,000 purpose-built rental apartments in the U.K.-a plan at once considered ambitious, aggressive and anomalous. The first phase will kick off with the construction of 650 apartments in Bristol, Salford and Walthamstow in northeast London, a move that upon completion will make the venture one of the largest landlords in the city.
Of course, there are some savvy, successful NMHC members operating in all three of these markets; opportunities clearly exist in each. But also make no mistake that each of these housing markets is far, far behind us in terms of market sophistication.
This has all got me to thinking not only about our own sector's evolution but also about what we can offer to some of these countries aspiring to develop and grow a more modern multifamily sector. In fact, this is the question that most of our foreign friends want me to answer. So, here's what I say.
It's helpful to remember two things about the U.S. multifamily market.
First, today's apartment industry is really only about 25 years old. Fannie Mae's Delegated Underwriting and Servicing (DUS) program got started in the late 1980s but only began hitting its stride in the early 1990s-right about the time that Freddie Mac's reconstituted multifamily business came back on stream and the REITs started going public. Those three developments propelled our industry forward and contributed significantly to the modernization and professionalization of our sector.
Second, over those 25+ years, we have put in place a number of critical pieces:
Private capital has the dominant market share
The federal government's risk is mitigated through private capital's first losses
The federal government's role is constrained and focused on targeted demand and supply programs
Significant and diverse capital sources invest in the sector from all over the globe
Debt and equity providers clearly understand the risks and protections facing them
There is a professionally managed market-rate subset of the overall rental market
While these are many of the reasons that we've maintained that the U.S. apartment market is the perfect model for the reinvention of our own housing finance system, they are also good guiding principles for places like Mexico, Canada, and the U.K. in their journeys to build more robust rental housing markets. We gladly share our playbook, and we wish them every success over the next 25 years!
---