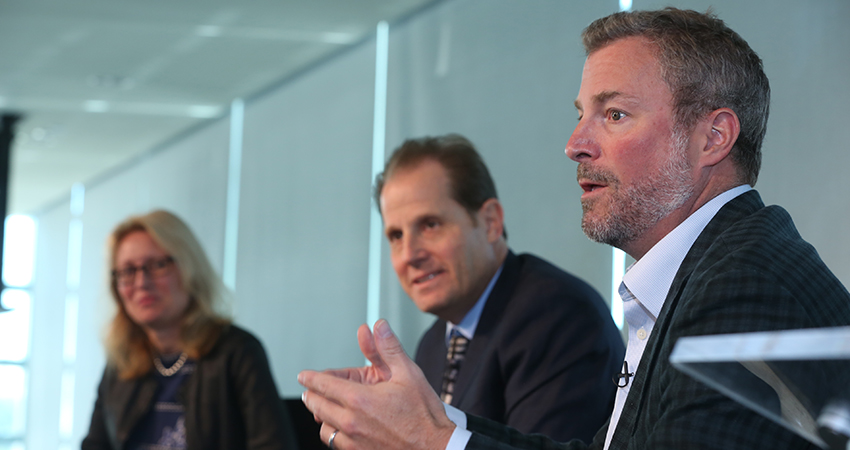 As e-commerce continues to grow and evolve, parcel delivery and internet-based retail companies are looking with new-found interest at potential partnership with multifamily properties. That was the takeaway from a panel discussion featuring AvalonBay's Karen Hollinger; UPS's Alan Gershenhorn, the company's chief commercial officer; and Amazon's Peter Larsen, vice president of product management for the company's delivery arm, during the 2016 NMHC Fall Board of Directors and Advisory Committee Meeting.
Both logistics executives noted a substantial shift in delivery trends, with residential delivery growth outpacing traditional business deliveries, as e-commerce growth has skyrocketed. Whereas brick-and-mortar retail is growing at roughly 2 percent a year, e-commerce growth is in the teens, said Gershenhorn. Consequently, 50 percent of UPS's deliveries are now going to residences, he said.
This is a dramatic change from traditional delivery service, which has long been focused on delivering to businesses. But demographic changes, including more people living in higher density areas, are putting parcel delivery companies' traditional approaches to getting packages to the consumer are coming under review. Both companies are looking for ways to partner to improve the customer delivery experience.
"We realized that we have a new customer-and that's you," Larsen told NMHC members, noting that the company now has a multifamily-specific team.
The other big challenge for delivery companies is changing consumer expectations. As more people buy more online, they expect to get their goods quickly, when they want it, wherever they want it. "We started with two-day delivery and now we've got two-hour delivery," Larsen said.
With faster package delivery, many of the traditional challenges, such as the redelivery of packages when the recipient isn't home, multiply. "Nobody likes to see the slip at your door that says, we tried to deliver and you weren't here, so we took it back," said Larsen. "And that affects our customer's shopping experience with Amazon."
For UPS, this search for more efficient delivery has led the company to two solutions: UPS My Choice and UPS Access Point.
UPS My Choice allows users to sign up to set delivery preferences, receive delivery notifications and manage packages and deliveries. This cuts down on the number of missed delivery slips that disappoint the customer and cost the company dollars for redelivery. Gershenhorn said roughly 25 million households have already signed up for the online service.
UPS Access Point is a network of designated package drop off and pick up stations, located in convenient locations. Users can redirect package deliveries to these stations to avoid having to wait for deliveries.
Similarly, Amazon has Amazon Lockers, self-service lockers where users can pick up packages at designated locations whenever they want, and Amazon Pick-Up Points, where customers designate an alternative pick-up location from the company's network.
"The self-service model is probably the wave of the future," said Larsen. "It's a win-win-win. That's what the consumer, the resident wants. It lowers your cost and you're giving them what they want."
However, besides being an expensive solution, self-serve lockers also have their limitations. Both executives noted increases in specialty deliveries, such as oversized parcels like furniture and fresh food deliveries.
"We're seeing a disproportionate level of growth in what we see as larger size packages," said Gershenhorn. "It's going to take this myriad of solutions-from the retailer to the carrier to your [apartment] complexes. That's what it's really all about. Our vision is connecting a global community through an intelligent logistics network. We're talking about all of us; we all need to work together to achieve this transaction."
Larsen agreed, adding that food deliveries is a huge area of anticipated growth. "I definitely see the range of locker solutions increasing over time. One of those things that we're going to have to get better at over time is consumables-fresh goods and ultra-fast goods. The delivery mechanism will be the same, but faster, but where we put these things-hot or cold-is going to evolve over time."
---