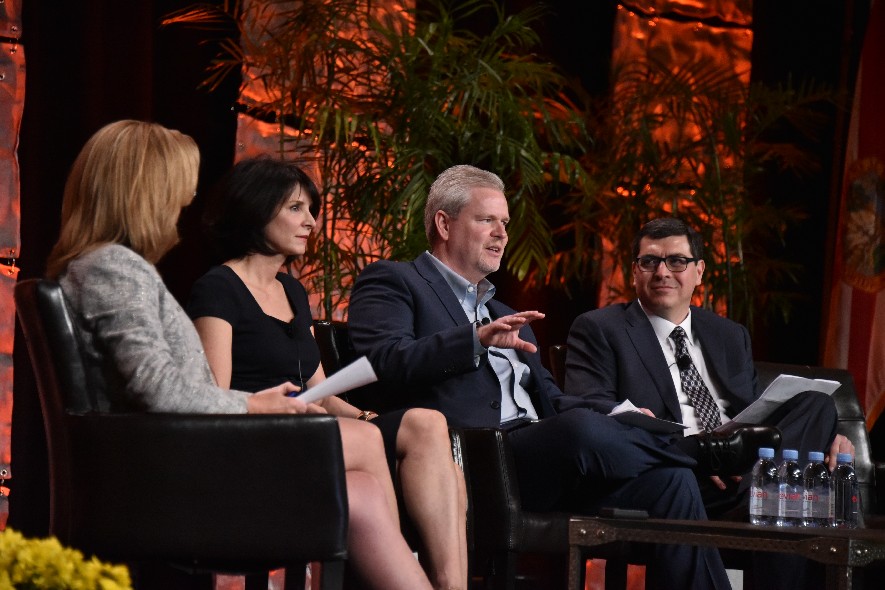 Technology is advancing at an exponential pace, causing fundamental shifts in consumer behavior that have implications for many apartment firms' approach to operations. In addition, these trends have created a host of new and difficult strategic decisions.
At a panel during the 2016 NMHC Apartment Strategies Conference, The Bozzuto Group's Julie Smith, Gables Residential's Cris Sullivan, UDR's Scott Wesson and Waterton's Mark Zettl honed in on three specific areas where the industry faces some challenges.
Online leasing. Consumers may want to take care of almost any business they have online, but apartment companies struggle to make online leasing a success. Zettl said, "We do a good job getting our properties out in front of the consumer. But it's the leasing process that still needs work."
Wesson agreed. "Eight-five percent of the people are doing guest cards with us," he said. "But only 25 percent are crossing the finish line with a signed lease online." Wesson said he thought part of the problem is that companies just translate what had been a paper process into a digital, online version rather than re-think the experience from an online user's point of view.
Home sharing. As home sharing a la Airbnb, VRBO, Flipkey and others goes mainstream, many apartment owners and managers are left wondering how to feel about their residents renting out units short term. Legal concerns, security issues and lost revenue top the list of industry fears.
"We find that the biggest opponents of home sharing are our residents," said Smith, who says some feel unsafe with strangers moving in and out all the time while others feel like short-term visitors shouldn't have access to the same amenities that they pay for and enjoy over the long haul.
However, other industry leaders wonder if the industry is being too resistant and slow to adapt to change. "My personal feeling is that I think Airbnb is transforming our industry. We're going to see a blending of hotels and apartments-and it's a consumer-driven trend," Zettl said. "You're starting to see large, branded hotels get into hotels and apartments looking like hotels. So, I don't think you can be as adversarial as you once were. It's hard and complex and I don't think anyone's built the perfect mousetrap yet, but it's coming."
Data security. Major data breaches have become more pervasive, and apartment firms find themselves stressing over how vulnerable they might actually be. "Data security is one that is pretty worrisome," said Sullivan. "We have a lot of personal information. We used to worry about a file getting left out. Now someone gets into our system and they've got access to hundreds of people's information."
Wesson agreed. "For a long time we [as an industry] didn't think we are at risk," he said. "One basic logic test will help you get it. Isn't this [rent] the biggest check people write every month? So, if you're Mr. Robot, wouldn't you want to go after that?"
---