April 02-03, 2019
JW Marriott Denver Cherry Creek
Denver, CO
Add to Calendar
04/02/2019 09:00 AM
04/03/2019 12:00 PM
America/Denver
2019 NMHC Research Forum
Denver, CO
Open exclusively to NMHC members, the NMHC Research Forum is targeted to the nation's leading apartment researchers — in-house and third-party — and is designed to address critical issues facing the multifamily housing industry.
Agenda At-A-Glance
View a more detailed preliminary agenda.
Tuesday, April 2

9:00 a.m. – 6:00 p.m.

Registration

9:30 – 10:30 a.m.

Workshop: Data Analytics and Visualization

10:30 - 11:45 a.m.

Roundtable Discussions

Lunch on Own

1:00 – 5:00 p.m.

General Session

Apartment Markets
Housing Underproduction and How to Make It Up
Resident Preferences
Rent Control, Displacement, Evictions and the Problem of Affordability

5:00 – 6:00 p.m.

Networking Reception

Wednesday, April 3

7:45 a.m. – Noon

Registration

8:00 – 9:00 a.m.

Networking Breakfast

9:00 – 11:30 a.m.

General Session

The Long View on Metropolitan Growth, Population Shifts and The Affordability of Housing in the U.S.
Denver's Innovative Voucher Plan
Designing Less Costly Construction?



11:30 a.m.

Forum Sessions End

Lunch on Own

1:30 p.m.

Optional Apartment Property Tour of Alexan Cherry Creek and Steele Creek Luxury Rentals (Space is limited.)

Note: The agenda is subject to change. Check back periodically for updates. Please be aware that photos may be taken at the meeting and posted online.
View the 2018 NMHC Research Forum.
Hotel Information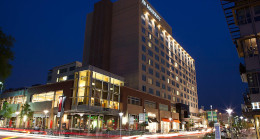 JW Marriott Denver Cherry Creek
150 Clayton Lane
Denver, CO 80206
303/253-3012
NMHC has set aside a block of rooms starting at $249 single/double occupancy per night (plus 15.75% state tax) for meeting attendees, with a cut-off date of Friday, March 8. Room reservations should be made directly with the JW Marriott Denver online or by calling 888/236-2427 before March 8. Please specify that you will be attending the National Multifamily Research Forum when speaking to the reservations agent.
If rooms are sold out or you cannot get the group rate, the hotel can place you on the waitlist and will contact you as rooms become available. If your plans change and you need to cancel your reservation at the JW Marriott, please contact Sarita de la Torre, NMHC Meetings Coordinator, at 202/974-2315 or sdelatorre@nmhc.org before cancelling with the hotel so she may reassign your room to another NMHC member on the waitlist, if one exists.
Local Transportation
The JW Marriott Denver is approximately 24 miles from Denver International Airport. Those arriving by air have the following alternatives for ground transportation:
A taxi from Denver International Airport will cost approximately $60-70 each way and takes about 40-45 minutes, depending on traffic. Taxis pick-up and drop-off from Jeppesen Terminal, Level 5, Island 1, outside Doors 505, 507 and 511 (Terminal East) and Doors 506, 510 and 512 (Terminal West).


Both Uber and Lyft are available as transportation options to/from the airport. Check your app for pricing and exact pick-up locations.


Another alternative to taxi service is taking a shared airport shuttle service such as SuperShuttle. The cost is approximately $30 each way for shared rider service. SuperShuttle also offers non-stop rides and ExecuCar at high rates. For more information or to make a reservation, call Super Shuttle at 800/258-3826 or visit online. Note: the shared shuttle may make multiple stops.


For attendees who decide to drive, valet parking is $45 per 24-hour period in a secured garage with unlimited in/out privileges. There is a day valet parking rate of $22 for individuals not staying overnight. Note: There are several self-parking options in the surrounding area.

Please visit the Denver International Airport's Parking and Transportation webpage for additional options.
Sponsorship Opportunities
All sponsorship level opportunities for the NMHC Research Forum are open to NMHC members only. If your company is not already a 2019 Chairman's Circle or Friends of the Council sponsor, the minimum sponsorship level is $10,000.
View the available NMHC Research Forum sponsorship opportunities here.
All sponsorships include the following benefits:
Company logo and listing published on the Forum web page.
Recognition in promotional marketing materials and e-mails for the Forum.
Company logo included in the Forum's official printed on-site agenda.
Company logo included in the scrolling PowerPoint presentation shown before the start of each general session.
Option to host an evening subgroup event at the host hotel.
Option to send a direct mail campaign to Forum registrants through a NMHC designated third-party mail house. (Email addresses are not provided in accordance with NMHC's privacy policy.)
Option to send one company literature item to the Forum for display in the registration area.

The deadline to sponsor the NMHC Research Forum is Friday, March 1, 2019.

Note: Sponsor items and benefits are subject to change. Sponsor items and benefits may be updated, added or removed during the event planning process.
Sponsorship opportunities are limited, so please confirm early. If the opportunity sells out, we will create a wait list and contact you if the item becomes available. The deadline to sponsor the NMHC Research Forum is Friday, March 1, 2019.

For sponsorship related questions or to sign up to sponsor the NMHC Research Forum, please contact sponsorships@nmhc.org. For all other inquiries, please contact NMHC at 202-974-2300.
Online Registration is closed.
Please visit us at the NMHC Registration Desk
once it opens at 9:00 am, Tuesday, April 2.
The NMHC Research Forum is open to NMHC members. Forum attendee fees or waivers do not include hotel room charges. The registration policy is as follows:
NMHC Executive Committee Members: receive three (3) complimentary registrations and may register up to three (3) additional representatives for a fee of $600 each


NMHC Board of Directors Members: receive one (1) complimentary registration and may register up to five (5) additional representatives for a fee of $600 each


NMHC Advisory Committee Members: may register up to six (6) representatives for a fee of $600 each


2019 Chairman's Circle ($50,000 or more): receive four (4) complimentary registrations


2019 Friends of the Council ($25,000 to $49,999): receive two (2) complimentary registrations


2019 Forum Sponsors: receive one (1) complimentary registration


Registration is contingent upon membership dues being current. NMHC reserves the right to close forum registration should interest exceed space availability.
Meeting Cancellation Policy
Meeting cancellations must be sent in writing to NMHC. Written requests for meeting cancellation refunds prior to ten (10) business days before the start of the meeting are entitled to a full refund, minus a processing fee of $250. No meeting cancellation refunds will be granted within ten (10) business days prior to meeting commencement.
Late/On-site Registration
Online registration closes Monday, April 1. Registrations and changes received after April 1 (including on-site registrations) may not be reflected on the NMHC attendee lists. Once online registration has closed, all registrations can be processed onsite in Denver when NMHC registration opens at 9:00 AM, Tuesday, April 2.

Questions?
Please do not hesitate to contact the NMHC membership department at 202/974-2300 or membership@nmhc.org should you have questions regarding registration.