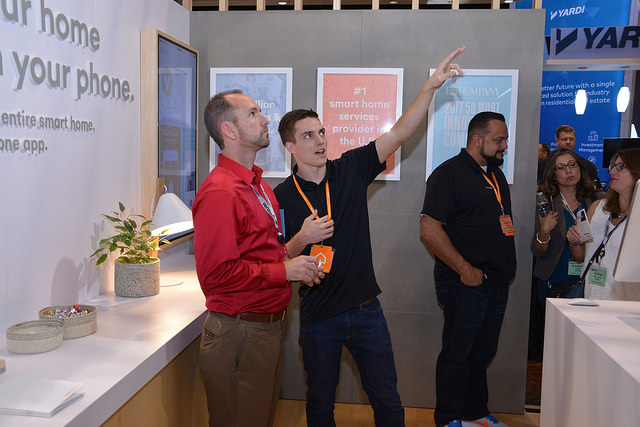 NMHC offers two premier events for exhibitors to reach multifamily leaders and decision makers each year. Both these events offer unique opportunities to connect with leading apartment firms and executives. Click below to learn more about the opportunities available at each event.
Click on each conference below to learn more information about the available exhibit options at each conference.
NMHC's Student Housing Conference & Exposition (Past Event)
This conference features the industry's best and brightest minds, all at one event, delivering the knowledge, tools, programs and connections necessary for leaders to shape their future success and the future of our industry. NMHC's exclusive trade show floor and networking opportunities allow attendees to explore the newest innovations in student housing while connecting with industry leaders.
NMHC's OPTECH Conference & Exposition
NMHC OPTECH is the premier destination for what's next in multifamily. Open to NMHC members and non-members alike, OPTECH provides a forum for senior practice leaders from a wide variety of disciplines to collaborate on strategic action, incubate new ideas and elevate the industry across all areas of business operations and technology.
Important Notice:
Exhibitors must be cautious of companies engaging in phishing attempts and unauthorized solicitations for anything including, but not limited to, hotel rooms, AV equipment rental, meeting attendee/membership contact lists, etc. Solicitation from firms claiming to have such amenities are illegal and fraudulent. NMHC reminds its attendees/exhibitors that we have no affiliation with any of these firms. NMHC will alert exhibitors if we hire a company to act on our behalf. Please contact us with any questions or if you receive any such communication from a company soliciting you.
---