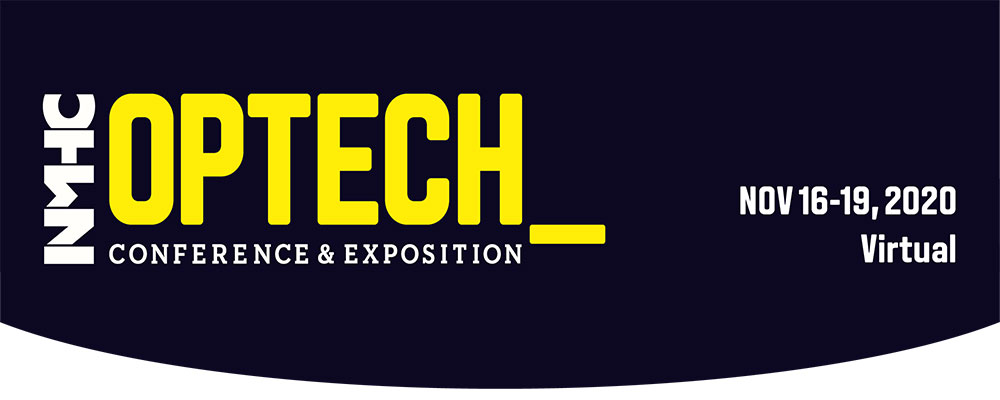 OPTECH Virtual Exhibit Opportunities
November 16-19, 2020
Promote your product, services, and solutions in the Virtual OPTECH Expo! Just as you have come to expect at in-person OPTECH, your virtual booth will expose your products and services to senior industry executives who make purchasing decisions for their firm portfolios. In fact, since attending this virtual event doesn't require a travel budget, we are offering member firms additional complimentary registrations to encourage more participation in the event.
While we cannot fully replace the in-person experience, we have invested in a robust platform that emphasizes the trade show component as much as the conference content. A virtual exhibit gives your company a home base for the conference and allows you to display company branding, showcase and demo products and services, add content and media, collect and capture attendee leads, chat live with attendees visiting your booth, and schedule meetings in advance by using the platform's matchmaking and attendee networking features.
Preliminary Exhibit Information
Download the Virtual Exhibit Prospectus
The prospectus includes benefits, pricing, and expo hours. We will update with more information as it becomes available.
Virtual Exhibits are open to members and non-members. To confirm your space, complete and submit the exhibitor contract.
Virtual Exhibit Pricing
Members
Non-Members
Comp. Registrations
By Oct. 2
$3,500
$4,000
6
After Oct. 2
$4,000
$5,000
6
Startups*
$1,500
$2,000
3
Upgrade opportunities are available. Please view the Prospectus for deails.

*Startups Company Qualification Criteria:
Must be a new company that offers technology focused solutions/products/services (as related to the apartment industry.)
May not be a spin-off from a parent company.
Has been in operation for 5 years or less.
Must have at least one customer.
Must be a first-time NMHC OPTECH Exhibitor (in any capacity.)

Please contact sponsorships@nmhc.org with questions related to exhibits.
Important Notice: Please be aware of scam emails or phone calls that offer to sell you the registrant list. NMHC does not sell our registrant list. The only way to access the official registrant list is through NMHC, and it is offered free to members and registered non-members.
---