October 05, 2023
Mondrian LA
Los Angeles, CA
Add to Calendar
10/05/2023 06:00 PM
10/05/2023 08:30 PM
America/Los_Angeles
Emerging Leaders Speaker Series - Los Angeles
Los Angeles, CA
Register Now
This event is open to NMHC Members only.
Unique Opportunity: Fireside Chat with Bob Hart, CEO of TruAmerica
Bob Hart is the founder, chief executive and president of LA-based TruAmerica Multifamily. Ten years after starting with $10 million in working capital, he's grown the firm to $16.1 billion in assets under management and the #25 owner on the NMHC 50 list.
The former seventh-grade chess champion of Shurtleff School who grew up in a walk-up tenement house in Chelsea, MA outside of Boston discovered real estate while working at the Disney Channel in the late '80s after business school.
That "day job" salary provided him with the capital to buy a $157,000 duplex in Venice, CA that he sold year-and-half later for $250,000. After that, an entrepreneurial career in real estate was all but inevitable.
Hart started the multifamily group at Kennedy Wilson and served as the CEO of its management group for 13 years before joining forces with The Guardian Life Insurance Company of America to found TruAmerica. Join us to learn more about Bob's path in real estate, his experience starting his own firm and how belief in apartment living being the core of our workforce housing drives TruAmerica's—clearly successful strategy of buying Class-B properties and improving, but not over-improving them.
Speakers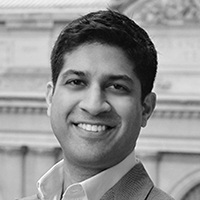 Location
Mondrian Los Angeles
8440 Sunset Blvd
West Hollywood, CA 90069
Program Agenda
All times Pacfific
6:00 - 6:30 p.m. Registration and Networking
6:30 - 7:30 p.m. Program
7:30 - 8:30 p.m. Networking
Registration
Event Eligibility
Participation in Emerging Leaders events is available to all employees from NMHC member firms who are 40 or under.


Not sure if your firm is a member? Check our online membership directory to see if your firm is included.