April 07-08, 2022
Hotel Clio, a Luxury Collection Hotel, Denver Cherry Creek
Denver, CO
Add to Calendar
04/07/2022 12:00 AM
04/08/2022 12:00 AM
America/Denver
2022 NMHC Research Forum
Denver, CO
Presentations Now Available
NMHC Members Need to Login for Access
This Event is Open to NMHC Members Only
Join NMHC in Denver for a data-driven, deep dive into the economic and business trends that will affect apartment firms' business strategies in the near and longer term.
If you are an industry researcher, analyst, portfolio manager, consultant or just someone who lives and breathes data, you need to be at this meeting.
Presentations and discussion will focus on demographics, economic outlook, affordability, social trends and more. You'll leave armed with the information you need to help your company succeed in the industry.
Learn more about the COVID-19 Safety Requirements for attending the 2022 Research Forum.
Agenda At-A-Glance
Hotel Clio, a Luxury Collection Hotel, Denver Cherry Creek (Formerly JW Marriott)
Download a PDF of the Agenda | View all Speaker Bios
Thursday, April 7
9:00 a.m - 6:00 p.m.
Registration
(Grand Ballroom Prefunction, 2nd Floor)

Health & Safety Check-in
(Bluebell, 2nd Floor)
9:30 - 10:30 a.m.
Data Workshop

Speakers:

Selma Hepp, Executive, Research and Insights & Deputy Chief Economist, CoreLogic
Mark Obrinsky, Senior Vice President, Research and Chief Economist, National Multifamily Housing Council

10:30 - 11:30 a.m.
Roundtable Discussions
(Fireside, Lobby Level)

Lunch on Own
1:00 - 1:10 p.m.
Introduction


Speakers:

Mark Obrinsky, Senior Vice President, Research and Chief Economist, National Multifamily Housing Council


Jay Lybik, National Director of Multifamily Analytics, CoStar

1:10 - 2:10 p.m.
Economic Outlook


What's the outlook for inflation and Fed policy? Will higher interest rates cause cap rates to rise? How will global tensions affect the U.S. economic outlook?

2:10 - 2:55 p.m.
Is Housing Undersupplied?


The pandemic has seen historically low vacancy rates for the rental market and a chronic lack of for-sale housing. There have also been major population shifts in this period as well. How do these trends impact our overall housing stock?

Moderator:

Joe Pecora, Head of US Residential Research and Strategy, DWS


Speakers:

Len Kiefer, Macro Housing Econ Senior Director and Deputy Chief Economist, Freddie Mac
Chris Porter, Chief Demographer, John Burns Real Estate Consulting

2:55 - 3:10 p.m.
Break
3:10 - 3:40 p.m.
The Feasibility of Converting Commercial Real Estate to Apartments


The difficulty to build new apartments has been well-documented; but what if there are existing structures that can be repurposed. Hear preliminary findings from the forthcoming NMHC Research Foundation/ULI publication on the topic.

Speaker:

Anita Kramer, Senior Vice President, Center for Real Estate Economics and Capital Markets, ULI

3:40 - 4:10 p.m.
Interview with Doug Bibby


Much has changed since Doug Bibby began his tenure at NMHC. Now, as he prepares to hand over the controls at the end of the year, he will reflect on how research in the apartment industry has changed, and how that has helped the industry become more sophisticated overall.

Speakers:

Jay Lybik, National Director of Multifamily Analytics, CoStar
Doug Bibby, President, National Multifamily Housing Council

4:10 - 5:00 p.m.
Apartment Markets Around the Country
5:00 - 6:00 p.m.
Networking Reception
6:30 p.m.
Ancillary Event - Dinner hosted by RealPage at Elways Cherry Creek. Open to all attendees; RSVP required. RSVP to Mike.Nielson@RealPage.com.
Friday, April 8
7:30 a.m. - Noon
Registration
(Grand Ballroom Prefunction, 2nd Floor)

Health & Safety Check-in
(Bluebell, 2nd Floor)
8:00 - 9:00 a.m.
Networking Breakfast
(Grand Ballroom Foyer, 2nd Floor)

9:00 - 10:00 a.m.
Rental Affordability in the Apartment World

Both for-rent and for-sale housing is unaffordable for too many households, and rapidly rising rents (and house prices) are making the problem even worse. Even so, measure of affordability in the professionally managed apartment sector look far better. This session will examine the differential impact of affordability problems in the rental housing world.

Moderator:


Speakers:

Chris Herbert, Managing Director, Harvard Joint Center for Housing Studies
Jay Parsons, VP, Head of Economics and Industry Principals, RealPage

9:45 - 10:15 a.m.
Future Demand for Apartments

Increasing apartment demand has been outstripping new supply for at least a decade. Household formation has slowed considerably – and even stopped during the pandemic. Does this indicate a reduction in future demand for apartments? This panel will unveil the work behind a newly updated study looking at apartment demand through the years 2035.

Speaker:

Norm Miller, Ernest Hahn Chair and Professor of Real Estate Finance

10:15 - 10:30 a.m.
Networking Break
10:30 - 10:40 a.m.
NMHC Research Data Overview


Speakers:

Claire Gray, Analyst, National Multifamily Housing Council

10:40 - 11:40 a.m.
Data Availability and Use in the ESG Discussion

Investors increasingly expect companies to have a solid ESG plan in place. This means different things to different companies, however. Hear from our panel of experts on what variables to include when setting goals and determining success (or failure) and how to measure those variables.

11:40 -11:45 a.m.
Concluding Remarks


Speaker:

Mark Obrinsky, Senior Vice President, Research and Chief Economist, National Multifamily Housing Council



11:45 a.m.
Forum Adjourns
2:00 p.m.
Optional Property Tour of Avilla Buffalo Run (Space is limited.)

Note: Updated as of 4/4/2022. The agenda is subject to change. Check back periodically for updates. Please be aware that photos may be taken at the meeting and posted online.
Registration Information
Online Registration is now closed. Register onsite starting at 9am April 6 at the Hotel Clio
The NMHC Research Forum is open to NMHC members. Forum attendee fees or waivers do not include hotel room charges. The registration policy is as follows:
NMHC Executive Committee Members: receive three (3) complimentary registrations and may register up to three (3) additional representatives for a fee of $600 each


NMHC Board of Directors Members: receive one (1) complimentary registration and may register up to five (5) additional representatives for a fee of $600 each


NMHC Advisory Committee Members: may register up to six (6) representatives for a fee of $600 each


2022 Chair's Circle Sponsors: receive six (6) additional complimentary registrations


2022 Friends of the Council Sponsors: receive four (4) additional complimentary registrations


2022 DEI Founder Sponsors: receive four (4) additional complimentary registrations


2022 DEI Investor Sponsors: receive two (2) additional complimentary registrations


2022 DEI Support Sponsors: receive one (1) additional complimentary registration
---
Meeting Cancellation Policy
Meeting cancellations must be sent in writing to NMHC. Written requests for meeting cancellation refunds prior to ten (10) business days before the start of the meeting are entitled to a full refund, minus a processing fee of $250. No meeting cancellation refunds will be granted within ten (10) business days prior to meeting commencement.
Late/On-site Registration
Online registration closes Wednesday, April 6. Registrations and changes received after April 6 (including on-site registrations) may not be reflected on the NMHC attendee lists. Once online registration has closed, all registrations can be processed onsite in Denver when NMHC registration opens at 9:00 AM, Thursday, April 7.
Questions?
Please do not hesitate to contact the NMHC membership department at 202/974-2300 or membership@nmhc.org should you have questions regarding registration.
Given the evolving and ongoing nature of the pandemic, NMHC will have the following health and safety protocols in place for the 2022 NMHC Research Forum. All attendees will have two options, detailed below, for complying with them.
Additionally, we encourage all registrants to test for COVID-19 before they arrive to any NMHC events.
OPTION One: Proof of Vaccination
Attendees can provide proof of vaccination in advance or on-site to avoid daily COVID-19 tests. (To be considered fully vaccinated, attendees must have received their second Pfizer/Moderna shot or single J&J shot by March 24, 2022.)
Click here to submit your CDC vaccination record online by Monday, April 4, 2022, 5pm ET.
Note: To protect your privacy, Safe Expo, NMHC's third-party vaccine verification and testing service provider, will not share or retain your records. However, that does mean that you will need to upload your vaccination information again even if you have already done so to attend a previous NMHC event.
OPTION Two: Proof of Negative COVID-19 Test and Daily Onsite Tests
When you arrive, present results of a negative COVID-19 test that has been taken within 72 hours of your first day attending the event. Both Rapid Antigen and PCR test results will be accepted. Home tests are not accepted. Daily testing is required after your initial negative COVID-19 test is presented to the Safe Expo Staff.


On each subsequent day you will be attending any portion of the meeting, go to the Testing Room located on the Second Floor to take a rapid COVID-19 test. Click here to create your required COVID-19 testing profile and save time when you arrive onsite.

NOTE: Any attendee who tests positive through our vendor will be tested twice more. The final result will be determined based on two of the three tests administered. Those who have two positive tests will be deemed positive and will be advised to isolate immediately, consult with their personal physician and inform their close contacts. Current CDC guidelines suggest that people who test positive should also quarantine for 5-10 days depending on presence of symptoms.
Registration Policy for Guests/Employees Attending Sponsored Events and Meetings
Anyone attending evening events sponsored by individual firms must be NMHC members who have registered for the 2022 NMHC Research Forum. This will ensure that attendees at those gatherings will also be subject to NMHC's Health and Safety Protocols.
Additional Health and Safety Measures
We recommend all registrants test for COVID-19 before joining us in Colorado and travel using a KN95 mask for extra protection. KN95 masks will also be available onsite.
We will provide additional instructions and update you on any additional health and safety measures, such as masking and current local requirements and hotel policies, as we get closer to the event.
A Note for International Attendees
Please note that under new requirements, all international travelers to the U.S. are required to show a negative COVID-19 test result taken no more than one day before travel. Learn more about the new requirements.
Questions?
If you have any questions regarding NMHC's COVID-19 Safety Requirements, please contact eventsafety@nmhc.org.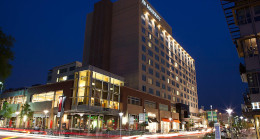 Hotel Information
Hotel Clio, a Luxury Collection Hotel, Denver Cherry Creek
(Formerly JW Marriott)

150 Clayton Lane
Denver, CO 80206
303/253-3012


---
NMHC has set aside a block of rooms at starting at $269 single/double occupancy per night (plus state tax) for meeting attendees, however the cut-off date was Friday, March 11.
Room reservations should be made directly with the Hotel Clio online or by calling 303/316-2700. Please specify that you will be attending the National Multifamily Housing Council 2022 Research Forum when speaking to the reservations agent.
If rooms are sold out or you cannot get the group rate, the hotel can place you on the waitlist and will contact you as rooms become available. If your plans change and you need to cancel your reservation at the Hotel Clio please contact Sarita de la Torre, NMHC Associate Director of Meetings, at sdelatorre@nmhc.org before cancelling with the hotel so she may reassign your room to another NMHC member on the waitlist, if one exists.
Local Transportation
The Hotel Clio, Denver Cherry Creek is approximately 26 miles from Denver International Airport. Those arriving by air have the following alternatives for ground transportation:
A taxi from Denver International Airport will cost approximately $60-70 each way and takes about 30-40 minutes, depending on traffic. Taxi pick-up and drop-off from Jeppesen Terminal, Level 5, Island 1, outside Doors 505, 507 and 511 (Terminal East) and Doors 506, 510 and 512 (Terminal West).


For Ride App Services, follow signs for ground transportation then exit terminal through doors 506-510 (west side) and 507-511 (east side) on Level 5 near baggage claim and proceed to Island 5 to meet your driver.


For attendees who decide to drive, valet parking is $49 daily/overnight. Note: There is no self-parking at hotel.
Please visit the Denver International Airport's Parking and Transportation webpage for additional options.