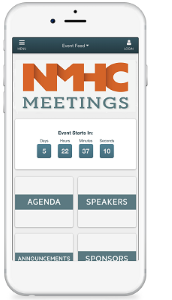 NMHC encourages meeting attendees to download the NMHC conference app to your mobile device. The NMHC Meetings app is provided exclusively to meeting attendees. You must be registered for a NMHC meeting prior to arriving on-site to access the app for the full span of the meeting.

About the Conference App
The app will provide you with the most up to date information on NMHC meetings.
App features include:
Meeting agenda including session times and locations
Speaker information
List of meeting attendees
List of meeting exhibitors
List of meeting sponsors
Event floor plans
Meeting polls and surveys
Reminders for must-attend events
Additional NMHC resources
How to Download the Conference App
The NMHC Meetings app is available through Apple or Google Play store. Search "NMHC" to download the app.
How to Access the Conference App
In order to access the conference app, users must be fully registered for the upcoming meeting. Due to high levels of security, when trying to access a meeting within the conference app each user will be required to log in using their e-mail address linked with their iMIS account.
Please note: The 2019 Apartment Strategies Outlook Conference and the 2019 NMHC Annual Meeting will open to attendees on Friday, January 25, 2019 at 5:00 PM. If you try to log in before this date/time your credentials will not work.
---