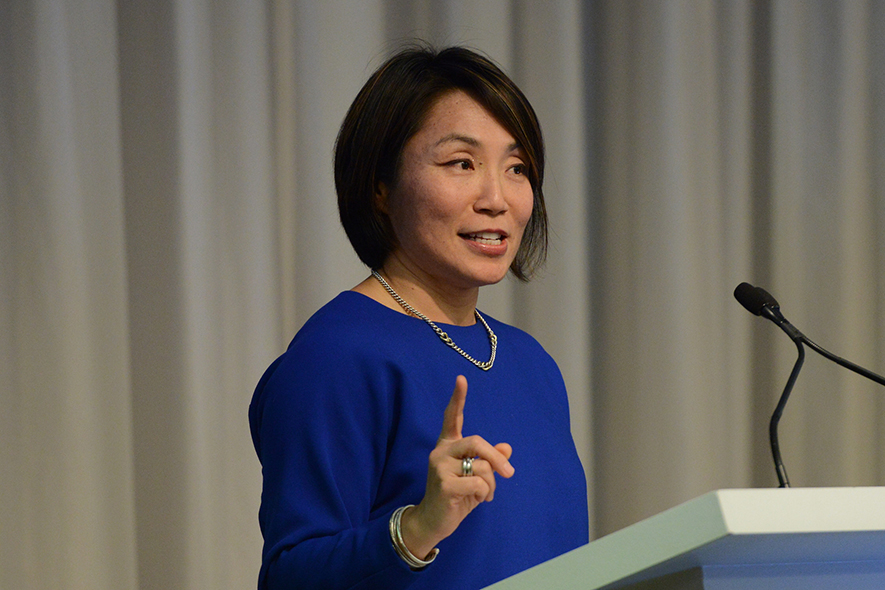 "We specialize in complex, difficult projects with complex, difficult architects," deadpanned Susi Yu, EVP of development for Forest City Ratner, during a NMHC Emerging Leaders Speakers Series event in New York City.
Yu's talk covered some of the most prominent recent developments in New York City: the tallest residential skyscraper in the western hemisphere in 8 Spruce Street, the New York Times Building and Atlantic Yards -- which includes the Barclays Center. As one of the most prolific developers in the city, Forest City Ratner appears in three of the four 2015 NMHC 50 lists.
Kicking off the complexity theme, the development of the New York Times Building -- where Yu cut her teeth as an intern -- involved no less than moving an 85-year old historic theater 170 feet down the road.
"It will always be special to me," she said of the 4th tallest skyscraper in New York.
That background helped when it came to 8 Spruce Street, designed by the world's best known living architect Frank Gehry. When originally considering rental versus for sale units in the 76-story structure, Forest City determined it would take five years to absorb the condos as they came online.
"We're long-term holders. Let's do all rentals," said Yu.
Adding to the complexity was the inclusion of a public school on the ground floor -- the first ever on private land. The school helped secure $204 million of Liberty Bonds. To preserve the value of the rental property, the school and apartment entrances are on opposite sides of the building so that neither interfere with each other.
While Yu joked about "difficult" architects, Gehry's name became central to the marketing and cache of the building -- the only high-rise and only rental community the architect has ever built. The building is now marketed as New York by Gehry in partnership with the architect, who lives there.
"Frank Ghery offered to babysit potential tenants, but we didn't use that," joked Yu. "His name really elevated the profile. We heard from people overseas, 'You have to go to 8 Spruce. It's the place to be in,'" she added.
Three years after completion, the building sits at 98 percent occupancy.
Yu concluded her talk with the 22-acre, $5 billion mixed-use Atlantic Yards project in Brooklyn. Naturally, the first residential building on site will be the world's tallest tower using modular construction at 32 stories.
"Before, we had to convince people to come to Brooklyn. Now it's come into its own," said Yu.
---