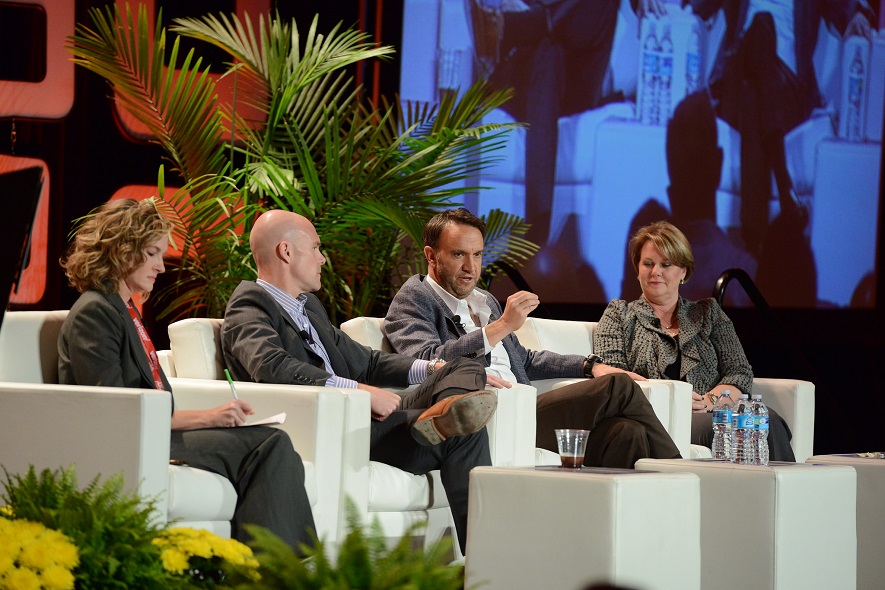 During a general session during the 2015 NMHC OPTECH Conference & Exposition, leading multifamily executives discussed how to create a culture of intentional innovation. Moderator Tabitha Crawford, senior vice president of innovation for Balfour Beatty Investments, emphasized that innovation doesn't come naturally for the multifamily industry because efficiency is what's valued.
Panelists included Derek Knudsen, vice president of IT for The Irvine Company Apartment Communities; David Schwartz, CEO and co-founder of Waterton; and Kristy Simonette, senior vice president strategic services for Camden Property Trust.

The following Q and A details the key questions addressed and discussed during the session:

What does innovation look like in the multifamily industry?

Crawford: We have an innovation program. It's almost like a comment card type program, but it's online-employees can comment and management requires a two-week turnaround time on a response.

Schwartz: There was no process for innovation years ago at Waterton. So, we did a couple of things, including forming an Innovation Council. The council is made up of different people from various parts of our businesses-which encompass both multifamily and hotels. The participants range from service managers to community managers and executives, ultimately, touching all parts of the business. We also implemented an innovation portal. This is basically an idea box that filters up to the top and moves to the innovation council for discussion and consideration.

How did you arrive to the place of the innovation platform?

Simonette: Five years ago, we made the decision to combine technology and marketing-it had been the primary responsibility of many of people. Instead, we needed to dedicate one person who understood the business side, marketing and technology in order to rein everything in.
Schwartz: We realized that the customer and resident is not that thrilled with our industry. The typical resident feels that the process of renting an apartment is behind the times. We are also in the hotel industry and it's much easier-there we are more cutting edge. That's not the case in the multifamily. If you look at everything from rental applications to approval to lease execution, to hooking up utilities, essentially, everything involved in the process, it's definitely not one click. We understand that we need to do everything as a company to make this process easier.

For example, the multifamily industry is just getting into keyless entry, but hotels have been there for a long time. There's going to be a lot of other things that we're going to see out there in other industries that we need to take advantage of.

Knudsen: The one thing I have consistently seen is that if you make innovation a hobby, then there will be very little innovation, particularly on the technology side. We pivoted to pulling people who are focused on innovation and want them to innovate both internally and with the customer. For example, we have two individuals who focus on innovation-and it's clearly their passion-so I would advocate for dedicating people to the activity. We also hold "innovation days" quarterly or biannually and we spend time with innovators. We brought Google in last year. Ultimately, we've seen a lot of success as a result.

What's a short example of a success story?

Knudsen: We've moved from the Microsoft Exchange email platform to Google because it facilitates more collaboration. The email platform and calendar are secondary to the richness of Google's overall collaborative service. Also, an important thing we forget is that 50 million students work on Google apps today. Future generations are expecting something they are used to-and that's Google-Microsoft and Excel are not the environment they're expecting, if you would like to pull in the younger generation.

What are the lessons learned within the organization?

Schwartz: I think the main thing is you need to get the senior leadership involved in the process. If the CEO and senior leadership are saying they have much more important things to do, that will send a bad message. We told our senior team that we were going to make innovation a priority. So it was a high priority to make sure whole senior leadership did some sort of off-site planning session. We hired an innovation facilitator, which was important, and held the session in 1871-Chicago's technology hub. And I think our CIO and head of capital markets, who are not normally playing in innovation, came out of that day really amazed.

Knudsen: I completely agree with David. You need to have senior leadership involved. Also, lesson learned for us related to a concept focused on scheduling your meet and greet with Santa. Specifically, you could schedule the slot online and just show up. We introduced it at all our retail properties. But no one showed up because they were unhappy about scheduling time with Santa. Turns out, a big part of the experience with Santa was standing in line. Maybe we need to provide a window of time so people can get in line, but not as long of a line.
Simonette: Failure is always an option. We really made a shift a few years ago-defining ourselves as a sales organization. We came up with a grand "gamification" idea to move beyond sales contests. We called it "Camden X Games"-introducing behavior games that could help push the middle up to the next rung in sales. Ultimately, we killed ourselves to get it integrated and we've had it out there and it hasn't really gotten any traction. They weren't ready for the gamification component, so it didn't result in our intended goal. However, we learned a lot from the program set up.

Tell us how you pick which ideas to implement?

Knudsen: There's always the goal to try, but also to pilot everything and fail fast.

Schwartz: Find concepts that have minimal financial costs to test and look at the time commitment-that has to be assessed. This is all being done through our Innovation Council.
Simonette: We pilot everything and Return on Investment is a factor, but before ROI, we first look at scalability.
How do you know who the innovators are in your organizations?
Crawford: We asked for people who wanted to get involved in our innovation group.

Simonette: These kinds of people naturally bubble up if they know there's an avenue to share their ideas.

Knudsen: Often times, if you ask your people, they will know that person. For example, the person that has the newest phone and is always talking about new technology.
---