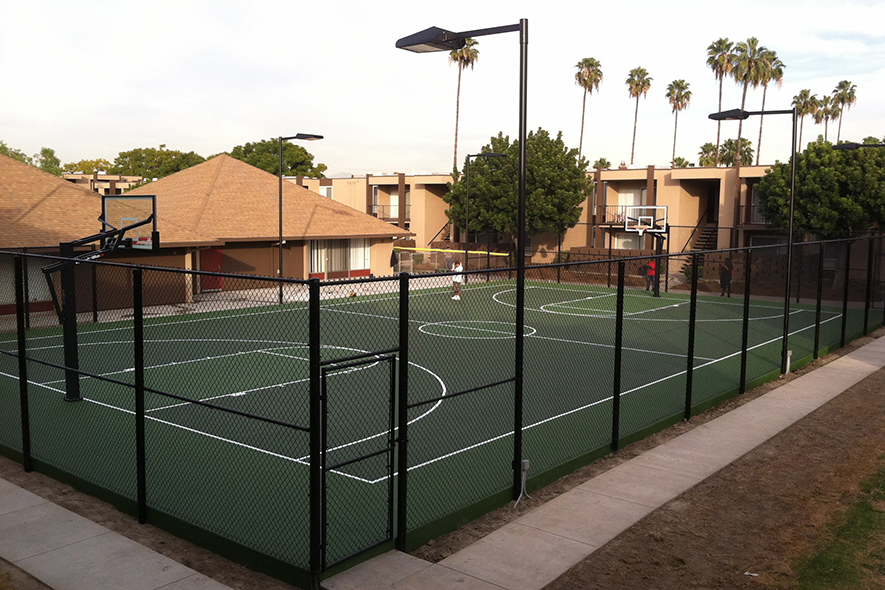 A year ago, my company, Avanath Capital Management, acquired Northpointe Apartments, a 528-unit apartment community built in the 1960s in Long Beach, Calif. It is an affordable property, located in a super ethnically diverse, working class neighborhood in North Long Beach, close to the cities of Compton and Paramount. The rapper, Snoop Dogg, grew up a couple of miles from our property.
It's probably not an opportunity most apartment firms would pursue, but Northpointe is a great fit for us. Our business model is to acquire older properties in urban areas and upgrade them, while keeping them affordable. The average rent across our 35 apartment communities is just $1,100 per month.
A before look at the site at Northpoint Apartments that is now a new
basketball court
One day, as I was walking the property, thinking about where we should spend our improvement dollars, I kept looking at this very large empty space in the center of the community. Surely, there was a better use for this space. I saw a boy about 11 or 12 years old, bouncing a basketball.
I vividly remember the joy that I had as an 11-year-old, growing up on the West Side of Detroit, watching the construction of some new outdoor basketball courts at Mackenzie High School, two blocks from my home. I had never played basketball, and neither had any of my buddies, but we were anxious to play.
The courts were finally completed in late November of that year. It would have been a bit cold to play basketball outdoors in Michigan, but the biggest thing stopping us from getting on the courts was that none of us had a basketball. Santa soon remedied the situation, bringing me a basketball, as well as one for each of my best friends, Ricky, Kevin and Marcus. It was a White Christmas that year-six inches of snow had fallen-but it didn't matter to us. We took snow shovels, cleared a court and played basketball on Christmas Day. That was probably one of my best childhood Christmas memories.
I keep thinking about that memory as we are putting the finishing touches on a new basketball court at Northpointe Apartments. This Saturday, Dec. 19, we will celebrate its grand opening. 
To some, it might not seem like a very big deal. Some may even wonder why we went with a basketball court. Prevailing industry thought is that basketball courts breed problems. But here's why it matters.
To me, a basketball court is a simple way to give other young, urban youth the same platform for fun, friendships and future success that I had. 
The Mackenzie basketball courts in Detroit were my second home. We played pick-up games and pretended to be pros
 A shot of the Mackenzie basketball court in Detroit today
like Wilt Chamberlain, Earl Monroe and Walt Frazier. When the city built a new middle school, Drew Middle School, down the street, with even nicer basketball courts, they attracted lots of kids from other neighborhoods-including some of the best players in Detroit. I can recall playing with several future NBA players there-Dan Roundfield, Terry Tyler, Terry Duerod, Johnny Davis and Greg Kelser come to mind.
But to the Northpointe residents, the basketball court is another visible sign of our commitment to creating a better community. Shortly after acquiring the property, we embarked on a renovation of the property, upgrading the exteriors and interiors. At the same time, we also upgraded some of the programs for our residents, which included roughly 1,000 children.
Most notably, we revamped an on-site afterschool program. The previous nonprofit partner had limited access to only 40 children per day. With our new nonprofit partner, Christ Our Redeemer CDC, an affiliate of the largest African American church in Orange County, we expanded the program to accept as many kids as show up. We routinely get 200 to 250 kids every day after school.
And to the surrounding neighborhood, the basketball court is testament to the fact that we believe affordable housing can be more than just shelter. We believe it can help grow neighborhoods both economically and socially.
I saw this happen back in Detroit. My neighborhood courts were also a site for the summer Police Athletic League (PAL), a program developed to improve the relationship between the police and the African American community following the 1967 Detroit riots. Police officers volunteered to coach summer basketball leagues at inner city playgrounds. By connecting primarily white officers with black teens through a common love of basketball, the program successfully dialed down much of the tension between the two.
This is the type of good that I hope comes out of the new basketball court at Northpointe. But it takes a village, as they say, and we are thankful for the exceptional support from the city's leadership, including Mayor Robert Garcia, a 38-year-old superstar who was the first in his Peruvian immigrant family to attend college (he eventually earned a Ph.D.), and 8th District City Councilman Al Austin. In an amazing twist of fate, Councilman Austin also grew up in Detroit in my old neighborhood and spent time at the Drew basketball courts.
We feel incredibly bullish on Long Beach and the positive effect that our redevelopment of Northpointe will have on the surrounding community. In fact, we're putting more of our dollars into the local area. My two partners, John Williams and Jun Sakumoto, lead the charge to also acquire Seaport Village, a 358-unit property next door to Northpointe that is in the process of renovation. We now own 886 units in North Long Beach and have a total investment of $150 million in the area.
But it's the basketball court where people see and feel our investment every day. It's a place where people can be active, meet neighbors and begin to build dreams. So, even if our basketball court changes the fate of just one young person, it will be a success in my book. Because you never know-that 11-year-old boy practicing on that court may later shoot baskets at the University of Michigan or even one day become the chairman of the National Multifamily Housing Council. 
---