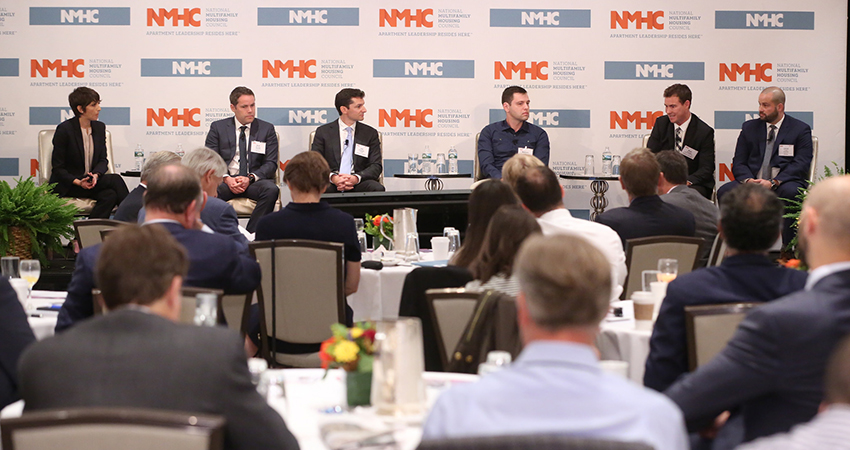 Over the past few years, short-term rentals have caused major disruptions to the apartment industry. As apartment companies scrambled to respond to this new phenomenon, evictions and lawsuits followed, along with changing local regulatory environments.
But a new wave of technology startups is emerging to address common apartment owner and manager concerns and create business-to-business partnerships that work for a variety of business and risk profiles.
During the 2017 NMHC Fall Board of Directors and Advisory Committee Meeting, executives from five of these startups-Parallel, Pillow Residential, Sublet Alert, Urbandoor and WhyHotel-discussed the evolving short-term rental landscape, how new and varied business models fit into changing market dynamics and the structural challenges that remain.
There's little question that short-term rentals are a strong undercurrent in the apartment industry. It is estimated that 65 percent of booked nights on Airbnb, for example, are in multifamily buildings. While apartment owners and managers may feel one way about this, there's the question of how the residents view short-term rental activity in their communities.
This has been largely unanswered until now. Preliminary findings from the upcoming 2017 NMHC/Kingsley Associates Apartment Renter Preferences Survey, which will be released at the end of October, showed that the majority of apartment renters under 54 say that short-term rentals in their apartment communities would either have a positive or no impact on their opinion. Moreover, the younger the renter, the more accepting of short-term rentals, with a whopping 81 percent of renters under 25 saying they were open-or at least ambivalent-to them.
"Short-term rentals have become more and more mainstream. We think this trend will continue and be more accepted. ... However, in the future, communities will have to make a choice for themselves about the kind of residents they want to have and the kind of community they want to be," said Maksim Ioffe, founder of Sublet Alert, which has a software solution that notifies apartment firms when illegal subletting is happening at their communities.
The fact that short-term rentals don't seem to be going anywhere represents a strategic business opportunity for some.
"The picture we see is that short-term rentals represent a new source of high-quality demand for assets you already own," said Joe Fraiman, president and COO of Parallel, which leases blocks of apartments from apartment firms for luxury short-term rental purposes. "The challenge is, how does the industry capitalize on the demand? Short-term rentals will go from something forbidden to something actually courted and seen as a fixture in the industry."
But for many in the industry, the prospect of such a transition feels uncomfortable or even scary. There are concerns over the potential risks to the safety of residents and the security of the community, Fair Housing compliance, liability and insurance and even loan document compliance.
However, many of these issues can be mitigated through partnerships with some of these new platforms, said executives, whose commercial-grade models aim to deliver the transparency, control and protections that many multifamily firms require. These include short-term guest background checks, additional insurance coverage, the ability to limit short-term rental usage to a certain number of days a year or even a percentage of units at any given time and more.
For Jason Fudin, CEO of WhyHotel, which provides a pop-up hotel solution to help apartment firms accelerate lease-ups of new communities while generating additional revenue, the resistance and even skepticism about the viability of the short-term rental industry is to be somewhat expected. However, it is the next iteration of a development trend that's been in play for decades, he argued.
"Mixed use in the '90s was really exciting. And then we all went to the town center idea. Well, the evolution is still happening," Fudin said. "These concepts are based on the benefits of a diversity of income stream, which reduces volatility and adds value. But in the future, there won't be these buckets. For example, your amenities might grow. You might have a commercial kitchen that supports a coworking space. This diversifies your income stream and makes your assets more valuable. But today, that scares people. But we're talking about the inevitability of true mixed use."
---