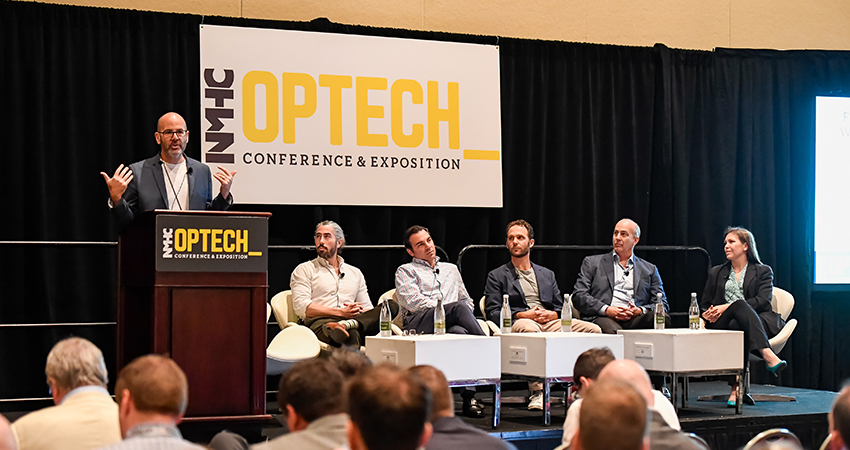 With what's being called the "second wave" of innovation hitting the real estate industry, there's been a flurry of activity and investment in technology, especially in the area of PropTech. With a focus on improved property operation and management solutions, industry experts expect this growth in PropTech to have significant implications for the apartment industry.
At the 2018 NMHC OPTECH Conference & Exposition, CREtech CEO Michael Beckerman lead a discussion with venture capital fund investment leaders, where they talked about how they decide where to place their bets, how they work with startups and industry leaders to move the companies to next level and what ideas and products really excite them.
Joining Beckerman on the panel were Dreamit Urban Tech's Andrew Ackerman, Camber Creek's Jeff Berman, Real Estate Technology Ventures' John Helm, Moderne Ventures' Lindsay Hyde and Navitas Capital's Travis Putnam.
Investors said they were most interested in supporting the development of tech solutions that can solve younger customers' unmet needs, expand staff capabilities as dense urban living becomes more prevalent and create better smart homes. Smart home technology was one area investors said they anticipate scaling relatively quickly along with artificial intelligence (AI) solutions.
"AI is a great way to extend leasing staff capacity to enhance resident experience," said Hyde, noting that AI solutions are moving towards levels of customization where solutions like chatbots can have unique voices.
As far as future trends, investors are watching a few developments. The future of work is changing, as a growing telecommute culture allows people to work from anyway. This shift may challenge traditional leasing models and some could see apartments perhaps following a subscription model in the future. Similarly, investors are very interested in the rise of coliving experiences and are thinking about the potential effects of the growth in self-driving vehicles.
While this investment activity is not only advancing but accelerating PropTech development solutions, innovation isn't always that simple in multifamily. It's not enough to just build it; it's also got to work within some industry parameters. During a session on entrepreneurship and internal innovation, three industry veterans and entrepreneurs discussed how new technologies are leaving companies scrambling to make sure they have the structure, people and investments in place to ride the wave. Participants included AvalonBay Communities' Karen Hollinger, BI Radix's Blerim Zeqiri and Parcel Pending's Lori Torres.
The panel discussed some of the innate hurdles to innovation in multifamily. Afterall, there's a lot of investment capital at stake and operational performance is paramount. As a result, the industry remains very risk averse, as mistakes can having long-lasting effects. Executives joked that it was best to fail fast (and make sure it's not fatal) when it comes to being innovative.
Executives also talked about the need for new tech companies to have good data—and crystal-clear ROIs—to be able to prove their business case. When considering a new tech investment idea, Hollinger said, "I want to know who else is using it and then I want to talk to them before I consider putting it in my communities."
Pilot programs are also a crucial step in rolling out new technologies or initiatives, especially those that can be funded with their own returns. And customer service and support were also key. All the panelists had nightmare stories of things going wrong at night, over the weekend—basically the most inconvenient times. Multifamily firms want to know that their tech partner can handle these emergencies that inevitably will pop up.
To help foster greater innovation, executives said both new tech companies and multifamily firms need to find ways to bridge the gap between innovation and practice, needs and expectations. To that end, the NMHC Innovation committee recently published two articles. One outlines the 10 things tech companies need to know about multifamily and the other rounds up the top four ways apartment firms slow down innovation.
---