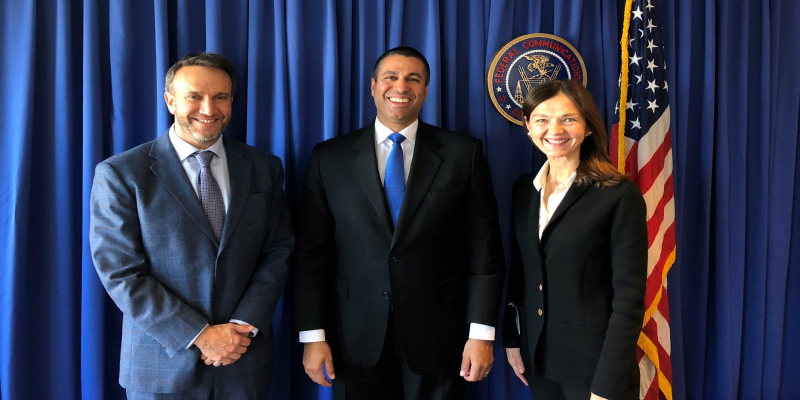 This week, leaders from NMHC met with several Commissioners of the Federal Communications Commission (FCC) to discuss three active FCC proceedings that have the potential to impact apartment community operations. David Schwartz, NMHC's Vice Chair and CEO of Waterton Associates along with Lela Cirjakovic, Waterton's EVP of Operations and NMHC President Doug Bibby met with FCC Chairman Ajit Pai and FCC Commissioners Jessica Rosenworcel and Brendan Carr. The meetings represented an escalation in NMHC's advocacy efforts to defend the multifamily industry from regulations that could inhibit competition and choice between telecom providers within apartment communities.
NMHC used the meetings as an opportunity to educate the Commission about our industry, its growth and its operations. NMHC argued that at the core of multifamily operation and development is a desire to meet and exceed resident demand and expectation which drives innovation in our sector especially as it relates to telecom provider and service choice and competition. Further, NMHC provided clear examples of how the current federal regulatory framework for agreements between property owners and service providers allows the market to work effectively to allocate scarce capital for network construction, maintenance and service upgrades in multifamily housing communities. NMHC raised the following proceedings with each Commissioner as critical to the future of broadband deployment within apartment communities:
Petition Filed by Multifamily Broadband Council Seeking Preemption of Article 52 of the San Francisco Police Code (MB Docket No. 17-91)
The petition challenged the enactment of a local ordinance in San Francisco that created a right for apartment residents to request service from virtually any broadband provider regardless of how many providers already serve the property.
NMHC supports the Multifamily Broadband Council Petition because the San Francisco ordinance will reduce the quality of service and hinder deployment of new facilities.
FCC Notice of Inquiry: Improving Competitive Broadband Access to Multiple Tenant Environments (GN Docket No. 17-142)
In 2017, the FCC sought input on the market for broadband services in "multiple tenant environments" (MTEs), including rental apartment communities. Specifically, the FCC's Notice of Inquiry (NOI) solicited comments on agreements between property owners and service providers and the impact of exclusive marketing, bulk billing, revenue sharing and exclusive wiring contracts on broadband deployment and competition.
NMHC opposes further steps toward regulation in the areas addressed by the Notice of Inquiry because the Commission's existing rules are already advancing multi-tenant broadband deployment effectively.
Proposed Model State Code (MSC) by the Broadband Deployment Advisory Committee (BDAC)
In January 2017 the FCC established the BDAC, a special committee appointed to make recommendations on how to remove barriers to the deployment of high-speed Internet.

NMHC

opposes Article 8 of the BDAC's proposed Model State Act because it would force the rental apartment industry to subsidize the deployment of broadband infrastructure.
While the Commission did not lay out a definitive timeline for further activity on the proceedings, it is clear that it continues to look for ways to boost broadband deployment across the country. NMHC will continue to vigorously represent the apartment industry's interests and educate the FCC about the health and success of the multifamily broadband market.
For more information on topics related to the FCC, please visit our telecommunications advocacy page.
---