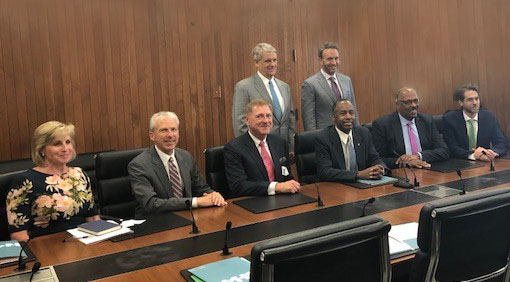 NMHC members held a number of top-level meetings with HUD and FHFA leadership on June 27.

NMHC officers and members met with Secretary Carson and other senior HUD leadership staff to discuss key issues of importance to the multifamily industry. David Schwartz of Waterton Associates, Kenneth Valach of Trammel Crow Residential, James Schloemer of Continental Properties, Darly Carter of Avanath, Jeff Brodsky of Related, and Nathan Taft of Jonathan Rose discussed the challenges associated with developing, preserving and managing multifamily housing.

Secretary Ben Carson, Deputy Secretary Pamela Hughes Patenaude, General Deputy Assistant Secretary for Housing, Dana Wade, General Counsel J. Paul Compton Jr., Deputy Assistant Secretary for Multifamily, C. Lamar Seats, and Chief of Staff Andrew Hughes, were among those from HUD in attendance.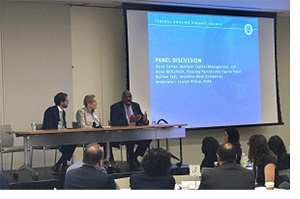 The group discussed fair housing, section 8, RAD, housing affordability, and FHA's multifamily programs, among other things. On housing affordability, NMHC reiterated its continued commitment to working with policymakers to address the nation's housing shortage. NMHC highlighted the various programs members use when working to address housing affordability such as the Low-Income Housing Tax Credit, private activity bonds, CDBG, HOME and many HUD rental assistance programs. The group provided insight on the many barriers to development and preservation of multifamily housing, and stressed the critical need for workforce housing.

NMHC highlighted two resources for HUD: a recently released NMHC/NAHB study showing that regulation imposed by all levels of government accounts for an average of 32.1 percent of multifamily development costs, and NMHC/NAA's regulatory reform letter that calls for specific regulatory reform changes on issues such as Davis Bacon and fair housing.
The group also discussed HUD's recent announcement to seek public comment on the 2013 Disparate Impact Rule. NMHC/NAA will be submitting comments urging HUD to reevaluate the Final Rule's disparate impact standard to ensure compatibility with the Supreme Court and reissue guidance that helps housing providers execute necessary business practices without running afoul of fair housing requirements. Additional information on HUD's solicitation for comments can be found here. Comments are due by August 20th; and NMHC/NAA urge members to consider filing comments. For more information, please contact Paula Cino at pcino@nmhc.org or 202-974-2345.
Earlier in the day, NMHC members participated in a Workforce Housing Forum sponsored by the Federal Housing Finance Agency (FHFA). Daryl Carter of Avanath Capital Management, Jeff Brodsky of The Related Companies, Nathan Taft of Jonathan Rose Companies, Anne McCulloch of Housing Partnership Equity Trust, and Ed Mandel and Kim Grimm from Continental Properties were among the industry stakeholder participants that included developers, investors, and advocates.

This event included panel discussions and research presentations, followed by roundtable discussions among attendees to identify potential solutions to this affordability crisis. A copy of the agenda can be found here.

NMHC will continue to partner with HUD and FHFA to work on issues that affect the multifamily industry.
---