The Federal Emergency Management Agency (FEMA) released long-awaited details outlining the implementation for its Risk Rating 2.0 program that is intended to modernize the National Flood Insurance Program (NFIP) and base insurance premiums on the specific flood risk faced by properties. Under the current program structure, policy premiums are based on whether a property lies in a designated flood zone, which can lead to some policyholders underpaying for their actual risk and some paying far more than they should. NMHC has long called for greater accuracy in risk rating and mapping as many apartment owners and operators rely on the NFIP for flood insurance coverage to mitigate the financial risk caused by flooding events.
In moving forward with the rollout of the Risk Rating 2.0 program, FEMA is attempting to bring the NFIP's methodology in line with the private sector and ensure that property owners see "rates that are fair, make sense, are easier to understand and that better reflect a property's unique flood risk." The new rate structure will take effect on October 1, 2021, for new NFIP policies including multifamily and commercial properties. Existing policyholders will see the new rate structure take effect in April of 2022.
FEMA has released some preliminary data on possible rate changes that most NFIP policyholders will see. The following chart provides data on all NFIP policies, although no multifamily or commercial policy data has been released to date: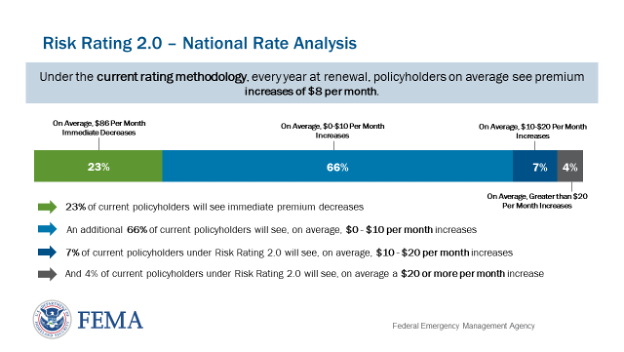 FEMA's rollout of Risk Rating 2.0 comes as Congress once again begins debate around reforming and reauthorizing the NFIP, which is set to expire on September 30, 2021. While some would argue that FEMA's effort is complementary to the work Congress is doing to improve the fiscal solvency of the NFIP, some lawmakers from flood-prone areas may push back at potential rate increases for their constituents.
The NFIP's reauthorization is a key priority for the apartment industry given the critical role the program plays in helping multifamily firms mitigate the financial risk of flooding events. In addition to reauthorizing the program and providing certainty to the market, NMHC has pushed Congress to make a host of reforms to the multifamily and commercial policy structure of the program, such as:
Improving coverage options for multifamily and commercial property owners through the creation of Business Interruption coverage through the NFIP; Moving commercial and multifamily claims to Replacement Cost Value (RCV) as opposed to Actual Cost Value (ACV); and allowing for multiple buildings to be covered by one NFIP policy.
Increasing the accuracy of the FEMA flood mapping process and overhauling the map appeals process to make it far less costly to individual owners.
Prioritizing more effective pre-flood mitigation and employ resources to help commercial and multifamily owners benefit from existing mitigation programs.
NMHC will continue to monitor the implementation of Risk Rating 2.0 and continue to urge Congressional leaders to take swift action to ensure the program does not lapse and provide a long-term reauthorization and programmatic reforms necessary to ensure the ability of the industry to manage flood risk and provide secure housing for many of the 40 million Americans who live in apartments. For more information on the NFIP and our industry's advocacy efforts, please click here.
---