I wanted to take a moment to highlight that earlier today Waterton Chairman and CEO and Chair of NMHC, David Schwartz, testified before the House Committee on Financial Services on behalf of the National Multifamily Housing Council, National Apartment Association and the 40 million residents who call an apartment home. Additionally, he was joined by fellow NMHC member Gilbert Winn, Chief Executive Officer of Winn Companies.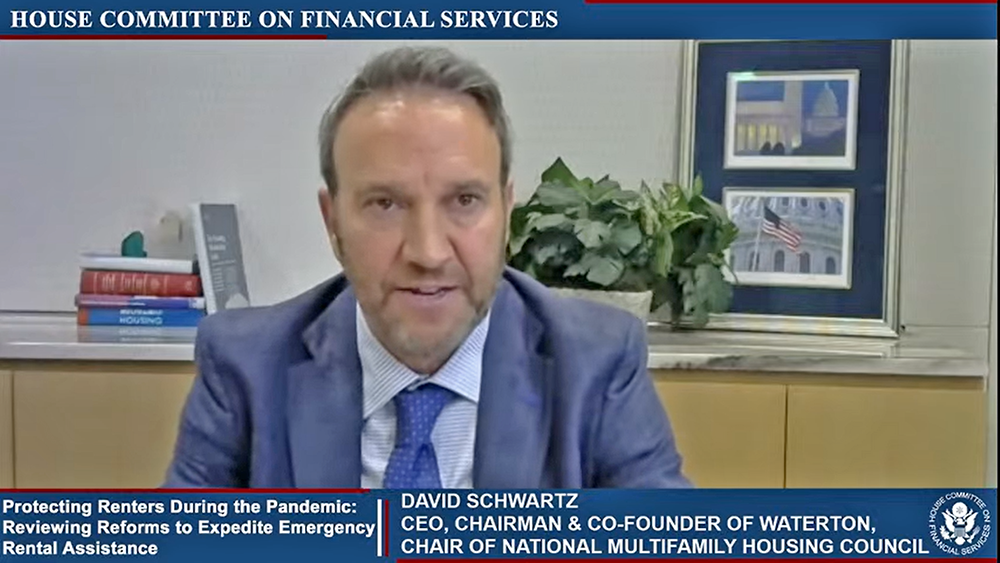 The hearing, titled 'Protecting Renters During the Pandemic: Reviewing Reforms to Expedite Emergency Rental Assistance' and focused on urgent reforms needed to the Emergency Rental Assistance Program (ERAP) to improve the program's execution and distribution. Since early on during the pandemic NMHC called on lawmakers to enact legislation to support apartment residents and the housing market by providing rental assistance instead of enacting ongoing eviction moratoriums which merely shifted the economic hardships of the pandemic to housing providers. One-size-fits-all, federal moratoriums were and are unsustainable and fail to address the underlying financial distress of residents.
In recent weeks it has become clear that immediate action is necessary to enable the ERAP program to reach all those in need as many localities have lagged in the distribution of the nearly $50 billion in rental assistance available. David's written testimony provides detailed recommendations for unlocking the flow of ERAP funds and addressing barriers to the delivery of relief to residents and housing providers alike. In particular, NMHC supports efforts to help jurisdictions ramp up delivery of rental assistance benefits, including streamlining onerous application and documentation requirements, ensuring eligibility aligns with those residents in need of support, leveraging housing provider capabilities to assist with the application process and embracing practices and technologies with proven operational success.
Importantly, David cautioned against the imposition of new program requirements unrelated to the accelerated distribution of funds that further or create new barriers to participation in ERAP programs such as additional eviction moratoriums. There is also a pressing need to address the ability to secure ERAP funds when residents are unwilling or unable to cooperate with the application process. Congress must enable housing providers to apply for rental assistance on behalf of residents who are unresponsive, have vacated units or are otherwise unavailable.
Going forward, NMHC will continue working in partnership with policymakers at all levels to address the challenges of COVID-19, while advancing proven solutions for long-term housing affordability.
Finally, please join me in thanking David for investing so much of his time and energy in representing us before Congress and, once again, being a standard bearer for the industry.
Sincerely,



— Doug Bibby, NMHC President
---