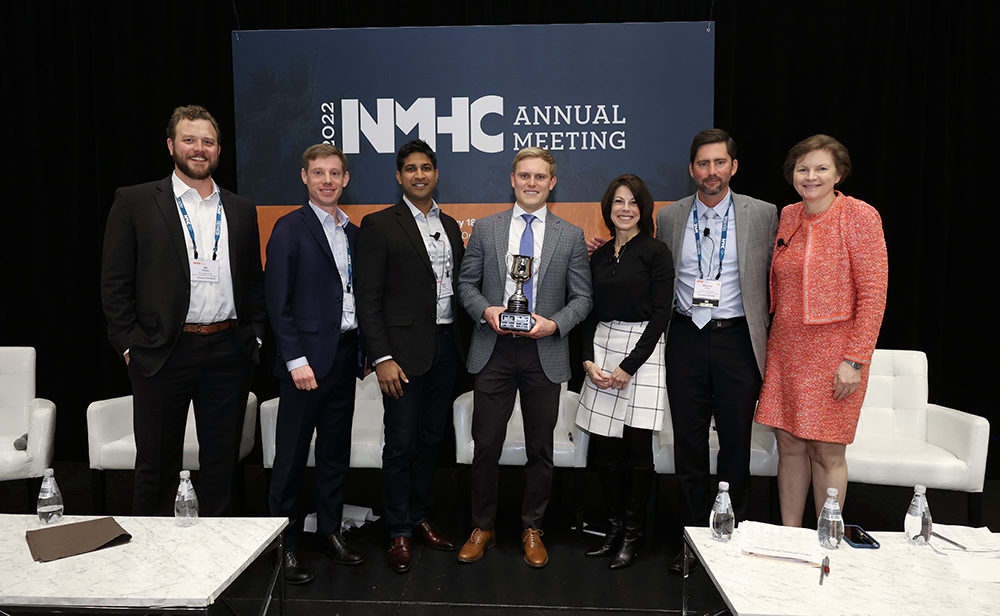 For sale: A 375-unit deal in Buckhead, Atlanta. It's a 1990 build, never-renovated garden property ready for some value add but it has some challenges—bad debts, trade outs, deferred maintenance, poly pipes and increasing crime in the area.
This was the challenge presented to the three contestants—Eli Chester, Director of Investments at Blaze Partners, Brian Kelly, Director of Investments at LivCor, LLC and Clayton Williams, Vice President of Finance at Carter Haston—in the 2022 Young Guns Pitch to Senior Executives panel at the Annual Meeting.
Program organizers Rishi Gupta, Chris Goldsmith and Peter Herbst re-imagined this must-attend session for the past nine years at NMHC's Annual Meeting to highlight the analysis and pitching skills of the competitors. In the past, each competitor pitched a different deal. This year, all three contestants pitched the same deal. That deal described above.
Among other things, our contestants had to answer: What's your offer price? Entry cap rate? Exit cap? CapEx budget? Rent increase? How are you paying for the renovations, out of cash flow or out of equity? How are you dealing with the "challenges"?
All three brought a unique investment thesis to our "investment committee" and made their case for why their deal was the winner. Their purchase prices ranged from $88 million to $96 million, and cap-ex was $15,000 to $25,000 a unit depending on the pitcher.
Our judges – Sue Ansel (President and CEO, Gables Residential), Laurie Baker (COO and EVP, Operations, Camden Properties) and Ricardo Rivas (President and CEO, Allied Orion Group) – put the competitors through some serious questioning.
Our competitors endured some serious grilling by our seasoned executives. At the end of the hour, Clayton Williams took the trophy despite his anticipated 3.5% exit cap rate. You can review all three presentations to see how you would have voted if you were on the judging panel.
---