On June 24, the U.S. Treasury Department announced a plan to implement a government-wide effort to expedite the distribution of the $46 billion in emergency rental assistance funds.
In December 2020, the Consolidated Appropriations Act of 2021, was signed into law and included $25 billion in emergency rental assistance (ERA 1). The March 2021 American Rescue Plan Act further supplemented these funds with an additional $21.6 billion in emergency rental assistance (ERA 2).
As states continue to administer ERA 1 funding and begin to open enrollment for the ERA 2 program, NMHC remains engaged with Congress, the Treasury Department and HUD to ensure the programs are administered in an efficient and effective manner that works for both residents and property owners/managers.
This document is an overview of the requirements set forth in both the ERA 1 and ERA 2 programs.
In an effort to clarify specific provisions set forth as part of the program, Treasury has released guidance on an ongoing basis. June 24, 2021. Supplemental guidance is expected to be released. In addition, the IRS has also released FAQs on Emergency Rental Assistance (ERA), outlining criteria for landlords to follow regarding ERA payments.
NMHC continues to provide feedback to Treasury and HUD regarding implementation. Most recently, NMHC spearheaded a real estate coalition meeting with the Administration where we provided updates from NMHC members on implementation efforts as a follow-up to specific recommendations provided to the Administration via letters sent on April 20, February 9, February 26 and January 7.
Key Resources
The information provided herein is general in nature and is not intended to be legal advice. It is designed to assist our members in understanding this issue area, but it is not intended to address specific fact circumstances or business situations. For specific legal advice, consult your attorney.
---
Resident Communication Tools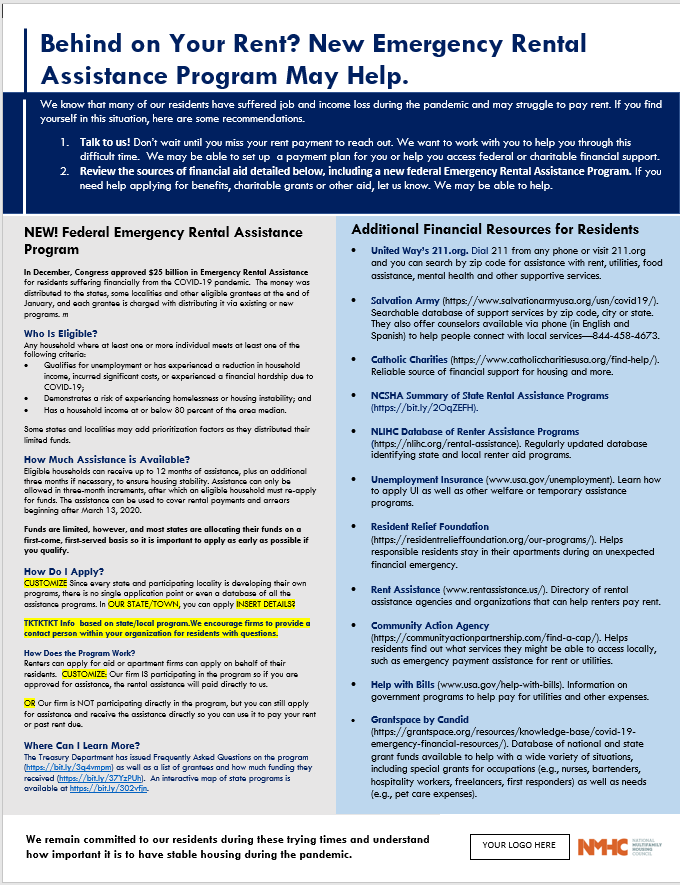 Talking points, sample templates, and techniques when communicating with residents about resources available regarding rent assistance, rent flexibility, eviction mitigation and more. View the tools >>>