On October 4, the U.S. Treasury Department published new guidance outlining the process for reallocation of Emergency Rental Assistance funds designed to mitigate the effects of the COVID-19 pandemic on renters and landlords, pushing state and local governments to expedite the distribution of the $46 billion in emergency rental assistance funds.
In December 2020, the Consolidated Appropriations Act of 2021, was signed into law and included $25 billion in emergency rental assistance (ERA 1). The March 2021 American Rescue Plan Act further supplemented these funds with an additional $21.6 billion in emergency rental assistance (ERA 2).
As states continue to administer ERA 1 funding and the ERA 2 program, NMHC remains engaged with Congress, the Treasury Department and HUD to ensure the programs are administered in an efficient and effective manner that works for both residents and property owners/managers.
In an effort to clarify specific provisions set forth as part of the program, Treasury has released guidance on an ongoing basis. On October 4, the Treasury Department published the "Emergency Rental Assistance Under the Consolidated Appropriations Act, 2021 Reallocation Guidance" which is focused on ERA 1 funds. The Consolidated Appropriations Act/ERA 1 requires the Treasury to reallocate "excess" ERA 1 funds on September 30, 2021. With less than 17 percent of the $46 billion in rental assistance funds having been disbursed as of August 2021, the Treasury Department, plan gives grantees that failed to obligate at least 65 percent of the ERA 1 funding until November 15, 2021, to submit a Performance Improvement Plan to the Treasury for approval, to avoid a federal clawback of their allocation. If grantees do not submit an adequate plan, 10 percent of their ERA 1 funds will be considered to be "excess" and subject to recapture. Grantees with expenditures less than 30 percent as of September 30, will be subject to recapture amounts for the difference between its reported expenditures and the amount of expenditure needed to reach the 30 percent threshold. Grantees can also avoid recapture by the November 15 deadline if they are able to certify that their expenditure ratio is at least 30 percent, or if they have obligated at least 65 percent of their allocation.
NMHC continues to provide feedback to Treasury and HUD regarding implementation. Importantly, Treasury addressed issues identified in industry real estate letters, allowing residents to demonstrate eligibility for rental assistance through self-attestation, establishing guidelines for providing bulk payments to landlords and allowing past arrears at previous addresses to be covered. The October 4 guidance specifically highlights the use of "self-attestation" an industry priority as a "best practice."
NMHC continues to spearhead real estate coalition meetings with the Administration where we provide updates from NMHC members on implementation efforts as a follow-up to specific recommendations provided to the Administration via letters sent on August 18, April 20, February 9, February 26 and January 7.
Key Resources
Treasury Department "Emergency Rental Assistance Under the Consolidated Appropriations Act, 2021 Reallocation Guidance" (October 4, 2021)
Treasury Department FAQ and Fact Sheet (updated August 25).
Treasury Department List of Funding Distributed to States, Localities and More.
National Council of State Housing Agencies (NCSHA) State Level Emergency Assistance Programs. https://bit.ly/302vfjn
IRS Emergency Rental Assistance FAQ (most recent version dated March 26). https://bit.ly/2PD5Hrl
Consumer Financial Protection Bureau (CFPB) Resources:
The information provided herein is general in nature and is not intended to be legal advice. It is designed to assist our members in understanding this issue area, but it is not intended to address specific fact circumstances or business situations. For specific legal advice, consult your attorney.
---
Resident Communication Tools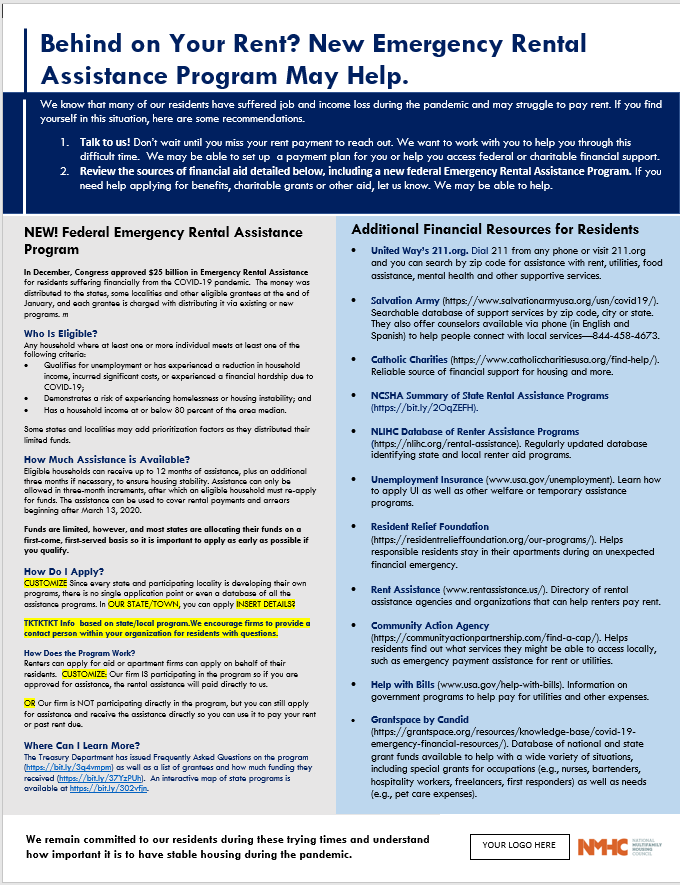 Talking points, sample templates, and techniques when communicating with residents about resources available regarding rent assistance, rent flexibility, eviction mitigation and more. View the tools >>>