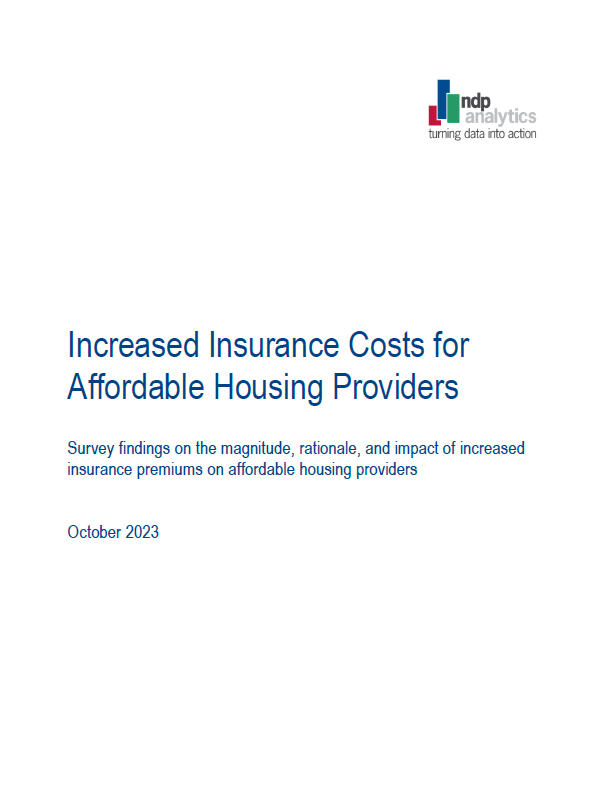 Rental housing providers in communities nationwide are facing increased insurance costs—but the impact on affordable housing providers is particularly acute. Access this report to delve into the magnitude, rationale and impact of increased insurance premiums in the affordable space.
The report, produced by ndp analytics and commissioned by the National Leased Housing Association (NLHA), aligns with other NMHC research that found a staggering 26 percent of property insurance costs increased over the past year.
Key Report Findings
For 2022-23 renewals, 29 percent of housing providers experienced premium increases of 25 percent or more, compared to 17 percent the previous year.
Limited markets and capacity are responsible for most premium increases; followed by claims history/loss and renter population.
67 percent of respondents reported increasing insurance deductibles to manage the increases followed by decreasing operating expenses and increasing rent.
Survey Details
404 responses from affordable housing providers
2.7 million housing units represented among respondents
Respondents were surveyed on changes in housing providers' insurance premiums for 2020, 2021 and 2022
The following organizations distributed the survey to their members:


Affordable Housing Tax Credit Coalition (AHTCC)
Enterprise Community Partners
Housing Advisory Group (HAG)
Institute of Real Estate Management (IREM)
National Apartment Association (NAA)
National Association of Home Builders (NAHB)

National Affordable Housing Management Association (NAHMA)
National Housing & Rehabilitation Association (NHRA)
National Multifamily Housing Council (NMHC)
National Leased Housing Association (NLHA)
Stewards of Affordable Housing for the Future (SAHF)

1. Includes commercial property, general premium liability, and excess/umbrella liability insurance.
Source: Increased Insurance Costs for Affordable Housing Providers survey


---
2023 Report: Increased Insurance Costs for Affordable Housing Providers