NMHC, in partnership with a number of other real estate trade groups that represent for-profit and non-profit owners and operators of both affordable and conventional rental housing, undertook a survey representing over 2.6 million housing units on the insurance landscape faced by housing providers.
As insurance costs continue to increase and options remain limited, multifamily firms have faced a challenging insurance landscape over the past several years. These challenges have only been recently compounded by the rocky recovery from COVID-19.
Over the last several years, NMHC and our allied groups have continually briefed policymakers across the federal government about the financial pressures on housing providers. In response, they have pressed for data showing what is happening across the market—which is why we are pleased to release this critical data that will help educate policymakers on the challenges our industry faces.
The report details that "higher premiums are a problem across the board, with both conventional and affordable housing providers citing higher premiums across a variety of lines of insurance." There are a variety of causes for the rate increases—some that property owners have little to no control over—including consolidation in the insurance marketplace leading to fewer insurers offering policies.
One particularly troubling finding shows that housing providers in the affordable housing space often face higher premiums seemingly because the populations they serve are frequently identified as higher risk (characterized as low-income and/or elderly populations). Insurance carriers often use risk characteristics such as crime statistics in the community to justify increased premiums.
NMHC and others have raised questions about the practice and recently urged HUD to explore the issue further. In fact, recent research from Virginia Tech found that risk modeling using crime statistics has many drawbacks, such as relying on larger geographies that may or may not be reflective of an individual property's experiences.
NMHC will continue to monitor trends in the insurance marketplace that impact rental property owners and pursue industry solutions that will better enable them to mitigate the financial exposure they face as a result of today's changing risk landscape. For more information on NMHC's risk management work, please click here.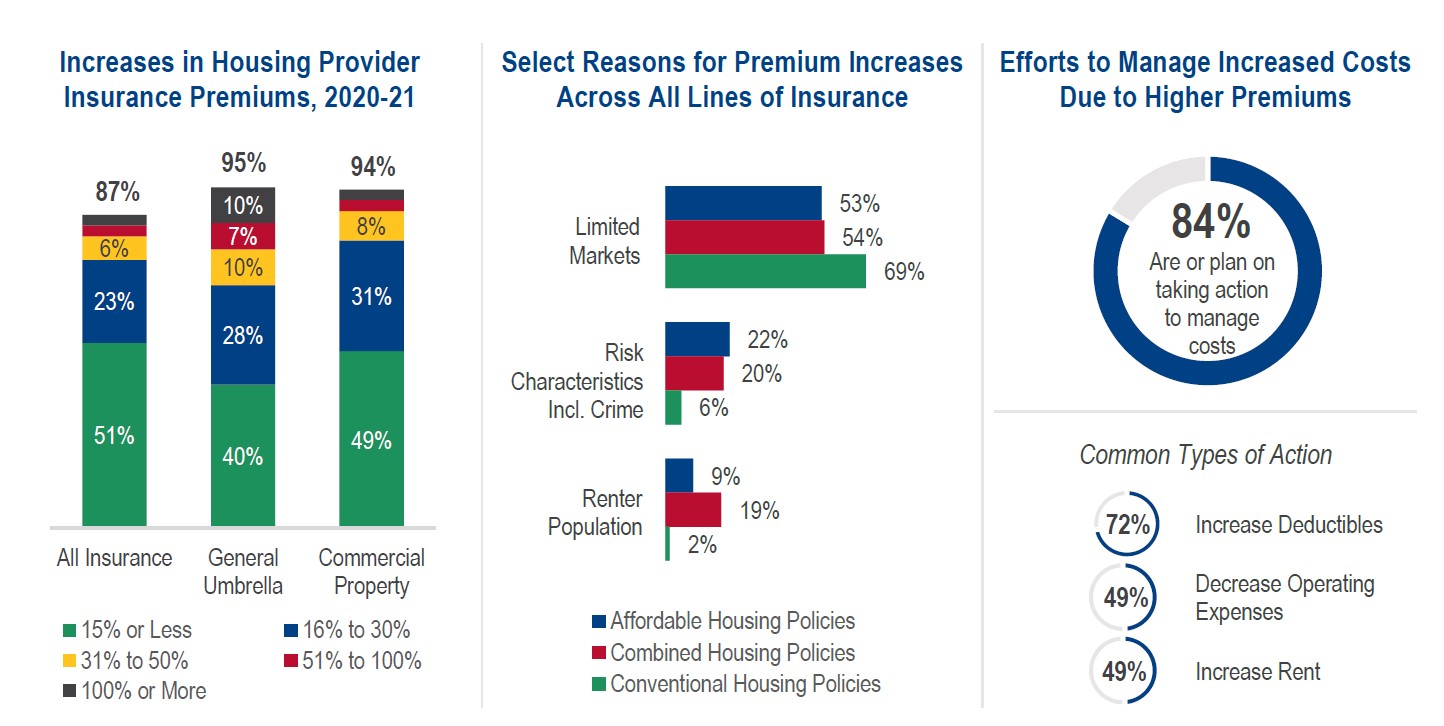 Source:
---
This document is a resource for NMHC members. NMHC Members – please log in to download this report.
If you would like to learn more about NMHC membership please visit our Membership page or contact our membership team at membership@nmhc.org
Research Sponsors
The multifamily housing organizations below sponsored a survey to collect information on insurance costs facing both conventional and affordable rental housing providers. The results of this survey are included in the report.
Council for Affordable and Rural Housing (CARH)
IREM: Institute of Real Estate Management
National Apartment Association (NAA)
The National Affordable Housing Management Association
National Leased Housing Association
National Multifamily Housing Council