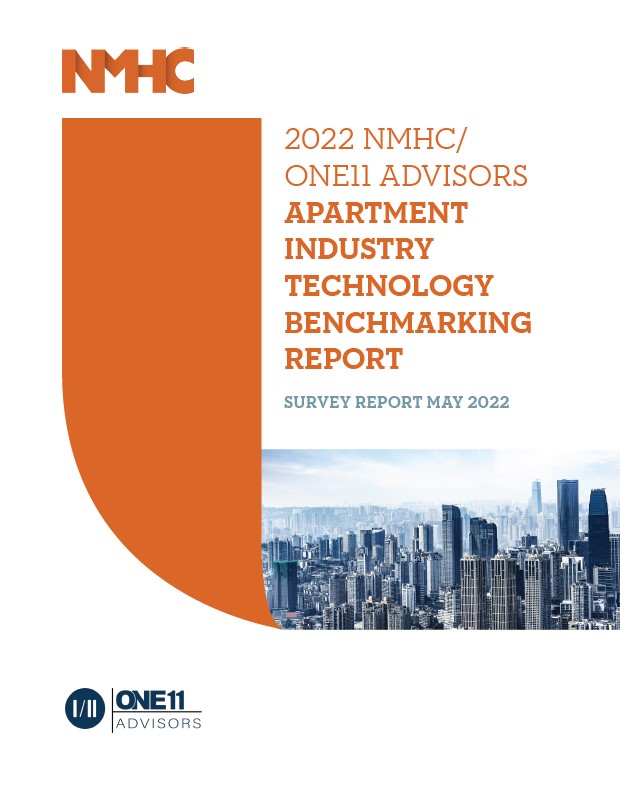 NMHC has once again partnered with One11 Advisors for the second edition of the NMHC/ One11 Advisors Apartment Industry Technology Benchmarking Report. After a successful launch in 2020, NMHC and One11 Advisors partnered again to capture how the apartment industry has evolved over the last two years. In addition, we completely revamped the survey to make it even more targeted and valuable to industry technology and strategic leaders, technology suppliers, and startup technology firms.
The report includes survey results from over 60 technology leaders in the industry, a significantly higher amount than in the 2020 survey. And much of the data is broken out by company size to give more accurate and appropriate benchmarks. The report is provided once again as a free benefit to NMHC members.
The survey and report provide a valuable snapshot of how apartment companies are supporting technology and innovation in their companies, as well as what challenges and opportunities they face as they deploy technology more extensively into company systems. The information is valuable for apartment companies for benchmarking and for technology suppliers to better understand their customers concerns.
The survey and report also seek to assist in the evolution of technology in the apartment industry by providing data that highlights best practices and allows organizations to evolve their technology capabilities regardless of their size or resources. The report is comprised of the following sections:
Survey Respondent Profile
I.T. Funding
I.T. Organizational Structure
I.T. Staffing and Core Functions
I.T. Outsourcing
Accounting and Property Management Systems
Implementing New Technology
Other Technology Solutions
---
This document is a resource for NMHC members. NMHC Members – please log in to download this report.
If you would like to learn more about NMHC membership please visit our Membership page or contact our membership team at membership@nmhc.org