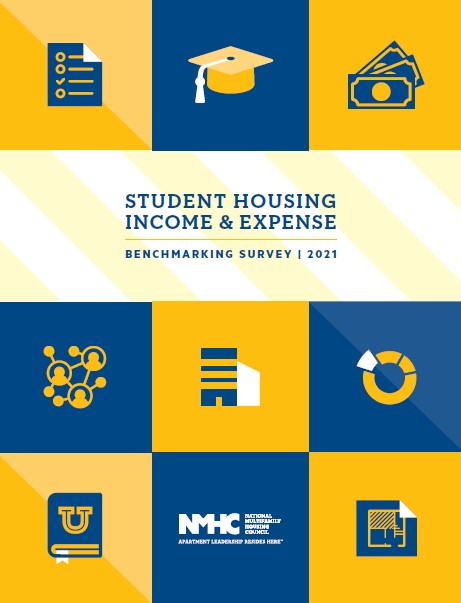 The 2021 NMHC Student Housing Income and Expense Benchmarking Survey is Now Available
Since it began in 2010, the survey has been a vital industry tool for student housing lenders, investors, owners and managers seeking financial guideposts against which to measure both projected and actual performance results.
Buy Now
NMHC Member Price: $500 | Non-member Price: $1,000
---
The 2021 Survey (Based on 2020 Calendar-Year Data):
953 private off-campus student housing properties
Nearly 185,000 units and 529,000 beds across 47 states.
What's Included?
Topline survey analysis by NMHC Research Department, includes breakdown by region and state as well as by property size, age, type (garden, mid-rise, high-rise) and distance from campus.
Easily navigable Excel file with summary statistics for the 2020 calendar year
Second Excel file with data on two-year growth rates (2018-2020) among a set of 479 same-store properties.
The amount of data covered by the report has quadrupled since it began.
Key findings from this year's report:
COVID-19 led to higher vacancy costs and concession offerings
Net rental income was higher in campus-adjacent and high-rise properties
Mid-Atlantic and small properties reported lower vacancy costs
Concessions were larger in Southeast and garden-style properties
Operating expenses were lowest in newer properties



NMHC Member Price: $500 | Non-member Price: $1,000
---