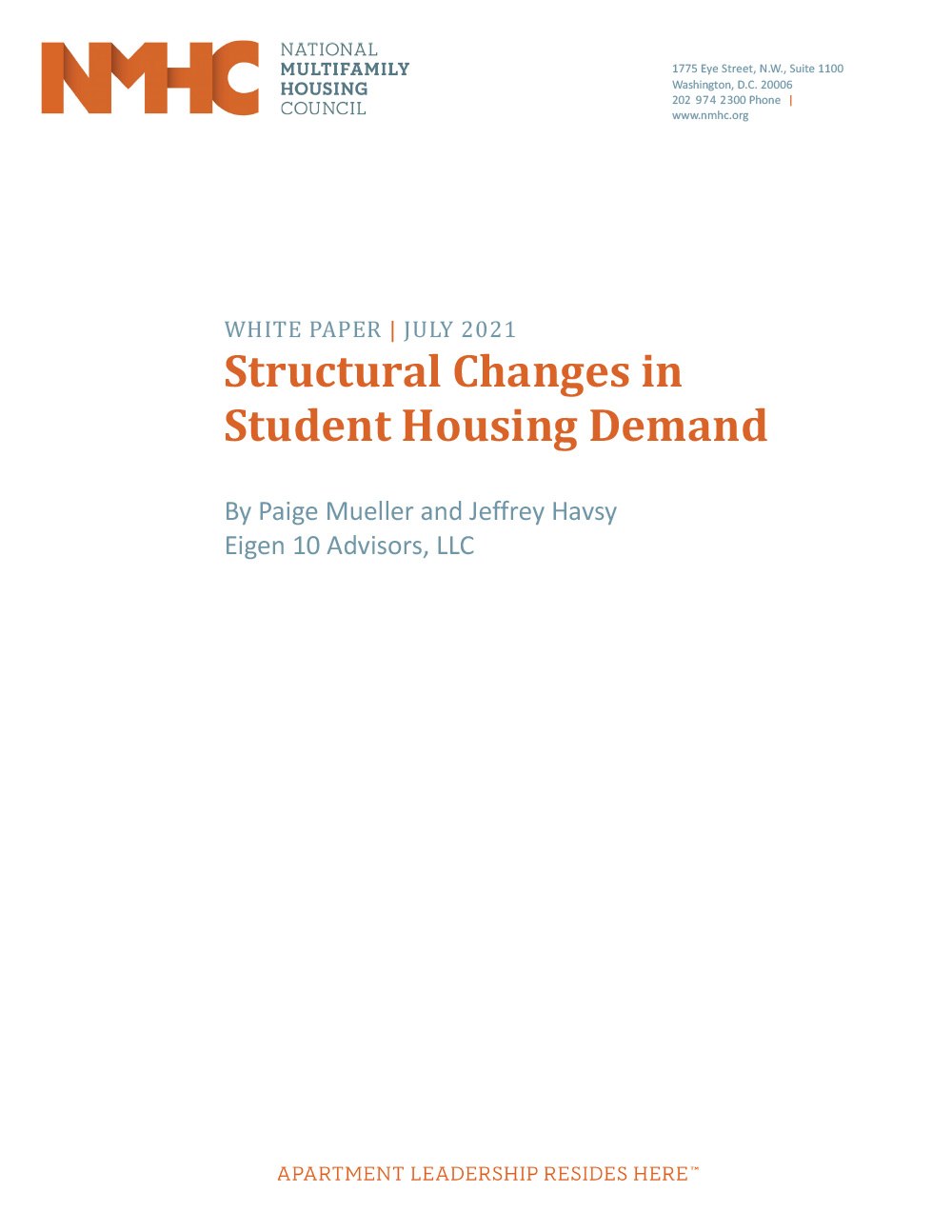 Student housing has historically experienced recession-proof demand as measured by enrollment in public four-year universities, which has grown at an average annual pace of 2.1% over the past 10 years. That is more than double both population growth and employment growth over that time period. This paper examines the structural, demographic and economic forces that will influence future demand for student housing.
Among its key findings are:
An estimated 46 million people will reach college age in the next 10 years, creating continued demand for student housing.
Gen Z, a smaller cohort than the aging millennials, will put downward pressure on enrollment growth going forward.
The smaller population base, combined with the recent recession, will cause uneven growth in university enrollment.
An analysis of the fastest growing universities from 2010 to 2017 indicated a wide range of enrollment growth already in place.
Future demand is expected to remain concentrated geographically since 22% of 5- to 19-year-olds live in two states—California and Texas.
Affordability will continue to be important.
Distance education is here to stay, but it will not replace traditional public four-year programs.
Download the Report
---
About the Authors
PAIGE MUELLER
Paige Mueller is a co‐founder of Eigen 10 Advisors, LLC. She has decades of experience working with both limited partners and general partners, including the development of a pension consulting practice that approved $2.5 billion in multiple property types and vehicles. She previously worked at GIC Real Estate, one of the largest global sovereign wealth firms, and LaSalle Investment Management, where she provided support for investment, brokerage, REIT, site selection and knowledge management teams. She graduated with an MBA in Finance from Indiana University, taught market analysis at UC Berkeley and is recognized as a CRE and Hoyt Fellow.
---
JEFFREY HAVSY
Jeffrey Havsy is a strategic consultant for Eigen10 Advisors, LLC. He has worked on a number of client projects for the firm including, but not limited to, data analytics for the purpose of product development and monetization by numerous property technology firms; demographic and market analysis studies; and a best practices study on data collection, transformation and dissemination for a commercial real estate not‐for‐profit. Prior to working with E10A he was CBRE's America's Chief Economist. In that role Jeffrey provided the broader commercial real estate community with thought leadership on real estate trends, the macroeconomy and economic events. He worked with investors, occupiers and other users of commercial real estate to better understand real estate and capital markets in order to make better investment and leasing choices. He was also responsible for guiding the CBRE Econometric Advisors (CBRE EA) team. Before joining CBRE, Jeff served as the Director of Research at National Council of Real Estate Investment Fiduciaries. Jeff also worked as a Global Strategist with Property & Portfolio Analytics.
Study Authors
Paige Mueller
Jeffrey Havsy
Eigen 10 Advisors, LLC