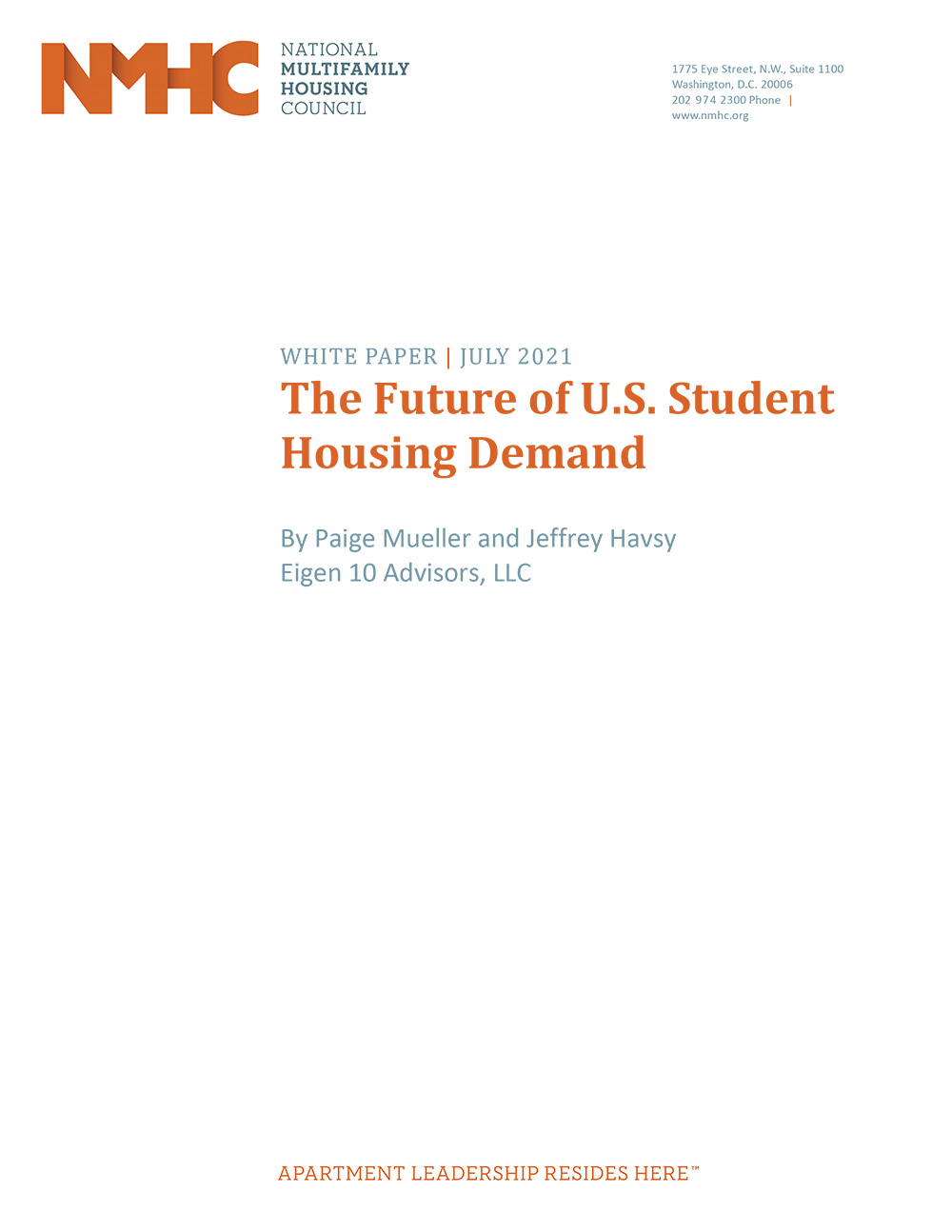 The U.S. institutional student housing market has been a source of consistent demand for real estate investors, supported by steady enrollment in four-year public universities throughout the business cycle. But as the millennial generation gets older, the college-aged population (18-24) has declined, putting downward pressure on enrollment growth. (We expect the number of 18- to 24-year-olds enrolled in post-secondary education to decline slightly in 2020). Yet, over a longer time horizon—from 2020 to 2031—we estimate that enrollment in post-secondary schools will increase annually by 1.1% on average. Even in the face of a more challenging demographic environment, there will still be pockets of opportunity for the more discerning investor.
This paper forecasts future student housing demand to distinguish between those segments of the industry that are likely to continue to thrive in the coming years and those that face higher levels of risk. It also explores a variety of other factors that may benefit institutional student housing operators in the future.
Download the Report
---
About the Authors
PAIGE MUELLER
Paige Mueller is a co‐founder of Eigen 10 Advisors, LLC. She has decades of experience working with both limited partners and general partners, including the development of a pension consulting practice that approved $2.5 billion in multiple property types and vehicles. She previously worked at GIC Real Estate, one of the largest global sovereign wealth firms, and LaSalle Investment Management, where she provided support for investment, brokerage, REIT, site selection and knowledge management teams. She graduated with an MBA in Finance from Indiana University, taught market analysis at UC Berkeley and is recognized as a CRE and Hoyt Fellow.
---
JEFFREY HAVSY
Jeffrey Havsy is a strategic consultant for Eigen10 Advisors, LLC. He has worked on a number of client projects for the firm including, but not limited to, data analytics for the purpose of product development and monetization by numerous property technology firms; demographic and market analysis studies; and a best practices study on data collection, transformation and dissemination for a commercial real estate not‐for‐profit. Prior to working with E10A he was CBRE's America's Chief Economist. In that role Jeffrey provided the broader commercial real estate community with thought leadership on real estate trends, the macroeconomy and economic events. He worked with investors, occupiers and other users of commercial real estate to better understand real estate and capital markets in order to make better investment and leasing choices. He was also responsible for guiding the CBRE Econometric Advisors (CBRE EA) team. Before joining CBRE, Jeff served as the Director of Research at National Council of Real Estate Investment Fiduciaries. Jeff also worked as a Global Strategist with Property & Portfolio Analytics.
Study Authors
Paige Mueller
Jeffrey Havsy
Eigen 10 Advisors, LLC