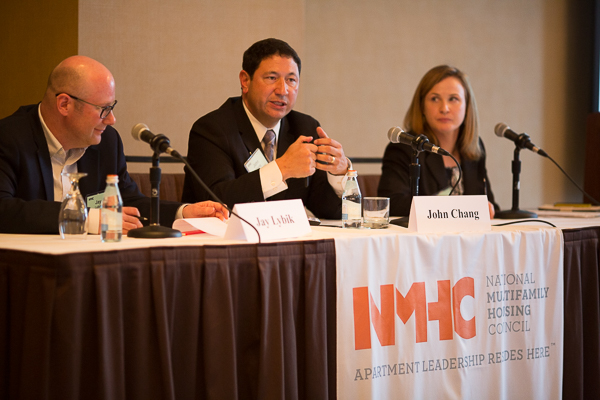 As apartment researchers and industry executives gathered in Chicago last week for the 2016 NMHC Research Forum, most seemed to be searching for an answer to the question of what happens next. With both tailwinds and headwinds blowing, it's been difficult for many to set a clear course for their companies.

The economy's painfully slow climb back from the Great Recession has left many feeling uncertain. Now in its 82nd month, the expansion has far eclipsed the average length (58.4 months) of expansion following a downturn-and that's about the only thing that's been noteworthy about it.

"After the deepest, longest and most severe recession since the Great Depression we've had the most pathetic recovery on record," Michael Miller, Ph.D., associate professor of economics and associate dean for academic quality at DePaul University, told attendees.

This limp-along economy is leaving industry executives without a sense of whether this is the new normal or whether we should be bracing for the next market swing.
On the one hand, any improvement in the economy is a plus. Private sector jobs are being created, to the extent that the nation is very near what economists would call full employment, and there's been some real wage growth. Consumer debt has been reined in and corporations are sitting on a lot of dry powder that could get the economy's flywheel turning faster.

And with job growth, there's household growth and with household growth, there's housing demand-and increasingly that means demand for apartments.

In fact, the industry is struggling to put production in lockstep with demand, a fact that is creating a demand-supply imbalance and contributing to rising rents and affordability concerns.

But on the other hand, there's domestic uncertainty tied to the Federal Reserve's tinkering with interest rates and the upcoming elections, among other factors, and even more concern over what's happening in the global markets, especially Europe, the Middle East and China.

However, some academics estimate that the probability of sliding into another recession is capped at about ten percent. Given that outlook, what's happening in today's apartment market is likely just a return to more normalized conditions after a significant upswing.
Meeting participants noted that they expected transaction volumes to be down this year relative to last year's record, as sellers get conservative and hold on to their choice assets. Others are forgoing broader investment strategies targeting geographic markets or specific product type and focusing in on the individual assets. And with asset values still sky high in many markets, increasingly opportunity in today's environment looks like a value-add play.

Just as industry executives are looking for deeper data on asset performance to better guide their investment strategies, they are also looking for more statistical insights into apartment renters themselves. Better data science is beginning to provide some operational direction.
NMHC thanks all sponsors, speakers and attendees for their participation in the 2016 NMHC Research Forum. Presentation materials are available to members for download
here
.
---