What are the shared obstacles and opportunities confronting developers, local governments, and residents in the effort to build better housing within reach for more Americans? Host Alison Johnson is joined by the woman who literally wrote the book on how yesterday's housing policies led to today's housing problems. Hit play for a fascinating conversation with Dr. Jenny Schuetz, the author of the book, Fixer-Upper: How to Repair America's Broken Housing Systems.
NMHC is the place where the leaders of the apartment industry come together to guide their future success.
Not a member? Learn more about NMHC at https://www.nmhc.org/membership
Looking for more info on housing affordability? NMHC has you covered:

Episode Guests: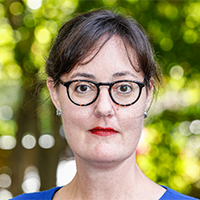 Dr. Jenny Schuetz
Senior Fellow
Brookings Metro
Dr. Jenny Schuetz is a Senior Fellow at Brookings Metro, and is an expert in urban economics and housing policy. Dr. Schuetz has written numerous peer-reviewed journal articles on land use regulation, housing prices, urban amenities, and neighborhood change. Dr. Schuetz has appeared in the New York Times, Wall Street Journal, Washington Post, the PBS NewsHour, The Indicator podcast, Vox, and Slate.
---