In the first episode of Code 53, Co-Hosts Alison Johnson and Kevin Cameron interview outgoing NMHC Chair David Schwartz of Waterton, and incoming NMHC Chair, Ken Valach of Trammell Crow Residential at the 2022 NMHC Annual Meeting. Hear how these CEOs came into their prominent roles, their philosophies on leadership, and their shared passion for building thriving communities.
Episode Guests:
David Schwartz
Immediate Past Chair, NMHC
CEO and Chairman, Waterton
Mr. Schwartz co-founded Waterton with Peter Vilim in 1995 and serves as CEO and Chairman. Mr. Schwartz is responsible for strategic decisions and leadership of the firm's business activities and operations, and participates on the Management and Investment Committees. Prior to co-founding Waterton in 1995, Mr. Schwartz was a vice president of acquisitions for Equity Residential Properties Trust (EQR-NYSE) and from 1985 through 1989 was with AMLI Realty Co.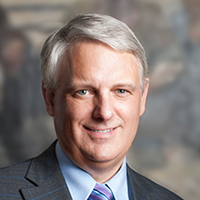 Ken Valach
NMHC Chair
CEO, Trammell Crow Residential
Ken Valach is the Chief Executive Officer of Trammell Crow Residential, Crow Holdings Industrial and Crow Holdings Office. After joining Trammell Crow Residential in 1989, he served in a variety of positions including overseeing multifamily development in the western half of the United States. In 2009, Ken assumed the CEO role of Trammell Crow Residential to lead the company through the Great Financial Crisis. In 2015, Ken was named CEO of Crow Holdings Industrial to help build a national platform for development of speculative and build-to-suit industrial projects. Ken became CEO of Crow Holdings Office in 2020.
---