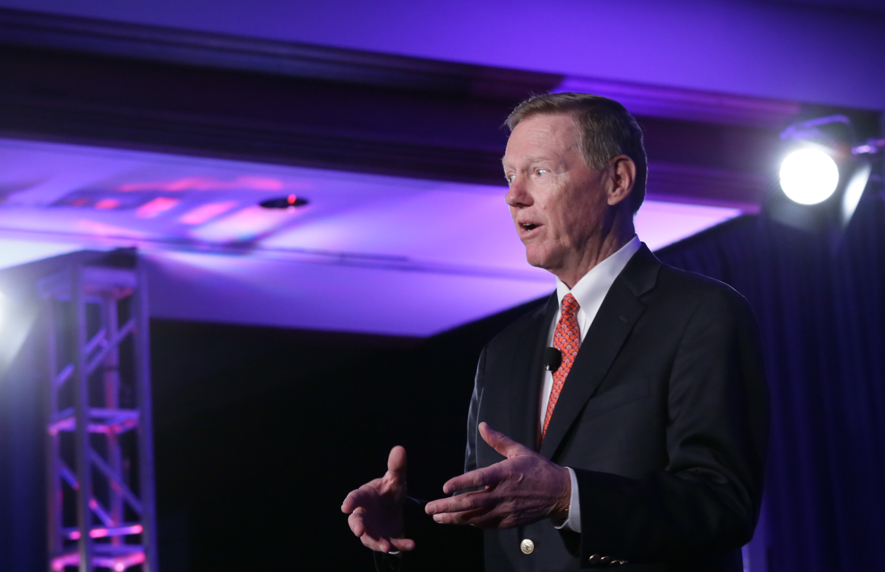 Leadership a Key Theme at the NMHC Annual Meeting
The good times the apartment industry is currently experiencing make it a particularly appropriate time to do a deep dive on the leadership skills that can keep the industry growing and innovating as the world around it changes.
Saving an American Icon
Attendees heard an inspiring presentation by Alan Mulally, the former CEO of Ford Motor Company and the man credited with saving the American icon.
Mulally left what he calls a fantastic job at Boeing to take over Ford when the firm was facing a $17 billion loss, the brand had been severely diminished, the nation was about to enter an economic freefall and the company had 100 percent over capacity of all its product lines.
"We were losing money on every car we sold," said Mulally.
Fast forward to today, and the company is number two in car sales behind Toyota, they escaped the Great Recession without requiring a taxpayer bailout and the stock price has increased by 1,837 percent. And perhaps even more impressive, despite (or more accurately because of) the massive changes Mulally undertook, 89 percent of Ford employees rate the company as a good place to work.
Mulally shared his formula for the turnaround: create a compelling vision; determine a strategy for achieving it; and engage everyone in the company to pursue implementation relentlessly.
His advice to the audience? Ask yourself "Is the plan authentic? Are you dealing with reality? Do you believe in all the stakeholders? Are you including everyone?"
Facing Enormous Challenges Head On
Dick Parsons, former chairman of Citigroup and former CEO of Time Warner, offered more advice based on his experiences taking over Citigroup - when it was number one on the bad bank list and had just taken a $45 billion federal bailout - and later when he managed the cultural disconnect created by the Time Warner/AOL merger.
NMHC President Doug Bibby interviews Dick Parsons, former chairman of Citigroup and former CEO of Time Warner, on a wide range of topics.
Parsons started off his session saying that he learned his leadership skills in the military, noting that when you are in the field, officers always eat at the end of the chow line because it's their job to make sure they've brought enough food for everyone. And if they haven't, it should fall on the people who are responsible for it.
"Leaders, in other words, should be accountable," he said.
At Citibank, Parsons attacked what he saw as one of the fatal flaws in the entire financial services industry - insularity. He completely restructured the Board, which was initially almost completely comprised of distinguished business people who knew nothing about banking - a deliberate move to prevent them from telling the bank how to run its business.
Parsons kept some of the broader business perspective, but also recruited industry experts who "could ask questions more than one or two levels deep." "How do you attack the world if it's just a bunch of guys from Bergen County? You can't," he noted.
He carried that same commitment to transparency and diversity to Time Warner Cable. "As a consumer facing business, how do I know what the consumers want unless I have people coming from all those communities? How do I know unless within my own organization I have people with the sensibilities of the broad range of people I'm serving?
Talking about his work with the LA Clippers after the league banned the team's owner, Donald Sterling, for life because of racist comments, Parsons said he thought about that famous quote by Napoleon - "The role of leaders is to define reality and give hope."
At Time Warner, he focused on giving the employees hope that he would deal with the external situation so they could get back to work. "My job is to hold everyone off, and your job is to do your job," he advised them.
Parsons closed with his optimism that the U.S. is still the most innovative country in the world because we draw talent from everywhere in the world. Foreign students come here to finish their school, and then we enable entrepreneurs to come together and innovate.
Doug Bibby gets the "Fab 5" together with their former boss, Jim Harper, to share stories of their early days together at Continental Bank.
From Continental to Multifamily: Character, Capacity and Connections
The discussion wasn't just about leadership outside of the industry. A special session focused on the multifamily leadership incubator that was Continental Bank thirty years ago.
Specifically, did you know that at the beginning of their careers, Al Berriz of McKinley, NMHC Chairman Daryl Carter of Avanath Capital Management, Peter Donovan of CBRE, Mary Ann King of Moran and Company and David Neithercut of Equity Residential all worked together on the 15th floor of Continental Bank?
They were brought together by former Continental Executive Vice President Jim Harper. Harper, an unconventional banker with an ahead-of-his-time commitment to diversity, gave the "Fab 5" a deep dive course in real estate, finance and leadership. "The energy and the deals going on at Continental were without comparison," said Neithercut, who moved from New York City to Chicago to be part of it.
Learn more and see pictures of the future industry leaders back in the day here.
These topics of leadership and challenges were complemented by several additional industry-focused programming sessions:
Graham Carpenter Takes Young Guns Trophy
Once again, the fourth annual "Young Guns Pitch to Senior Leaders" session, where three under-40 Emerging Leaders presented their best investment deals to a mock investment committee, was standing room only. This year's competitors included Nickolay Bochilo of Bell Partners, who presented a light renovation in a DC suburb; Graham Carpenter with Pollack Shores Real Estate Group, with a value-add acquisition in the gateway submarket of Tampa; and Mark Bates with a ground-up development in Los Angeles. Get the real numbers from these deals here.
"There's a buck to be made in Detroit, and I'm going to convince you," said Chris Leinberger, senior fellow with the Brookings Institution in a deep dive on the comeback in Detroit and why it should be on multifamily firms' radar. Among other things, Detroit is the second fastest market share gainer in office space and is in the U.S. top 20 percent in economic growth.
Challenges, Realities and Trends in Multifamily Development
With the supply of already entitled land dwindling or exhausted - and construction costs outpacing rent growth and pushing yields down - it's getting harder to do development projects. In this session, three development veterans shared the strategies they are employing to respond to the changing environment.
Stepping Up for Our Veterans
The NMHC members themselves demonstrated extraordinary leadership when NMHC found itself short of the $500,000 goal we had set to donate to the Semper Fi Foundation as part of our "Walk for the Troops" fundraiser.
Talking about his experiences as the son of a soldier who came home from war with PTSD, Clyde Holland, CEO of Holland Partner Group, personally offered to match up to $36,000 in contributions to the Foundation. A fundraising auction at the start of the Thursday morning session generated over $526,000 with several members pledging $10,000.
Former NMHC Chairman and retired Marine Jeff Stack and NMHC President Doug Bibby present a check to the Semper Fi foundation of over $500,000 raised by our Walk for the Troops.

There wasn't a dry eye in the house after an emotional presentation by a triple amputee veteran who the Foundation helped get back on his feet after his injuries, prompting several more members to jump up from their seats and make additional pledges.
The good weather and market conditions, not to mention the surrounding beauty of the Palm Springs' mountains in the background, combined to make this one of the most successful NMHC meetings in our history. The learning and collaboration that took place were only made possible thanks to the incredible base of support from our record-breaking number of sponsors, including suppliers, service providers and owner-operators.
Additional Resources
Thank you to all! And mark your calendars for next year's event, January 19-21, 2016, at the Waldorf Astoria/Hilton Orlando Bonnet Creek.
---