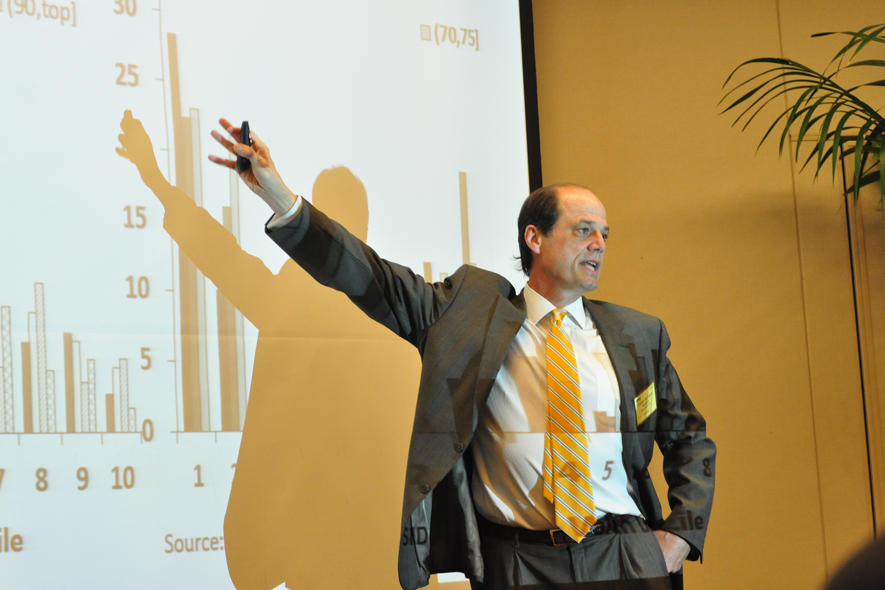 The multifamily industry's leading researchers gathered in Washington, D.C., last week for NMHC's annual Research Forum.
Attendees tackled a wide ranging agenda, from demand for apartments in the suburbs to the price of oil to the latest business intelligence tools.
They also got on-the-ground insight into the dynamics of the metro Washington, D.C., market with tours of Onyx on First, Foundry Lofts and Twelve-12, new apartment properties in the area around the Navy Yard and the Nationals Stadium.  (NMHC members can access the presentations from the event as well as the pictures.)
After morning roundtable discussions on current topics affecting the industry, the event opened with a keynote by the nationally recognized demographer William Frey, senior fellow for the Metropolitan Policy Program at the Brookings Institution.
Frey presented research from his new book, Diversity Explosion: How New Racial Demographics are Remaking America and proclaimed that "the new diversity boom will be every bit as important as the Baby Boom."
Other Highlights Included:
Business Intelligence: Developers Cannot Live on Intuition Alone
Apartment firms have access to a lot of data on their various properties, but it is of no use if it isn't plugged into the process of making decisions. Researchers are finding new tools, like geographic information systems, to get information and analysis into the hands of executives in a more user-friendly format. "Our file cabinets in our properties had invaluable information that was never being tapped," says Jay Lybik, vice president of market research for Equity Residential. Read More
Strong Demand... for Class B Apartments
Experts forecast strong demand for rental apartments this year -enough to absorb the hundreds of thousands of rental apartments now under construction. While most of these new apartments are targeted at high-earning, luxury renters, most of the new renters will be young people, just starting their careers, sometimes burdened with large student loans. As one panelist put it, "there is a mismatch between supply and demand." Read More
Speaking of Strong, Strong Suburbs Beat Strong Downtowns for Rent Growth
Apartment rents are growing downtown - but rents are growing even more quickly in strong suburban submarkets, according to the data from MPF Research.  "Central business districts are going to continue to underperform the strong suburbs in terms of revenue performance," says Jay Parsons, director of analytics and forecasts for MPF. Read More
Oil Price Outlook and Apartments
Low energy prices helped many property managers cut their heating bills last winter - particularly if their heating systems relied on natural gas. But how long can the good times last?  And how is this price drop different from other cycles? Read More
Slow Recovery for Single-Family Housing
The apartment business is unlikely to be hurt by competition from single-family homes for sale until incomes increase enough so that more people can afford to buy a home and quality for a mortgage. "Housing is just a symptom of the stagnation in incomes," says Sam Khater, deputy chief economist for CoreLogic. Read More
Younger Seniors Consider Seniors Housing
A new generation of seniors housing properties is attracting younger seniors.  Decades ago, senior housing meant nursing homes; now there's a wide array of options, including independent living and assisted living arrangements, along with skilled nursing care facilities. Now, seniors in their 70s or even younger are moving into multifamily properties that provide a broad range of activities and even high-end amenities.  It is increasingly a lifestyle choice and some apartment firms have taken notice. Read More
NMHC thanks its attendees, participants and sponsors for another successful event. Attendees can access presentation materials through the meetings archive here.
---