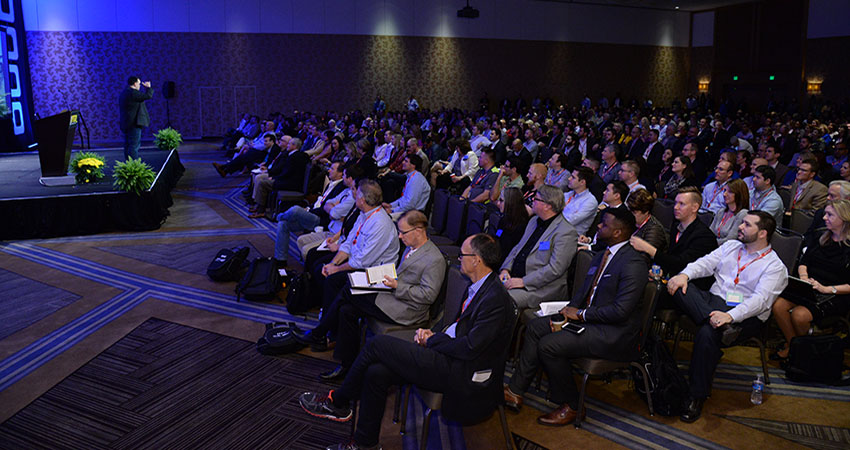 From Google driverless cars and Oculus Rift virtual reality systems to self-serve package lockers and smart locks, the buzz at the 2015 NMHC OPTECH was all about the innovative technologies that are shaking up the way people do just about everything-including living in apartments.
Salim Ismail, technology strategist and author
The term disruption was a common thread running through the conference programming and conversation. Opening general session speaker Salim Ismail, technology strategist and author of Exponential Organizations: Why New Organizations are Ten Times Better, Faster, and Cheaper than Yours, pointed to technology's accelerated exponential rate of development as the key force driving the digitization, demonetization and democratization of products and services.

"Selling scarcity has been the bedrock of business," he said, "But new companies are focused on abundance."
Jaja Jackson (left), Airbnb's head of landlord partnerships, talks through specific concerns about the short-term rental platform
That point was driven home during a session featuring Airbnb's Jaja Jackson and the threats and opportunities the burgeoning short-term rental industry poses for the apartment industry. Along with other sites like Vacation Rental by Owner (VRBO) or FlipKey, Airbnb's business model is upending the way people approach travel by effectively monetizing ubiquitous yet underutilized and previously inaccessible space, be it a house, an apartment, a spare room or even a pull-out couch.

(Read "Airbnb to Launch Multifamily-Specific Program.")
Andrew Zolli, founder of innovation lab PopTech and author
Given the degree of disruption in today's world, we need to better understand how those forces of change ultimately affect who we are and our ability to thrive. That was the main theme of Wednesday's keynote presentation by Andrew Zolli, founder of innovation lab PopTech and author of Resilience: Why Things Bounce Back. How we deal with those changes and challenges-our resiliency-ultimately governs our success.
To be more adaptable amid the sea of change, Zolli said we needed to become more aligned with our environment, recognizing that anything that negatively affects our health jeopardizes our personal and economic prosperity; encourage simplicity to improve satisfaction in our lives; and focus on building trust and reshaping behaviors to achieve greater results.
However, our resiliency is also linked to our ability to innovate. But the question of how to create a culture of sustained innovation within our organizations was something that many apartment executives said they struggled to achieve.
Leading multifamily executives discuss intentional innovation at their companies
During a general session on just that subject, Balfour Beatty's Tabitha Crawford, The Irvine Company Apartment Communities' Derek Knudsen, Waterton's David Schwartz, and Camden Property Trust's Kristy Simonette discussed the ways each were allocating time and resources to stoking the fires of organic innovation in their companies.
"The one thing I have consistently seen is that if you make innovation a hobby, then there will be very little innovation, particularly on the technology side," said Knudsen. "We pivoted to pulling people who are focused on innovation and want them to innovate both internally and with the customer." 
(Read "The Keys to Intentional Innovation.")
Online moving concierge Updater took home this year's Launch Pad trophy
In support of more industry innovation, the conference program included the 2015 NMHC Launch Pad competition, which celebrates original multifamily technology solutions with a start-up competition. Four finalists fast pitched their technology solutions to a panel of industry experts with an audience vote ultimately selecting a winner.

Online moving concierge Updater took home the trophy this year for its one-stop solution to help residents move in and out smoothly. Akin to Turbo Tax for moving, the technology helps residents save hours on moving-related tasks including forwarding mail, setting up utilities, updating accounts and subscriptions and much more. Updater took home $5,000 and a complimentary one-year Advisory Committee membership to NMHC.
(For more on all the finalists, read "Updater Wins 2015 Launch Pad Competition.")
Attendees also heard from industry executives who were experimenting with and/or investing in a wide variety of new technologies to improve organizational efficiencies, create better performing assets, more precisely target and convert prospects and service existing residents. Panels also examined how technology advances were opening up a whole new world of data that was not only generating new insights but challenges for IT teams but also changing the relationship between multifamily investor, owner and manager.
MIT Media Lab's Hasier Larrea talks about the next generation of home automation
(Read "Tips from Real Life BI Case Studies ," "Ask the Tech Pros,"
"Investors Drive Sustainability Measures " and "Institutional Investors Get More Hands On in Managing Assets.")
Particularly good discussions were also had over the promises and challenges of home automation, with MIT Media Lab's Hasier Larrea offering a peek at what the apartment of the future might look like thanks to advances in architectural robotics. Industry executives also debated seven technologies and services driving the do-it-yourself apartment trend.
(Read "Home Automation Moves Beyond Lights, Locks " and "The Down Low on DIY Apartments.")
However, the industry's marketing sector is arguably feeling some of the greatest pressures of change. Mobile phones have been a complete game changer, as it has raised prospects and residents' expectations for a speedy, frictionless experience.
"As a kid I would write a letter to a favorite baseball player and hope they read it," said Wayne Partello, CMO of the San Diego Padres, during a session on top marketing trends. "Now, if you tweet to a player and they don't respond, they're no longer your favorite player."
Raised expectations mean new focus on instant, relevant content. For multifamily marketers, this means making sure all their digital assets are optimized for mobile and harnessing new technologies and automation processes to provide the best in-the-moment communications to reach customers and residents.
(Read "Mobile Drives a Quarter of Leases " and "Selling with the Sexy Stuff.")
Two teams competed in a Multifamily Feud that focused on resident preferences
However, many apartment executives still grappled with what technologies truly mattered to residents.
(Read "Room for Debate ," "Demand Grows for Electronic Payments" and "Going Gaga for Gigabyte.")
A Family Feud-style debate over top resident preferences provided some definitive answers to many of those questions, including residents' need versus want for high-speed and wifi Internet connections, online payments, green features, pet amenities and more. The closing session showcased brand new data from the 2015 NMHC/Kingsley Associates Resident Preferences Study, which includes data from nearly 120,000 responses across the country about residents' priorities for home features, community amenities and more based on a variety of demographic factors. The analysis is also available for 44 local markets.
NMHC thanks its attendees, sponsors and exhibitors for contributing to an extremely successful 2015 NMHC OPTECH. In addition, we thank the ten multifamily companies who participated in our third annual Commerce Corner, a unique reverse trade show experience where exhibitors sign up to meet one on one with apartment owners and operators to discuss their products and services. The event raised $24,000 for Team Rubicon. Attendees can access session information and presentations here.
We look forward to seeing you next November 16-18 at the Hilton Anatole in Dallas for the 2016 NMHC OPTECH Conference & Exposition.
---