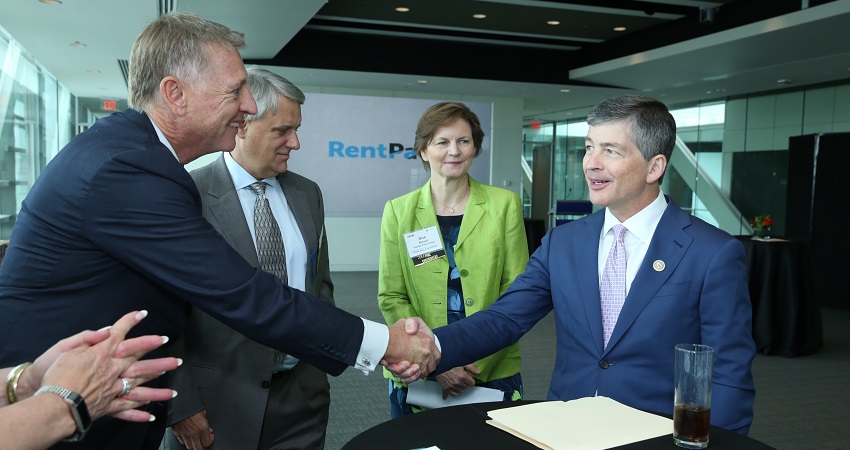 Over 400 NMHC members ascended on Washington last week for NMHC's Fall Board of Directors meeting at a critical time when lawmakers are debating policy issues critical to the apartment industry.  NMHC members participated in three days of bipartisan meetings with lawmakers from across the country. Discussions focused on a variety of topics as Members of Congress met with their NMHC constituents and policy experts, but throughout all the sessions three areas were foremost in the discussions: reform of the nation's tax code, an overhaul of our approach to housing finance and the reauthorization of the National Flood Insurance Program (NFIP).
Tax reform has the potential to be an existential issue for the multifamily industry. The last time real, comprehensive reform was enacted, in 1986, it had devastating consequences for the real estate industry. This was in part due to the absence of critical transition rules providing a glide path forward for new tax provisions and protections for existing deals. The 1986 tax deal severely undercut the sector and recovery for the industry took well into the 1990's.
It was with that lesson in mind that our members met with leading lawmakers like Speaker of the House Paul Ryan (R-WI), with Senators John Thune (R-SD), Tim Scott (R-SC), and Johnny Isakson (R-GA) and members of the Senate Finance Committee to discuss reform. Speaker Ryan underscored his commitment to completing tax reform legislation this year and NMHC members will continue to have a seat at the table as the reform package is debate.
While perhaps not as urgent as tax reform, housing finance reform was one of the top issue areas discussed at the 2017 Fall Board. Apartment executives have a unique position when it comes to housing finance reform compared to single family. NMHC members continue to remind policy makers that multifamily operates differently than single family performed well during the financial crisis and its aftermath. Indeed, FHFA Director Mel Watt noted that the multifamily experience could potentially be used as a model for broader housing finance reform.
The reauthorization of the NFIP has been a major focus over the last several years. The impact of Hurricanes Harvey and Irma, however, made reauthorization even more critical. Different approaches continue to be debated and Housing Finance Committee Chairman Jeb Hensarling (R-TX) continues to push for substantive reforms and reductions in subsidized rates in flood prone areas. NMHC members and staff continue to make the case for a long-term reauthorization that ensures affordable flood insurance is available at all times, in all market conditions for every at-risk rental property.
Whether Congress will pass tax reform, act on GSE reform or reauthorize the NFIP before year's end remains to be seen. But, it is certain that the meetings held last week between lawmakers and NMHC members made sure that policy makers understand the apartment industry's position on these key issues.    
---