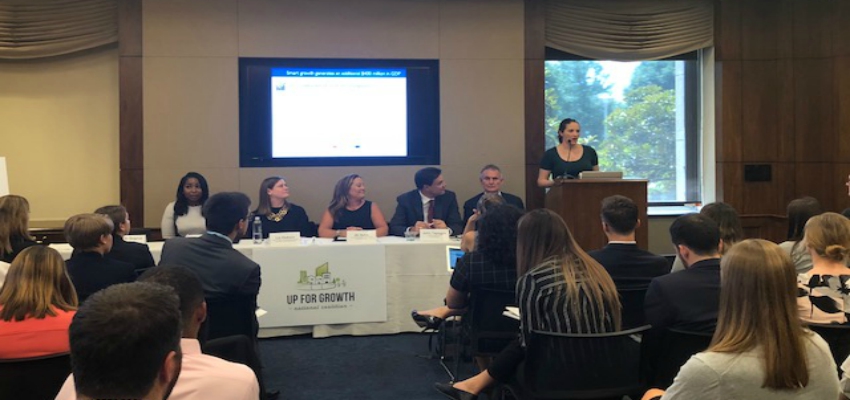 NMHC's VP for Research, Caitlin Walter, participated in the Up for Growth National Coalition's discussion on June 12, which was centered on the nation's housing affordability challenges. Congresswoman Cathy McMorris Rodgers (R-WA), Congressman Denny Heck (D-WA), and Congressman Steve Stivers (R-OH) joined Walter, and other industry experts as speakers.
During the discussion, Walter presented new information, including recently released research that focuses on the cost of regulations as it pertains to multifamily construction. A study conducted by NMHC and NAHB found that regulation imposed by all levels of government accounts for an average of 32.1 percent of multifamily development costs. Walter explained that these costs only exacerbate housing affordability: "[Red tape] is a problem at the local level, but at the federal level as well. It makes it more difficult to build affordable units." She also encouraged the public and private sector to work together to find a solution that will streamline permitting and entitlement and reduce regulatory burdens. Additionally, Walter highlighted NMHC's housing demand research, which finds that the demand for apartments is on the rise and, more specifically, the country will see a demand for an additional 4.6 million new apartment homes by 2030.
Overall, the discussion was wide-ranging and highlighted the importance of a number of housing issues. The participants underlined the urgency of taking concerted, comprehensive action to address housing affordability challenges.
For more information on NMHC's efforts regarding housing affordability, please visit our advocacy page.
---